Announcement: Congrats to Prisca Lim and Cheryl Ang for winning the free tickets to The Marriage of Figaro. The contest is now closed.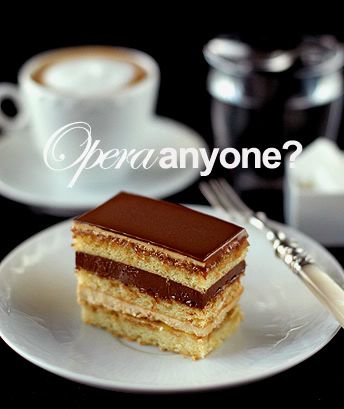 This is a post about opera. But it's not about opera. At least not in the way regular readers of this blog would expect it to be. What I mean is that this post isn't about the gorgeous chocolate, coffee butter cream and almond sponge cake confection in the picture above (but it was a damn good excuse to get S to make me one). This post is about the kind of opera in which large men and women with big hair sing songs of love, passion and grief on a stage in front of tuxedoed gentlemen and glamorously dressed women.
I enjoy going to the opera. I have ever since I was a kid. My father is a huge opera fan, so it was only natural that I grew up hearing it. But it wasn't until I actually attended my first one that I began to really appreciate the art form. I remember that first one clearly, partly because that opera, Bizet's The Marriage of Figaro in honor of the 250th anniversary of Mozart's birth. The opera runs from 14-17 July 2006 at the city's premier performing arts centre, The Esplanade.
As a special promotion, I'm happy to offer each worth S$110 and are for the 8pm show on 17 July 2006. All you have to do is be the first two people to correctly answer the following three questions:
1. In what city was Mozart born?
2. In what year did he write The Marriage of Figaro ?
3. In what 1978 film starring Thomas Hulce, who also played the lead role in Amadeus, did actor Kevin Bacon famously say, "Thank you sir. May I have another?"
Please email your answers to aun@chubbyhubby.net. Please include your mailing address so I can post the tickets to you (I should note that only people residing in Singapore are eligible for this little contest). The first two people to email me the correct answers will each get 2 tickets. For those of you who don't win the tickets, you should still consider buying some. It should be a great show.
Aun has always loved food and travel, passions passed down to him from his parents. This foundation, plus a background in media, pushed him to start Chubby Hubby in 2005. He loves that this site allows him to write about the things he adores--food, style, travel, his wife and his three kids!