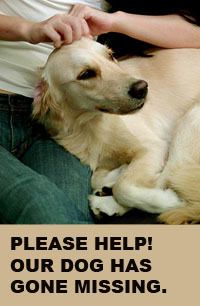 I'm typing this from Perth, where my wife and I have been the last few days. Last night, we got some horrible news. Our younger dog Alix (pictured here) has gone missing. She was staying a friend's house while we were away. During a walk near Telok Kurau Lorong M, she got spooked by a stupid little boy on a bicycle (who almost ran into her), got loose and ran off. She was last seen running towards the canal that runs adjacent to Lorong M.
PLEASE, please, if you have seen her or have any information on her, my wife and I would be eternally grateful. Alix is a 3 year old Golden Retriever. She's very small (much smaller than normal) with a short coat. She doesn't bark (ever) and is overly friendly. She's wearing a yellow collar with an AVA tag on it. S and I are very willing to give a small reward to anyone who helps us find her.
Please email me at aun@chubbyhubby.net if you have seen her or have found her. Also, I would be very grateful if you could ask friends who live in the East to keep their eyes out for her. She means the world to us.
Aun has always loved food and travel, passions passed down to him from his parents. This foundation, plus a background in media, pushed him to start Chubby Hubby in 2005. He loves that this site allows him to write about the things he adores--food, style, travel, his wife and his three kids!