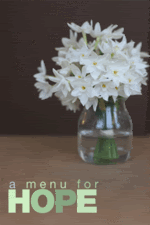 During this festive season, one of the very best things any of us can do is give to those who aren't as fortunate as we are. Please join me and almost every other food blogger in the world in raising money for the United Nations World Food Programme. Menu for Hope is an annual web-based initiative founded by celeb flogger Pim Techamuanvivit of Chez Pim. Through this awesome campaign, over the past two years, food bloggers have raised funds for the American Red Cross (aid for Tsunami victims) and UNICEF. This year, in a very fitting move, we're raising money to feed the less fortunate.
Here's how the campaign works. Floggers around the world have either donated or have sourced amazing prizes that anyone from anywhere in the world can buy (virtual) raffle tickets for. The money that is collected will be donated, as said, to the United Nations World Food Programme. Pim will be hosting a round-up of all of the donated prizes. To see the global round-up, please click here. In addition, each region has its own host, who will probably post more details on the prizes donated in her/his region. The Asia-Pacific round-up is hosted by Helen over at Grab Your Fork. The fundraising and funds distribution is being managed by professional fundraising company First Giving. To go to the Menu for Hope III donations page, please click here. Every US$10 that you donate qualifies you for one chance at any of the prizes of your choice.
I'm extremely happy to announce that I've managed to talk 6 friends into donating 6 amazing prizes for Menu for Hope III. (Please note that the vouchers/dinners must be claimed in 2007.)They are as follows:
1. Dinner for four with wines at Iggy's in Singapore (prize code AP01)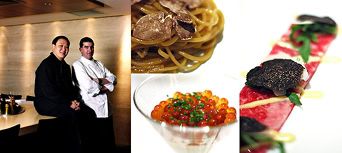 Every reader knows that I'm a huge, huge fan of Iggy's. Restaurant Magazine rated this tiny Modern European restaurant the 4th best restaurant in Asia. The late, great Johnny Apple and the very-cultured Kevin Gould have both raved about Iggy's amazing menus and wine lists. Dinner here is truly a treat. The value for this meal is approximately US$750.
2. Dinner for two with wines at Tetsuya's in Sydney, Australia (prize code AP02)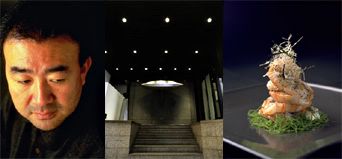 Who hasn't heard of the great Japanese-Aussie chef Tetsuya Wakuda? His restaurant is clearly one of the very best on the planet and his unique blend of Western and Japanese cuisines has made him a living legend. Dinner at Tetsuya's is a must for any foodie. Win this and treat yourself and a loved one. Tetsuya promises that he'll prepare a very special meal for the winner.
3. Dinner for two at Felix at The Peninsula Hotel, Hong Kong (prize code AP03)
Felix is a Hong Kong landmark. Designed by Philippe Starck, it's as famous for its killer interiors and views as it is for its food. Felix's new chef, American Jason Oakley, has a stunning pedigree. Formerly from the French Laundry and Alex at Wynn's Las Vegas, Oakley's own very contemporary cuisine is putting Felix back on the culinary map.
4. Two amazing Japanese chef's knives (prize code AP04)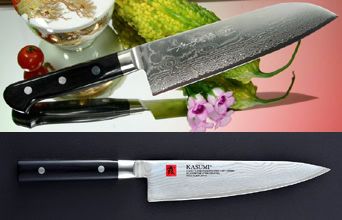 Japanese knife specialist Razorsharp has kindly donated two gorgeous and exceptionally well-made Japanese chef's knives, a Kasumi 20cm chef's knife and a Hattori HD 17cm Santoku knife. You could not ask for two better tools for your kitchen.
5. A set of 7 cookbooks and travel books donated by Editions Didier Millet (prize code AP05)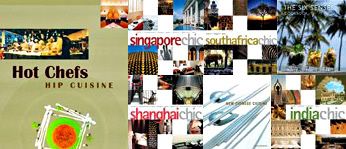 This is a great collection of cookbooks and travel books. I'm also personally excited by this collection because I helped write two of the books in this set.
Hot Chefs Hip Cuisine
This book features original recipes from 34 of the world's most daring chefs, including Charlie Trotter, Ferran Adria, Michel Troisgros, Gordon Ramsay, Tetsuya Wakuda, and more, who have, in their own ways, changed the way the world eats. Proceeds from sales of this book are donated to UNICEF.
New Chinese Cuisine
This book chronicles how the chefs at the respected Tung Lok Restaurant group are revamping classic dishes from Sichuan, Hunan, Beijing and Canton in order to create a new Modern Chinese cuisine.
The Six Senses Cookbook
Founded in 1995 by husband-and-wife team Sonu and Eva Shivdasani, the Six Senses brands have become synonymous with luxurious living and cutting-edge concepts. With resorts and spas located in the Maldives, Thailand and Vietnam, Six Senses properties feature the very best in resort accommodation and spa experiences, accompanied by a keen sense of environmental awareness. The restaurants at the group's Soneva Resorts, Evason Hideaways and Evason Resorts (under which Ana Mandara is branded) have also been serving up innovative fusion cuisine to a rising tide of international acclaim.
Four books from the Chic series: Shanghai Chic; Singapore Chic; India Chic; and South Africa Chic. Each of these books offers great narratives covering both history and culture, as well as reviews and listings of each destination's coolest hotels, restaurants, spas, shops and bars.
6. A suite for a weekend at the New Majestic Hotel, plus a voucher for dinner at the Majestic Restaurant, Singapore (prize code AP06)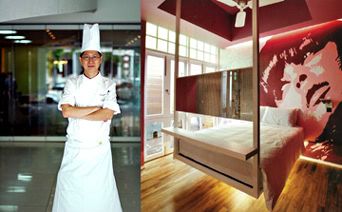 The New Majestic Hotel is Singapore's sexiest and most chic boutique hotel property. Similarly, its resident restaurant, the Majestic, serves some of the country's best, most well-prepared and modern Chinese food. Stay for a weekend in one of the hotel's uniquely appointed suites and dine in-house. The dining voucher is worth S$80.
As said, to make a donation and buy a chance for one of these or other prizes, go to the donation page at http://www.firstgiving.com/menuforhopeIII. Each US$10 will give you one raffle ticket towards a prize of your choice. Please specify which prize or prizes you'd like in the 'Personal Message' section in the donation form when confirming your donation. Do state how many tickets per prize, and please use the prize codes; for example, for a donation of US$50, you could buy 2 raffle tickets for AP01 and 3 for AP02. (For US donors, if your company has agreed to match your charity donation, please remember to check the box and fill in the information so we may claim the corporate match.) Please also check the box that allows First Giving to see your email address so that they can contact you in case you win. Your email address will not be shared with anyone. Donations are accepted from today until 22 December 2006, so please act quickly. Finally, if you do take part, please check out Chez Pim on 15 January 2007 to see all the results of the raffle.
Don't forget to check out all the regional hosts to see details on all the various prizes. Here's a list of them all:
US West Coast: Becks and Posh
US East Coast: The Amateur Gourmet
US (the rest): Kalyn's Kitchen
Canada: Cardamom Addict
Europe: Davidlebovitz.com
Latin America: The Cooking Diva
Asia Pacific: Grab Your Fork
Special wine bloggers' host: Vinography
Thank you so much for reading. Please tell your friends about this and please, please, please donate and take part in Menu for Hope III. Good luck!
Aun has always loved food and travel, passions passed down to him from his parents. This foundation, plus a background in media, pushed him to start Chubby Hubby in 2005. He loves that this site allows him to write about the things he adores--food, style, travel, his wife and his three kids!