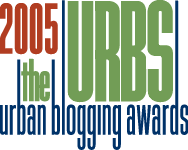 I was going to post today about some delicious fish head curry that S and I had over the weekend at an old fave that's doing new things. But, before I get to that post (and Shanghai Part 3, which I really do need to get around to doing), I thought I'd post a thank you to all who helped nominate me for the 2005 Urban Blogging Awards.
Well, I've made it. Chubby Hubby is one of the 6 finalists for World's Best Urban Food Blog. But now I need your votes. So, please, if you have some free time, click over to Gridskipper and vote for me. Then tell your friends to vote for me! Thanks so very much!
Also, nominations for the 2005 Food Blog Awards has just opened over at The Accidental Hedonist. It's really great cruising through the nominations and discovering new blogs to check out and drool over. Of course, I'm grateful to friends like Monkey Gland for nominating me for Best Food Photography. Cheers mate!
Aun has always loved food and travel, passions passed down to him from his parents. This foundation, plus a background in media, pushed him to start Chubby Hubby in 2005. He loves that this site allows him to write about the things he adores--food, style, travel, his wife and his three kids!