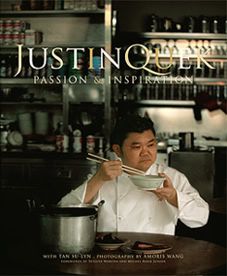 Justin Quek, Passion & Inspiration, the first cookbook by Singapore's most celebrated chef, Justin Quek, goes on sale across Singapore and Malaysia today. The book is great. It's big, glossy and full of gorgeous pictures. It's also chock full of recipes that are guaranteed to make you drool. Surprisingly, they are also very easy to follow. If you buy just one book by a Southeast Asian chef this year, this is the book to get. Justin's recipes and his story, told throughout the essays in the book, are truly inspirational.
If you have some free time and actually want to meet the amazing chef, and taste some of his delicious food (for free), he'll be making some special guest appearances today and tomorrow. Details are below:
Saturday, 14 October 2006, 2pm, Borders
Saturday, 14 October 2006, 4pm, Kinokuniya main store (Ngee Ann City)
Sunday, 15 October 2006, 2pm, MPH Parkway Parade
So, what are you waiting for? Call all your friends! See you later!
Aun has always loved food and travel, passions passed down to him from his parents. This foundation, plus a background in media, pushed him to start Chubby Hubby in 2005. He loves that this site allows him to write about the things he adores--food, style, travel, his wife and his three kids!