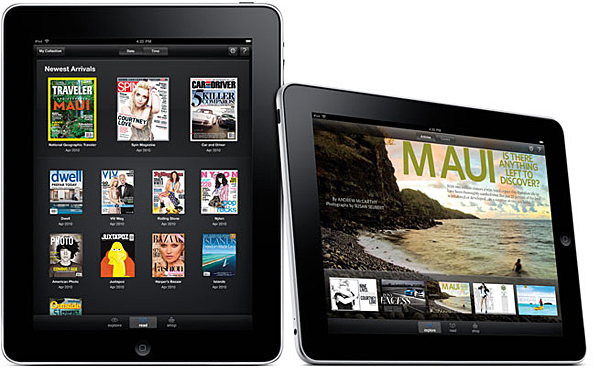 First, lemme just say… this is not an advertorial. I am getting nothing from posting this. That said, I am a loyal and passionate fan of Zinio–the single best electronic way to subscribe to and read your favourite magazines. So, when they cool peeps at Zinio contacted me to ask if I'd be up for sharing some of their holiday promos, I instantly replied, "You betcha!"
For the two of you out there in the 'verse who haven't heard of Zinio, it's a multi-platform mobile reading application that you can download to your phone, tablet or computer. You purchase magazine subscriptions and can access them via all your devices. They have hundreds if not thousands of mags. Basically, almost any mag you wanna read, they'll have. And for many, the electronic subscription price is far cheaper than the print subscription price. Since Zinio launched, I've been using it on my iPad to read some of my favourite mags, like AFAR, Esquire, Fast Company, Dwell, and Saveur, just to name a few.

Right now, Zinio has some 300 magazine subscriptions going for 50% off during the holiday period. The promo ends on 7 January 2013 so hurry if you want to take advantage of this great deal. There are also other promos, such as one in which you can win an iPad Mini, so take some time to explore the Zinio site if you're interested.
Oh, and for my faithful readers, I have a nice little giveaway to share. Zinio is letting me give away 10 free (1 year) magazine subscriptions. I've decided to break it down to 2 subs for 5 winners, drawn at random. To take advantage of this, please cruise over to the Chubby Hubby Facebook page. If you haven't liked the page yet, you must in order to be eligible. Then, under the post for the Zinio promo, please leave a comment telling me what your favourite magazine of all time was. I'll run this promo until 25 Dec midnight Singapore time. I'll pick 5 peeps at random; remember, you must like the Facebook page in order to be eligible. When chosen I'll contact you directly. At that time, I will need your full name, your email address (used with your Zinio account) and the two titles you have chosen.
Happy holidays and happy reading!
Aun has always loved food and travel, passions passed down to him from his parents. This foundation, plus a background in media, pushed him to start Chubby Hubby in 2005. He loves that this site allows him to write about the things he adores--food, style, travel, his wife and his three kids!