Six centuries, twenty-six generations, fifteen Italian estates and seven others around the world. In the world of Italian wines, Marchesi Antinori is a name synonymous with quality, innovation and creativity. While most are familiar with their wines of Tignanello, Solaia and Guado al Tasso, there are other good and affordable wines beyond this familiar horizon.
The history of this great family traces back to 1385, when Giovanni di Piero Antinori joined the Winemakers' Guild, shifting the family from textile into wine. The family was often closely associated to the Medici, the most powerful family of Florentine. It didn't take long – or to anyone surprise – before they, too, grew rich and powerful in the area of politics.
Despite the surrounding socio-political matters, the Antinori stayed focused on wines. Since the mid 18th century, the family name Antinori was already well-known for wines. In 1970s, defiant against the traditions of Chianti Classico, the Sangiovese-based Tignanello was bottled with wines of Cabernet Sauvignon and Cabernet Franc. Although the wine was 'punished' with relegation into lower quality classification, many others chose to follow suit. This was the era of Super Tuscan wines.
Traditionally, the leadership of a winery is passed from father to son. But with no male heir, the business is now managed by the three ladies of Antinori – Albiera, Allegra and Alessia. In early June, Albiera visited Singapore with a massive showcase of the wines from various estates. Unfortunately I wasn't able to get her attention for an interview, but I had the opportunity to taste their wines and below is a list of interesting but lesser mentioned wines from the Antinori family.
Tormaresca Chardonnay, Puglia IGT, 2012
Located down south at the heel of Italy, I had expected Tormaresca wines to be big, bold and overly ripe. On the contrary, this Chardonnay was vibrant, youthful, and it's all about fresh bright aromas of orange blossom and flowers. Hints of tropical fruits were noted. The palate was well balanced with refreshing acid and salty mineral. Recommended retail price, S$35 (US$28).
Tormaresca Masseria Maime, Salento IGT, 2008
The red wines from Puglia are generally indigenous. Masseria Maime is one such wine. Made from 100 per cent Negroamaro, an unique grape variety that has, probably, never been found outside of Italy. Lightly aged with hints of plums and dried leaves, layered with licorice and woody vanilla. The palate was fruit-rich, full and firm. Recommended retail price, S$63 (US$50).
Tormaresca Bocca di Lupo, Castel del Monte DOC, 2007
Bocca di Lupo (mouth of the wolf) is made from another indigenous variety, 100 per cent Aglianico. This variety is more commonly found in the making of Taursai or also known as the Barolo of the south in Campania. With hints of candy-like sweetness from its full ripeness, the wine was nicely layered between firm tannins and juicy suppleness and finished with a lift of vibrant acidity. Recommended retail price, S$70 (US$55).
Castello della Sala Bramito del Cervo Chardonnay, Umbra IGT 2010
If the complex elusive style of white Burgundy, or the overly fruit-driven new world doesn't please your palate, this buttery Chardonnay with its woody vanilla aroma is worth a try. The balance of fine acid and alcohol weight is well mastered, but I am curious how this will pair with a buttery dish. Recommended retail price, S$46.50 (US$37).
La Braccesca Vigneto Santa Pia, Vino Nobile di Montepulciano DOCG 2006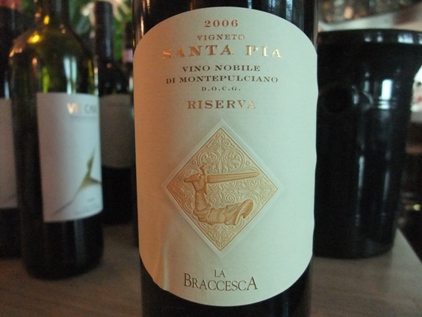 La Braccesca, from Tuscany, is an estate that delivers what it demonstrates. The brand is represented with an armoured arm wielding a sword, and its wine equally powerful and well guarded. A slightly late harvest and fairly good weather provided the desirable level of ripeness and firm chewy tannins. Although perfectly approachable now, it will probably show better with more ageing. Recommended retail price, S$65.50 (US$52).
Thanks to Monopole Pte Ltd for their invitation. Consumers can buy these wines directly from them at retail price.
Wai Xin is constantly educating himself in all things wine-related. Believing strongly that wine is for enjoyment and not a trading commodity, he encourages sensible, affordable drinking and the exploration of individual preferences. A Certified Specialist of Wine, his personal wine blog is on www.winexin.sg.