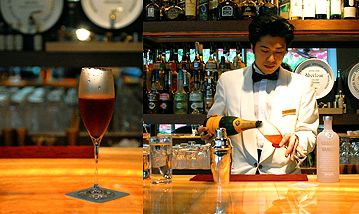 There was a time in my life, not that long ago, when I would have been considered a barfly. During this (hazy but fun) period of my life, which lasted for quite a few years, I probably spent some part of each and every day in a bar. After school, after work, before dinner, after dinner, for no reason whatsoever, a bar stop was a routine and requisite part of my life. Of course, even back them, I was finicky and particular. I had two preferred kinds of bars. The first is the dive bar. I love dive bars. I love them for their ugly and bargain-basement interiors, their dirt cheap drinks, their overplayed jukeboxes that always have a few Patsy Cline songs on their playlists, and their regulars, who always sit in the same seats and drink the same drinks. I love them most of all because they're places where you can go and drink with friends… drink seriously, without stupid interruptions, music so loud that you can't hear yourself talk, dumb young things looking for a sugar daddy or noisy over-testosteroned knuckleheads. These are also many of the same reasons that my second preferred type of bars are, for lack of a better term, civilized bars. By civilized, I mean clubbish, high-end drinking establishments. You know, the kind of bar in which you can sit with friends, get a perfectly made cocktail and speak to each other without having to yell. The kind of place where the music is soft but cool, the bartenders are immaculately dressed and don't toss bottles in the air. The kind of place that uses a spray to mist vermouth into your martini and offers you a choice of a dozen different vodkas, none of them flavored. The kind of place where the clientele look great but aren't bothering the people they didn't come with. Unfortunately and especially in Singapore, it's so very difficult to find a civilized bar these days.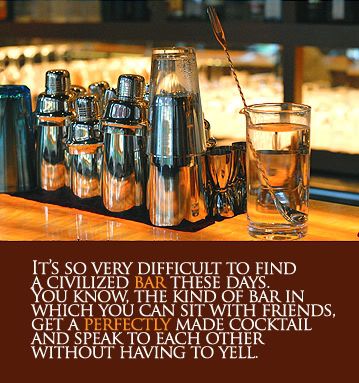 At least, that's what I thought for the longest time. Unable to find the kind of watering holes I love, I had pretty much given up on going out for drinks in the Lion City. Then a few weeks ago, a friend brought me to Coffee Bar K and I knew I had found a new home. Coffee Bar K opened here in Singapore in April, the third in a group that has outlets in Ginza and Chiba, Japan. Coffee Bar K is sleek, sexy, and cool. It's also expensive and very Japanese. When you arrive, you're handed a warm towel. As you settle into one of the comfortable black leather armchairs that front the glowing bar, a platter of snacks is placed in front of you. The drinks are made exquisitely and served in proper and beautiful glasses. The bar's drink menu is huge but if you're feeling adventurous, you can tell one of the bartenders what you're in the mood for and let him surprise you with a custom cocktail. Whiskey-lovers will love it here. They have a ridiculously good list of Single-malts from Scotland and Japan. Ask for yours on the rocks and it comes in a nice heavy lowball glass with one giant, round and perfectly clear ice cube. Sit at the bar for awhile and you'll realize that these cubes are hand-chipped by the bartenders.
Since discovering Coffee Bar K, I've been back several times. I've also been bringing friends as often as possible. They've all had the same reaction as I did, love at first sip. In fact, I bet that my wife and these same friends are probably going to kill me for blogging about this great and hidden gem. But I think a bar this good needs to be written about and shared. Cheers!
Coffee Bar K
205 River Valley Road
#01-076 UE Square
Singapore 238274
Tel (65) 6720 5040
Aun has always loved food and travel, passions passed down to him from his parents. This foundation, plus a background in media, pushed him to start Chubby Hubby in 2005. He loves that this site allows him to write about the things he adores--food, style, travel, his wife and his three kids!