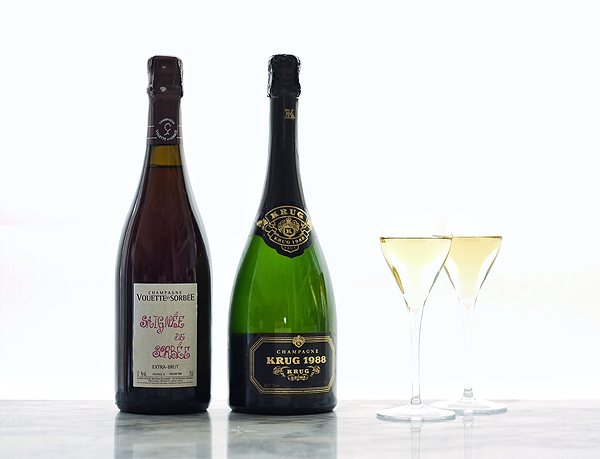 My wife S and I, like so many in our generation, are passionate about wine. That doesn't make us experts. In fact, I'd say we're pretty far from being considered experts. But we've tasted enough to both know what we like as well as to appreciate something really special. Unfortunately, the kind of wine we both enjoy the most, and drink the most of, is Champagne… I say "unfortunately" because Champagne is far from cheap. Sometimes it feels like we're constantly stocking up and running out of bubbly, while our other white and red wine supplies stay pretty much constant.
I can't really remember when I tasted my first glass of Champagne. But I can clearly remember my Champagne epiphany — that one meal during which Champagne became so much than just something to be cracked open for a celebration or that idiotic sportspeople spray at each other. It was the summer of 1995 and I was working in New York City. Some very old family friends, Mr & Mrs M, invited me to accompany them (and some other friends) to Paris for the weekend. One of their dearest friends' daughter was coming out into society and they were attending her official "debut". Said debutante's parents, along with the parents of two of her friends, had rented a castle outside of Paris in order to host a massive party for the three young ladies. Paris? Castle? Debutantes? And free-flow Champagne? And all I had to do was say yes? Agreeing to go on this trip was a no-brainer for me (as it would have been for any other hot-blooded male in his early 20s).
My parents' friends certainly lived in a universe different from my own (back then, I was living in a dump in Harlem about to enter my final semester of university). They arranged for one of their nephews and me to travel together. We were flown to Paris first class on Air France and then housed in an opulent room at the Hotel Regina, located at the Place des Pyramides. Mr and Mrs M decided that we should have dinner in the city before going to the party. They brought us to the ultra-luxe and very old world Lasserre. This historic restaurant in the 8th arrondissement is famous for its retractable ceiling, which is pulled back when the weather permits. Truth be told, I don't recall what we ate, but I remember clearly what we drank.
When we sat down, Mr M declared that as the main libation being poured at the party we were heading to after dinner was Champagne — and specifically Dom Pérignon — we should stick to Champagne with our meal. He found it simply improper to go from Champagne to other wines (white then red) and then back to Champagne again. So, he paired our menu with a number of different Champagnes.
This was the first time I had ever tasted several different ultra high-quality Champagnes back to back in one sitting. We started with Krug's Clos du Mesnil. We followed that up with some Taittinger Comtes de Champagne, then some Pol Roger Cuvée Sir Winston Churchill, and paired our dessert course with the Pommery Louise. It was amazing to me that (1) Champagne could taste so damned amazing and (2) that the different Champagnes could also be so very different. Since that night, I've been a slightly obsessed Champagne addict.
My second greatest Champagne dinner, coincidentally, also happens to feature a castle in France. That was a crazy Millennium celebration hosted by Veuve Clicquot Champagne in 1999 at the Palace de Versailles. But that's a whole other story which I simply don't have room for in this post.
Over the years, S and I have tasted a lot of bubbly together. We each have our own favourites. And while we do enjoy wines from the big brands, we tend to drink a lot of grower Champagnes these days — artisanal bubbly made at small owner-operated vineyards.
S's own favourite Champagne is a really special rosé, the Saignee de Sorbée by Vouette & Sorbée. This is a really unique, savoury yet fruity and somewhat spicy wine made from Pinot Noir grapes. Definitely not for everyone but those that like it, love it! S was particularly pleased to discover that this was the Champagne that pastry god Pierre Hermé served at his wedding.
Our favourite daily pouring Champagne is Dosnon & Lepage's Blanc de Noirs, an incredibly affordable, well-structured, elegant yet powerful 100% Pinot Noir wine. This slightly acidic wine has just the right balance of red fruits and citrus. I love starting dinner parties with this wine.
One of my favourite, somewhat special wines, that I like to match with food, is the Henri Giraud Code Noir Rosé. Not only is the packaging really contemporary and chic (yes, I am a sucker for packaging), but this wine has a lovely, muscular, ripe and rich taste that pairs perfectly with a whole range of dishes.
Another rosé that I love, but is very pricey for what it is, is the Perrier-Jouët Belle Epoque Rosé, I don't think there is another Champagne with a bottle as beautiful as Perrier-Jouët's handpainted Art Nouveau Belle Epoque. The wine is damned good too. It's usually fresh, well-balanced, and delicate with subtle fresh fruit elements. It is also one of the palest rosé Champagnes on the market.
Of course, having kickstarted my Champagne epiphany with Krug's inimitable Clos du Mesnil, that wine rounds out S' and my list of our favourite Champagnes. The Clos du Mesnil, a super-expensive single vineyard, all Chardonnay Champagne, is a rare treat — and not one I've enjoyed (sadly) in the last half decade. This wine is simply outstanding. Hard for an amateur like me to describe. All I can advise is to find some rich generous friend and convince him to open a bottle for you one day. While I no longer have any Mesnil in the cellar, I do have a bottle of Krug 1988 stashed away. Krug's vintage Champagnes are often exceptional and the 1988 was one of the best-rated vintages in the last few decades. S and I are saving it for just the right occasion. What that is, we actually haven't figured out yet. But I'm sure we'll figure that out eventually.
Aun has always loved food and travel, passions passed down to him from his parents. This foundation, plus a background in media, pushed him to start Chubby Hubby in 2005. He loves that this site allows him to write about the things he adores--food, style, travel, his wife and his three kids!