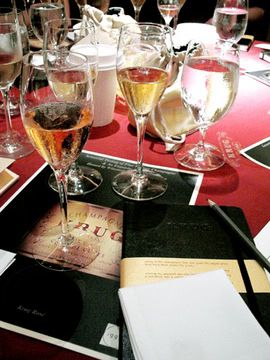 It's great to be married to a food writer at times. Take today for example. S was invited to a fabulous lunch and Champagne tasting and was allowed to bring me along. It was a double treat for me. The lunch was held at Iggy's, one of my favourite restaurants in Singapore, and the Champagne brand was Krug, by far my favourite Champagne house.
Krug's young and incredibly friendly winemaker, Nicholas Audebert, had flown in for the occasion, as did an old friend, Anouk Blain-Mailhot, who is Veuve Clicquot and Krug's regional marketing director. Monsieur Audebert was a fabulous host and before we ate, he led all of us present through one of the most novel and enjoyable wine tastings I've ever gone through. We were presented with a glass each of Krug's Grand Cuvée, Rosé, and Vintage 1990. We were then asked to think about the wines according to our senses. To help us, Audebert offered for each sense, 6 things that he felt would help us describe each wine. For smell, for example, he passed around 6 cups, each with a markedly different scent and asked us to pair the smells to the wines. For hearing, he played 6 different kinds of music and asked us to match the balance in the songs with the balance in the wines. What was most interesting about these exercises was the variation in how all of us present interpreted the wines. For example, with the music, I paired the Vintage 1990 with a slow, seductive vocal jazz piece, while quite a few others paired the song with the Rosé. A Russian operatic piece that I paired with the Grand Cuvée, someone else had matched with the 1990. To end the tasting, Audebert divided us into three groups; each was assigned to one of the wines, and put in front of a blank canvas, with paints and brushes. We were then asked to paint what we felt our assigned wine represented. My group was given the 1990 and we painted a naked, high-heeled woman, dancing in a forest—sensual, wild, yet elegant.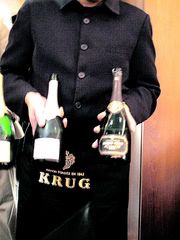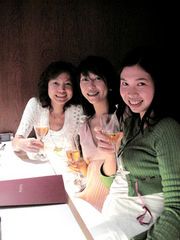 After our art session, we got down to some serious eating. Iggy, as always us, fed us well. Our menu consisted of Avruga with angel hair pasta tossed in classic caviar condiments; Steamed foie gras with tofu and ponzu; Marinated tartare of tuna; Gourmet salad with maguro, French beans and soft boiled quail eggs; Sakura ebi cappellini with extra virgin olive oil and chili flakes (my favourite course); Roasted quail with truffle risotto; and Champagne jelly and sorbet with elderberry foam. Phew!
In all, it was a fantastic meal. My favourite of the 3 Champagnes we tasted was easily the Vintage 1990. It had a softness and a sweetness, with a structured maturity, that the other two didn't have. That said, the 1990 still doesn't come close to the Clos du Mesnil, my all-time favourite Champagne and the superstar of the Krug stable.
Aun has always loved food and travel, passions passed down to him from his parents. This foundation, plus a background in media, pushed him to start Chubby Hubby in 2005. He loves that this site allows him to write about the things he adores--food, style, travel, his wife and his three kids!