Editorial Team
While Chubby Hubby was first started as a solo effort, with its relaunch in 2012, we have decided to ask some amazing and passionate foodies to contribute their words and pictures to this site. Below you'll find out a little bit more about Chubby Hubby's top editorial contributors.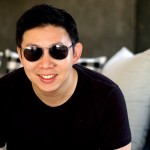 Aun Koh is the founder of Chubby Hubby. A greedy gourmet, a forgetful but loving husband and an overly indulgent dad, Aun is obsessed with good food, boutique hotels, cameras and camera gear, gadgets, men's accessories, grower Champagne, his wife, and comic book movies. This portly papa started taking photos after his paternal grandfather gave him his first camera when he was just 10 years old. He discovered a love of writing in University and was Editor-in-Chief of his school's weekly newspaper. Aun spent a decade working in magazines and newspapers in New York, Paris, Hong Kong and Singapore before taking a break to work in the art world. In 2006, he and his wife set up what has grown to become Southeast Asia's most respected, creative and unique lifestyle services group. These days, Aun spends his time working in the nonprofit arena.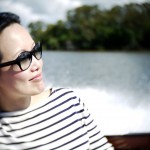 Tan Su-Lyn is Aun's better half and for many years, the secret Editor behind this blog (known only as "S"). Su-Lyn, before co-founding The Ate Group, Southeast Asia's premier lifestyle services group, was well-known as a food journalist, magazine editor and cookbook author. Upon graduating university, Su-Lyn landed a dream job writing restaurant reviews for 8 Days! Magazine—a gig that combined her love of food and made use of her media studies degree. Su-Lyn later became Editor of Wine & Dine magazine, revamping it during her stint and winning an IFRA Asia Gold Medal for Design for her efforts. She has written for many of the world's best publications, from the Wall Street Journal to Town & Country. She has also edited and/or written several cookbooks, including Passion & Inspiration for Justin Quek; New Shanghai Cuisine by Jereme Leung; Wine Dinners by NK and Melina Yong; Inside the Southeast Asian Kitchen, a commission by ASEAN; Heritage Feasts, a commission by Miele; and the Lonely Planet World Food Guide to Malaysia and Singapore.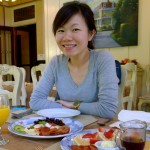 Charmaine Toh is Chubby Hubby's current Editor. Without her, Aun would be lost. Charmaine is actually a marketing communications specialist in her professional life, but her real passion is food and its close relation, travel. From visiting a new city and discovering street finds and interesting eateries, to the making and eating of delicious foods, plus exploring a cuisine's origins, Charmaine devours them all happily. Born and bred in Singapore, she is currently based in Hong Kong (incidentally a superb city to live and eat in). These days she can be found (over)eating, thinking of what and where to eat next, and attempting various recipes in her kitchen.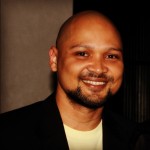 Aman Khan is constantly on the move for good food. Born in Paris, this former food critic for the Jakarta Post regularly travels if for no other reason than to find the tastiest food from every corner of the world. When he is not eating, he is always thinking (often aloud) about what makes certain food tick while others fail. Aman is especially devoted to tracking down the very best local and seasonal food on the planet. To this global gourmet the best dining experiences are often the most simple and unpretentious. Because the single most important thing is the food. And not the pomp that way too often gets in the way. Nothing irks him more than sitting through an elaborate degustation menu with cuisines from six different countries so badly arranged that it guarantees mediocrity from the outset.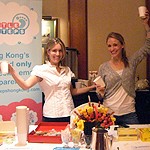 Amie and Shea are the women behind the amazing Little Steps website. Little Steps is Asia's leading website and weekly e-newsletter dedicated to delivering the inside scoop to parents on what to do, buy, and discover in Hong Kong, Singapore, Bali and beyond. The dedicated team across Asia scouts, tastes and shops to find the most hip and happening products and places to keep parents in the know and on the go. In 2010, Little Steps partnered with LUXE City Guides to create the Little LUXE series of print guides for families available in stores worldwide and online at www.amazon.com and www.luxecityguides.com. Sign up for the Little Steps e-newsletter at www.littlestepsasia.com.
Born and raised in Singapore, Amy was fortunate to have had doting parents who brought her along on their travels and taught her how to appreciate good food and the finer things in life. Her love for cooking and baking did not develop till later in life, due in part to the somewhat traumatic experiences from her parents' escapades in the kitchen on the cook's day offs – curry cakes, exploding porridges, brick bread and the like. Sent to study and live on her own in Sydney in her teens, Amy also learnt the hard way that speeding up the process of hard boiling eggs in a microwave is a no-no. Thankfully, she has greatly improved since then, and together with her younger sister, Little A, they often bake up a storm in the kitchen on weekends. Amy also enjoys watching thrillers, listening to various genres of music, singing in the shower, sketching, photography and eating her eggs sunny-side-up.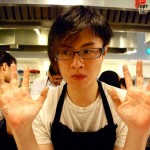 Brandon Chew's first memory is of him eating chicken rice at the dining table of his parents' old flat. His second memory is of him politely asking for, and receiving, a second helping of fries at KFC, which taught him two things: manners gets you places, and fries are the most awesome food known to man. A Singaporean by birth, Brandon's heart and stomach – same thing, really – belong to New York, where he spent three years as a college student. Although he majored in Economics and Finance, his real education took place in Midtown restaurants and cozy West Village cafes. The proudest moment of his life was when a sushi chef at a restaurant frequented by NYC's celebrities and jet-setting elite told him that Brandon was his favorite customer. You can follow Brandon on Twitter: @chewbrandon.
Charissa attended school in sleepy Brisbane and left with an education in gorgeous seasonal produce, amazing coffee and the world's best breakfasts. She started her career doing PR for one of Singapore's best (and unapologetically hipster) hospitality groups, which prompted her neurotic habit of keeping tabs on the city's growing restaurant and bar scene. Although still very excited about what others are cooking, she makes a conscious effort to spend more time in the kitchen these days. She has an undeniable sweet tooth but regularly churns out savoury meals for her family who doesn't quite feel the same about these treats. Her appetite for adventure also extends to travel, interiors and other beautiful things. She blogs regularly on wemadethat.co and takes filtered photos sometimes too @wrrgrrl.
Dawn Chia is a lanky food-crazed lady, who considers the Ferry Plaza Farmers Market in San Francisco the happiest place on earth. She started out writing for lifestyle magazines, and later spent several years in banking. When not eating, she's cooking, feeding others, reading about, hankering after, and writing about food. Her eclectic favourites list includes croisssants, laksa, Guinness draft, salmon belly sushi and Reese's Peanut Butter Cups. On her first date with her boyfriend (now husband), they dined at four restaurants across Singapore. He's gained 25lbs since, and their culinary escapades continue after welcoming two rotund angels. Today, Dawn's committed to feeding them with the best, and creating lasting food memories and traditions for her family.
Elizabeth Loel lives to eat and eats to live.  As a chef-turned-restaurant critic she has seen all angles of the restaurant industry from the good, the bad and the utterly delectable.  Widely travelled and with more  than fifteen years experience as a restaurant critic, Lizzie knows a thing or two about eating out. She ran the popular A Moveable Feast for six years and then went on to establish The Grape Catering Company, both of which won multiple awards over several years. Lizzie was the founding editor of the Courier Mail Food and Wine Guide which she co-edited for five years, she reviewed for Gourmet Traveller for six years and has been the Queensland contributor to delicious Magazine for the last five years.  She stopped reviewing when her sons left school, jumping back into the industry to manage some exciting new venues.  In early in 2013 she returned to the Courier Mail reviewing for the prestigious Q Weekend Magazine.  These days she has less mouths to feed as one of her sons is also a chef and the other two are keen cooks so it's more about bench top real estate and less about feeding the masses.
Janice Espa is a Spanish-Peruvian girl from Lima, a city where European influence, Andean traditions, and Asian fusion have created a unique cuisine, and forged her thirst for good grub.  She moved to Brisbane, Australia to study international relations. She met her husband there, and then relocated to Sydney where, as luck would have it, a discussion about the perfect slice of pizza led her to her current role as a food stylist. In Sydney, she takes advantage of the city's vast multiculturalism by exploring gastronomy in all of its forms.  From making dinner recommendations, to keeping up-to-date with restaurant openings, cooking classes, and wine tastings, Janice knows that food is her link to other cultures. Thai, Turkish, Tongan, you name it.  They're all on her mind, for travel is her true passion.
Jeannice Kan is a world traveller and eater. She has lived in Chicago and Madrid and has recently moved to New York City. Having had the opportunity to live in many cities, her taste buds have been shaped by the varied offerings and lifestyles, some of which are unique to only those cities. Among her favourite cuisines are Peruvian, Indonesian and Singaporean food, especially her mum's cooking. Her favourite desserts are cupcakes and macarons. She likes places that offer delicious food in a fun ambience and hardly tries the same dish at the same place twice. Jeannice looks forward to sharing her food adventures and stories and welcomes questions or requests for where to eat, especially in the cities where she has lived in before.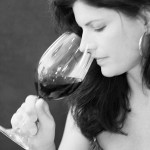 Joanna Hutchins is a culinary travel blogger based in Shanghai, China. Originally from New York by way of North Carolina, Joanna's professional background is in advertising and international marketing. Living in NYC for over 15 years, Joanna was inspired by the intense foodie culture of New York. In her professional life, work involved frequent international travel to places like London, Paris, Istanbul, Sao Paulo, Athens, Amsterdam, Bangkok, Jakarta, Shanghai, Hong Kong, Hanoi, Tokyo, etc…inspiring Joanna with all manner of culinary and cultural experiences. Joanna moved to Bangkok in 2007 and in 2009 when she moved to Singapore, Joanna founded Accidental Epicurean, a culinary travel blog focused on Asia. Joanna is also a contributor to CNNGo, Look East magazine, SE Asia Globe and Two magazine.
Mandy Ng's journey into the culinary world began out of necessity–a mean of survival whilst she was at university. Faced with an empty kitchen all to herself and a desire to escape the pressure of looming deadlines, a weekly trip to the Fremantle market in Australia opened up possibilities (and her senses) that she had never explored before. Unbeknownst to her, her trips for fresh local produce and experiments in the kitchen were the start of a lifelong obsession with food. In her blog, de oink cafe, Mandy chronicles rustic and hearty meals that one can dish up easily in the comfort of one's kitchen – proving that the absence of special tools (Mandy counts her KitchenAid and oven to be her fanciest) is not a hindrance for those who are looking to whip up a delicious feast. Mandy tweets @demightyshiva.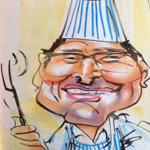 Maroj Alliax sleeps better on an airplane than on terra firma. He works for a large multi-national company that requires him to travel almost constantly. Maroj keeps himself sane by checking out nice restaurants and food places when abroad. Maroj grew up in Asia but studied and worked in the US and in France. He is fluent in English and French and cannot decide where he will retire, South of France or South of Houston (SOHO). In his student days, Maroj worked as a waiter in restaurants and went to cooking school briefly in Paris. He likes to cook for friends but has less time to do that now because of the travelling. He has not given up the idea of running a restaurant one day. He now lives in Singapore, with his young and lovely wife and their two children.
Roger Lim's love affair with food started with a bang. Sent to a distant corner of Kent in the UK at 16, an Asian-food starved Roger tried to recreate mom's stir-fry with explosive results. The loss of the left eyebrow was well worth the reprieve from steak and kidney pie. Today, Roger runs Tomato Design Consultants with his wife Yvonne, and both share a love for the Land of the Rising Sun. He doesn't consider himself an expert on any subject—so don't take him too seriously. In recent years, the misguided man has taken up creative photography and goes by the moniker 'Rogvon' on Flickr, 500px and Instagram. If you are unlucky enough to be seated next to Roger in a restaurant, do be thankful that he is annoying you with his camera, and not attempting to flambé with a wok.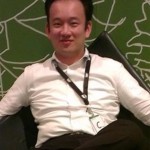 Chan Wai Xin is an IT professional by day and wine enthusiast by night. He is constantly educating himself in all things wine-related. Believing strongly that wine is for enjoyment and not a trading commodity, he encourages sensible, affordable drinking and the exploration of individual preferences. Having been awarded the Certified Specialist of Wine (CSW) with a high score of 98%, he is planning to complete WSET Level 3 and French Wine Scholar programmes in 2013 to enrich his knowledge. Currently a contributing blogger for EnjoyWine.SG and the author of newly-created WineXin.SG, he also lends a hand to the US-based wine social group, Snooth, as a "Mentor". Suggestions and feedbacks on any wine topics are welcomed and can be sent to this.is@winexin.sg.