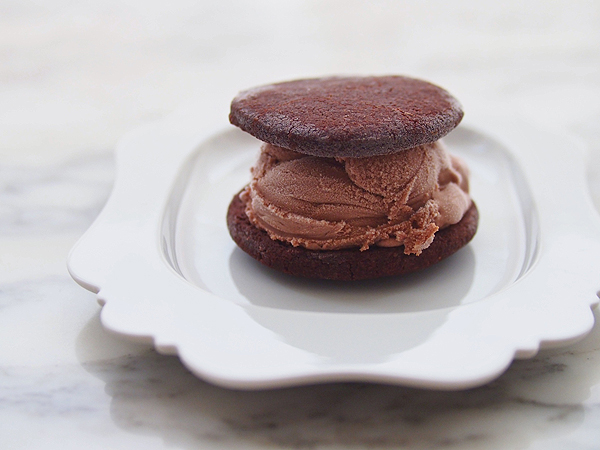 I've always loved ice cream sandwiches. A good one, with artisanal ice cream and a homemade cookie, is a true treat. In the past, my amazing wife S used to make them for me. But these days, between work and looking after our hyperactive son, she simply doesn't have the time to indulge me. Fortunately, I have discovered the guys at The Ice Cream & Cookie Co., who make rather exceptional ice cream sandwiches. 
I first ran across these guys at the Public Garden Flea Market in December (2012). I couldn't resist ordering their After Eight sandwich, made with peppermint ice cream and brownie cookies. It was fantastic and I remember fighting off S, who asked for one bite, and then another, and another.
I also really like that the ice creams made by The Ice Cream Cookie Co. are "preservative-free, all-natural, and free of harmful stabilisers and emulsifiers."
I recently had the good fortune of trying their two newest sandwiches, Choco Noisette (chocolate-hazelnut ice cream + dark cocoa cookie) and Pineapple Tart (pineapple ice cream + golden butter cookie), the latter a special edition for Chinese New Year. I especially liked the Pineapple Tart. The ice cream, with chunks of candied pineapple, was light yet flavorful. The cookie was nice and soft. A wonderful snack to be had this festive season.
You can sample The Ice Cream Cookie Co.'s sandwiches at Pistola. Or find them at various pop-ups around town ("like" their Facebook page to stay updated). Or order online. Please note that the last orders for the Pineapple Tart sandwiches is 27 January; they'll be delivered by 10 February.
Aun has always loved food and travel, passions passed down to him from his parents. This foundation, plus a background in media, pushed him to start Chubby Hubby in 2005. He loves that this site allows him to write about the things he adores--food, style, travel, his wife and his three kids!