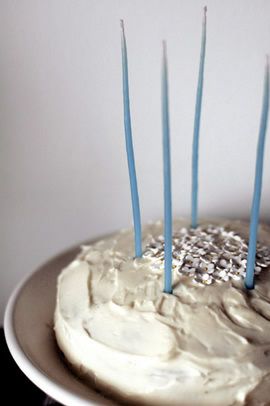 For Christmas last year, my wife and I gave my mother a dinner voucher. More specifically, we offered to cook a dinner party for her and her friends whenever she wanted. This past weekend, she cashed in the voucher in order to celebrate her best friend's birthday.
We hosted 7 people and cooked them a 5 course meal. We started with a Thai Pomelo Salad with Prawns that we learnt how to make at Chiva-Som. Next, we served what I like to call a Deconstructed California Roll, a dish inspired by a visit to an amazing restaurant in Melbourne called Yuu. This was followed with a dish my wife and I came up with this past week, Pan-fried Butterfish Medallions with Noodles served in a Laksa Broth. Our last main was an Oven-roasted Rack of Lamb plated with Lentils Du Puy. The lentils recipe came from the Balthazar cookbook. For dessert, we had homemade Carrot Cake, pictured up top.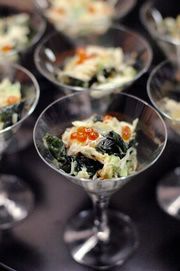 Pictured here are the "California Roll" course and the Butterfish. Both are actually pretty easy to make, with the right ingredients. The former is composed of fresh crabmeat mixed with wakame, ikura, tobiko, and avocado. It's tossed in a sauce made from mirin, white miso, mustard, Japanese mayonnaise, and wasabi. The latter course depends on the quality of the fish (which we bought at Swiss Butchery) and the broth. We used a store-bought laksa paste, but the broth was homemade. My wonderful wife whipped up the stock using crab shells, prawn heads and fish bones. The dinner was complimented with a 2003 Madfish Premium White and a 1999 Reserve de la Comtesse.
Aun has always loved food and travel, passions passed down to him from his parents. This foundation, plus a background in media, pushed him to start Chubby Hubby in 2005. He loves that this site allows him to write about the things he adores--food, style, travel, his wife and his three kids!