It's been an amazingly busy week. So busy in fact that I wasn't able to find any time to take part in this month's Is My Blog Burning? challenge. Of course, J over at K
uidaore created enough amazing dishes for a half dozen eager bloggers, so I doubt my lack of participation will even be noticed. Despite my crazy schedule, I did find the time to attend a pretty amazing dinner on Saturday night.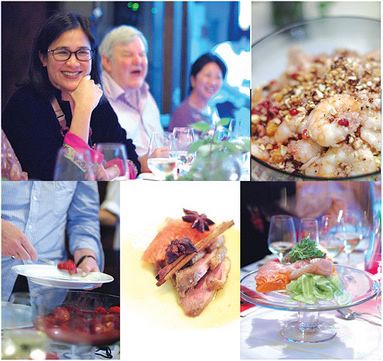 Aussie celeb chef Kylie Kwong is in town to take part in the Singapore Writers Festival. One of her events, and the quickest sell-out event in the Festival, was a dinner at Poppi, a Modern Australian restaurant in Legends (the former Fort Canning Country Club). The menu was a collaboration between Ms Kwong and Poppi's head chef, Chris Millar. For starters, we were served 3 sharing platters of Sashimi of Kingfish and Ocean Trout; Salad of Squid, Chinese Pork, Baby Herbs and Nolans Rd Organic Extra Virgin Olive Oil; and Tasmanian Spiced Chicken and Prawn Salad with Pomegranate, Figs and Cinnamon Spiced Almonds. For mains, we first had a Coconut and Lime Crusted Garoupa in a Smoky Coconut Broth with Asian Herbs. This was followed with a Crisp Skinned Magret of Duck with Fresh Ruby Grapefruit Sauce and Sauteed Asian Greens. This second main was particularly exciting because it was a variation of the amazing crispy duck that Ms Kwong serves up in Billy Kwong, her restaurant in Sydney. For dessert, we had Poached Stone Fruits with Creme de Framboise, Lime Curd and Vanilla Bean Anglaise. It was a good dinner with great company. I was fortunate enough to get seats at the table Ms Kwong herself was at. Other dining companions turned out to be famed New York Times writer RW Apple Jr and Makansutra founder KF Seetoh.
My luck only got better because Sunday, S and I had the great fortune of attending a private lunch in honor of RW Apple Jr ("Johnny" to his friends), prepared by one of Singapore's best but often underrated chefs, Jimmy Chok. Here's a picture of Jimmy explaining our menu to Johnny.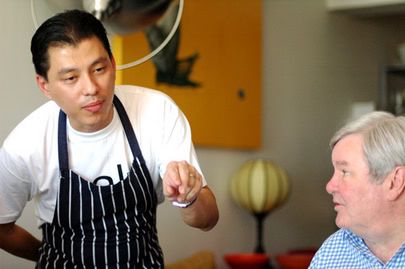 The menu, and the food, I have to say, was amazing. I've eaten Jimmy's cooking many, many times. And I've always enjoyed his food. But it was never like it was today. Today, perhaps because he wasn't cooking in a busy restaurant or perhaps because he was hoping to impress Johnny and then get written up favorably and famously in the New York Times or perhaps because he was just in a good mood, the food was particularly inspired. It was both terrific and inspiring. Here's our menu: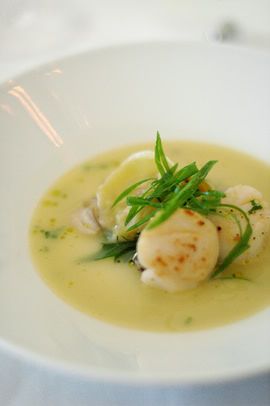 Hot Seared Scallops with Prawn Ravioli and Clam Laksa Leaf Nage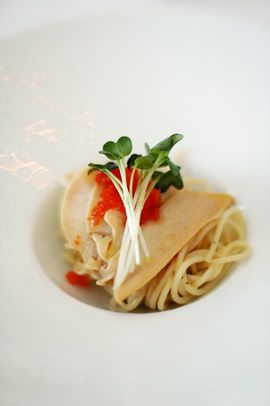 Marinated Angel Hair with Australian Abalone

Tian of Lobster with Mango and Pea Puree, Lobster Bisque Emulsion and White Truffle Oil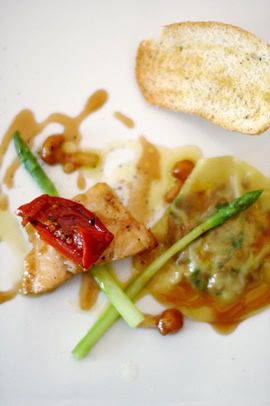 Slow Cooked Chilean Sea Bass with Roast Duck Dumpling, Terrine of Duck Liver and Soy Mirin Reduction

Coriander Crusted Rack of Lamb
For dessert, we had a rather modern take on 'goreng pisang' (fried bananas). And to help wash down all this yummy food, we enjoyed some Taittinger Comtes de Champagne 1996 and then some Torbrecks The Steading 2002. Jimmy is currently the executive chef of The Academy Bistro, which is on level 1 of the new Supreme Court building and just opened a couple of weeks ago. The Bistro is open every weekday for lunch and open Fridays for lunch and dinner. On weekends and on weeknights from Monday to Thursday, Jimmy is available for private catering. To reach him, you can email him at jimmy_chok@sal.org.sg.
Aun has always loved food and travel, passions passed down to him from his parents. This foundation, plus a background in media, pushed him to start Chubby Hubby in 2005. He loves that this site allows him to write about the things he adores--food, style, travel, his wife and his three kids!