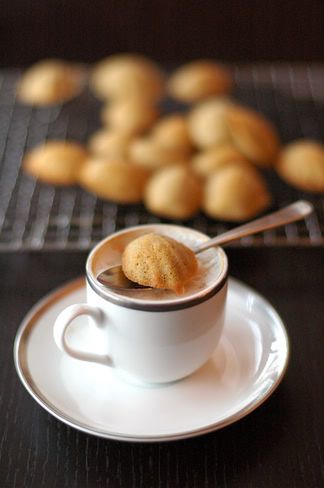 I've never been much of a baker. Baking requires precision. It requires having the patience to measure ingredients properly, which I've never actually had. I've always been one of those cooks who enjoys eyeballing his measurements. Terms like "salt to taste" were written for over-confident lazy guys like me (of course, some gals would argue that all us guys are over-confident and lazy). The theory is that with enough experience, one instinctively knows how much of each ingredient to add to one's dish. Of course, it's just a theory, which as soon as I pull out our lemon-curd colored Kitchenaid mixer is often proved wrong.
Let's just say that my wife S, who is obsessively precise, is the baker in the family. Which means that, while we share kitchen duties, desserts are her domain. Which further explains why I've never taken part in Sugar High Friday before. Until now.
This month's SHF is being hosted by Ronald of Love Sicily and is a coffee themed challenge.
I love coffee. When I was in university in the USA, I was a total coffee addict, drinking an average of 12 cups a day. Back then, I was a tad silly; my java of choice was made from those frou-frou flavored beans… you know, "vanilla hazelnut" or "chocolate peppermint", things like that. Fortunately, a study stint in Vienna and an internship in Paris introduced me to proper coffee. Good, strong, small cups of coffee. My cuppa of choice these days is espresso. I like that it's small, thick, and powerful. I also like mine sweet. I'm still not enough of a purist to take my espresso black. At home, we make ours with the most wonderful wedding present, a day-glo orange Illy Francis Francis.
For this month's SHF, I decided to make one of the few baked goods that I'm good at, madeleines, this time flavored with espresso and vanilla. I'm a bit of a madeleine nut. I don't get any Proustian flashbacks when eating them, no early childhood warm fuzzies. I just like, no, love the way they taste. The crisp surface, the buttery cakey insides. I particularly like mini-madeleines; not only is there more of that wonderful crunch, they're also small enough to dunk in a small coffee cup. Plus they're just plain more fun to eat.
For these delectable treats, I adapted a recipe from Patricia Wells' Paris Cookbook, adding 3 tablespoons of espresso and a half teaspoon of pure vanilla essence instead of the lemon rind Mrs Wells asks for as well as a tad more flour to the mix. I made the batter last night, letting it sit in the fridge overnight in order to bake up this batch for breakfast this morning. There's nothing more wonderful than the smell of baked goods early in the morning except the smell of baked goods combined with the aromas of a good, strong cup of coffee–which as you can see, I enjoyed with my madeleines.
Let's just say that I had a really good morning.
To compliment my rather limited baking skills, S decided to surprise me after work with a coffee themed treat–something she knew I'd enjoy but also want to boast, er… blog about. Using a recipe from Bittersweet by Alice Medrich, she made a batch of Warm Mocha Tarts. Ms Medrich's recipe is for one large tart. For ease of eating, S made me 8 small ones. She must have baked them in the late afternoon because they were still a little warm when I got home. The sweet smells of chocolate, coffee, sugar and butter still hung in the air. The dogs, greedy little beasts that they are, were definitely turned on by the tarts. They sat, refusing to move, by the dining room table, where S had left the tarts to cool. A puddle of drool had even begun to collect by Alix's mouth. Ignoring them (for their own good of course–chocolate being toxic for dogs), I grabbed one of the tarts and quickly bit into it. The filling was warm, velvety and decadently delicious. The crust, made from sweet cookie dough, offered a delightfully light, crumbly, buttery contrast to the thick rich coffee-enhanced chocolate custard. While I would have been more than happy to eat my way through the lot of them, I managed to exercise enough restraint to stop long enough to take a quick photo. After which, of course, I ate another one.
Aun has always loved food and travel, passions passed down to him from his parents. This foundation, plus a background in media, pushed him to start Chubby Hubby in 2005. He loves that this site allows him to write about the things he adores--food, style, travel, his wife and his three kids!