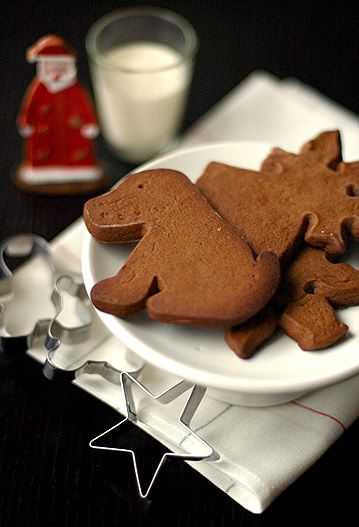 S and I love gingerbread. Nothing quite smells so much like Christmas as the smell of a batch of gingerbread cookies baking away in the oven. S likes hers naked. I prefer mine with icing. For me, it's the combination of the sweet sugary icing and the rich, spicy cookie that makes my mouth water. S, never one for frills, argues that a well-made gingerbread cookie should be able to hold its own without any sweet adornment. For her, a good gingerbread cookie is about the texture and the interplay of various spices that meld together in one magical mouthful.
Of course, this kind of dispute between us is hardly new. I like my (fruit) pies served up hot with a scoop of vanilla ice cream on the side; a good pie to S doesn't need any kind of accompaniment, other than good conversation. I like topping a salad with a hard-boiled egg and some bacon bits; a salad to her is first and foremost about the fresh vegetables, whose taste doesn't need to be masked by additional ingredients.
S made up the pictured batch of gingerbread cookies recently, following a recipe from Baking Illustrated, from the editors of Cook's Illustrated magazine. As expected, she refused to decorate them and I was, at the time, too busy (making something else in the kitchen) to make a batch of icing and do it myself. Nonetheless, they were delicious, with a good crunch on the surface and a slightly chewy center (the way I like it).
Anyway, I'm writing all this partly because of an email from a friend who also happens to be a major foodie and an ex-Wine & Dine magazine writer. F sent S and I the below flyer this morning: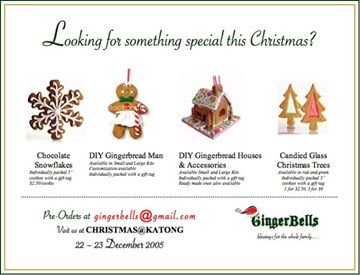 "GingerBells.
A couple of my friends and I will be selling gingerbread men and gingerbread houses with separate accessories so that you can decorate and customise your purchases as Christmas gifts for friends (or use em' as a family bonding activity). We'll also be conducting gingerbread house decoration demostrations, as well as a children's corner for the young ones to decorate their very own gingerbread men on the spot. Ready-made Christmas cookies in snowflake and Christmas tree shapes are also available.
"Christmas @ Katong
Christmas bazaar with food, games and merchandise stalls
22nd and 23rd Dec (Thu & Fri)
10am to 10pm
Area outside Odeon Katong. For a map, please click on the link below:
http://www.cscc.org.sg/cornerstone/contactus/contactus.htm"
I have no doubt that F's cookies will be fabulous. So, if you love gingerbread but don't quite feel like slaving over a hot oven, here's the perfect place and time for you to stock up. I especially like the DIY nature of what she's doing. It means that I can decorate the ones I buy to my heart's content while S can happily tuck into her own, most likely, naked ones.
Aun has always loved food and travel, passions passed down to him from his parents. This foundation, plus a background in media, pushed him to start Chubby Hubby in 2005. He loves that this site allows him to write about the things he adores--food, style, travel, his wife and his three kids!