S and I got married on 9 September 2001. To celebrate our anniversary this year, we decided to recreate our wedding dinner–for ourselves and for two close friends who weren't able to attend the wedding. We were married at the Sandalford Winery in Swan Valley, Western Australia. And unlike many other couples that we know, S and I not only got to eat all of our wedding dinner, we also really enjoyed what we ate. As two obsessive foodies, we had insisted on these two things. Firstly, we had set-up a little photo studio in the corner of the room where the dinner was being served. So, instead of moving from table to table to have photographs taken with all of our guests, we invited our guests to pose for photographs whenever they felt like it, throughout the meal. We had left a stack of white boards and markers with the photographer. Our friends were asked to write messages on the boards and pose with them. Secondly, we worked really hard on planning the menu, meeting Sandalford's incredibly understanding and talented chef several times in the months leading up to the wedding. We planned a menu based on some of our favorite dishes. On the menus placed on each table, we then explained the significance of each dish.
Our first course at the wedding dinner was a squid ink linguini with fresh seafood and snowpeas. The menu description read, "A delightfully light dish Chef Margaret wowed us with on our last visit to Sandalford's." For last night's re-enactment, we tweaked the dish quite a bit, making instead a spaghettini with prawns and petits pois (pictured at the start of the post). The prawns and peas were cooked in a paste made from coriander, curry leaves, garlic, chili, salt, olive oil and prawn oil. The pasta was then tossed with this and served with a bit of freshly grated parmesan.
Our second course at the wedding was confit of Atlantic salmon. Our menu read, "A signature Tetsuya offering that CH sometimes whips up in the kitchen–evidence that he won the girl over with his kitchen prowess." For last night's meal, I made a confit of salmon with nameko mushrooms. I marinated the sashimi grade salmon for a day in grapeseed oil infused with coriander, basil, garlic, pepper, and the zest of one orange. The salmon was then cooked for 7 minutes at 100 degrees Celsius. I covered the top of the salmon with a bit of chopped, shiso-flavored hijiki and a small spoonful of ikura. With the salmon, I served wonderfully fresh nameko mushrooms which I had sauteed in French butter.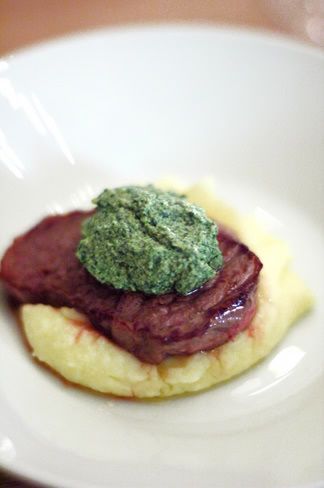 Next at the wedding was a fillet of beef topped with coriander pesto. S had written on the menu, "The first dish, stolen from Peter Gordon's Sugar Club, that S cooked for the boy. Thankfully, he survived." For yesterday's dinner, we had picked up some gorgeously marbled Australian wagyu striploin. I made the pesto yesterday as well, first crushing the fresh coriander, basil, young garlic, toasted pine nuts, olive oil and parmesan in a ribbed Japanese mortar, and then blending it into a smooth paste. To serve with the wagyu and pesto, I whipped up some yummy mashed potatoes (made with loads of butter).
To finish off the meal, both at the wedding and last night, we had a cheese plate and a cake. The cheese was Pavé d'Affinois served with fresh honeycomb. Our menu read, "CH's favorite cheese, which quickly became S's favorite too, after two beautiful meals at a little Thomas Keller-owned bistro in Napa Valley called Bouchon." The cake was a Strawberry Shortcake, because as S wrote on the menu, "Wedding cake should always be yummy!" With the dinner, we had some Watermelon martinis (I love our juicer), followed by a Curly Flat Chardonnay (1999). While slightly tart, the buttery Chardonnay worked well with the pasta and the salmon. With the beef, we had a bottle of a Valentini Cerasuolo (2002) that I had brought back from my June trip to Venice. I had both read and been told that this wine was Italy's best Rosé, so I was expecting quite a lot from it. Unfortunately, I wasn't all that impressed. Nonetheless, it was a great meal, and I was glad to be able to share it with S again and to introduce it to two good friends who missed it the first time around.
Aun has always loved food and travel, passions passed down to him from his parents. This foundation, plus a background in media, pushed him to start Chubby Hubby in 2005. He loves that this site allows him to write about the things he adores--food, style, travel, his wife and his three kids!