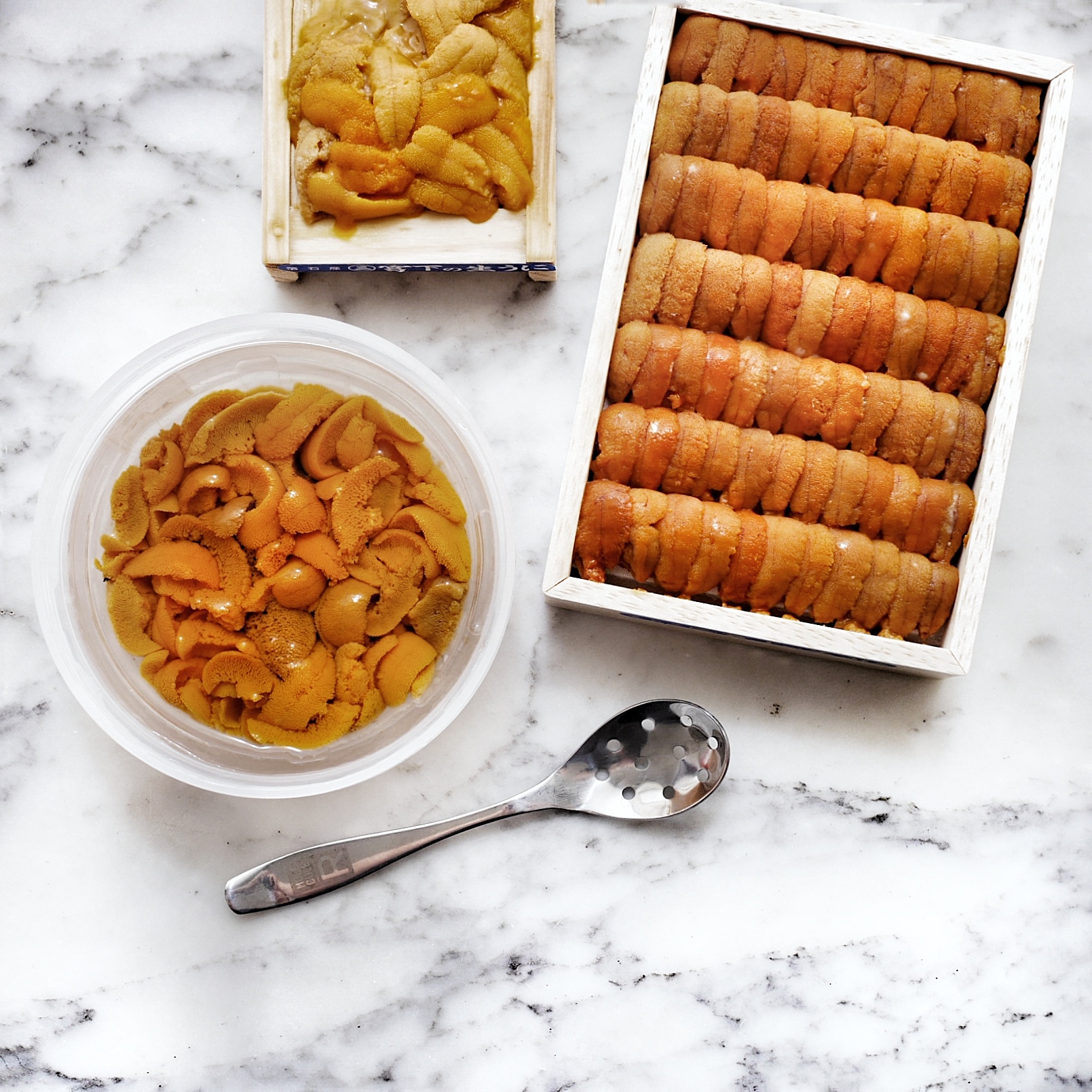 One of the ingredients I love to use in dishes when I entertain friends is sea urchin ("uni" in Japanese). It's a product I've come to really enjoy in recent years. We're especially lucky in Singapore that we're able to access (through retailers like Zairyo) exceptionally high quality product. Poor-grade uni, or uni that's past its "use-by date" is awful. It's pissy and horrible. But fresh, high quality uni is beautiful. It's sweet and rich and really quite special.
While an uni course has become a staple on dinner party menus for friends, I've refrained from serving uni to my own and my wife's parents. I don't know why. I never asked them if they didn't like it. I guess I assumed it was too rich for them. So when my father-in-law recently expressed his love of uni, my wife and I felt really bad. He'd clearly seen, via Instagram and Facebook, pictures of uni-covered dishes we've created for others. Thinking about it now, he must have wondered why he wasn't getting the same luxe treatment.
To make it up to him, and because his 70th birthday was coming up, we offered to whip up an uni extravaganza in his honour – six courses of uni indulgence for him, my mother-in-law and my parents. And because I needed to make up for lost uni opportunities, which dictated doing something very special, I ordered three varieties of uni for the meal: Hokkaido uni, Bafun uni (strong flavours and sweet) and Ensui uni (gorgeously sweet yet delicate; it is stored in salt water).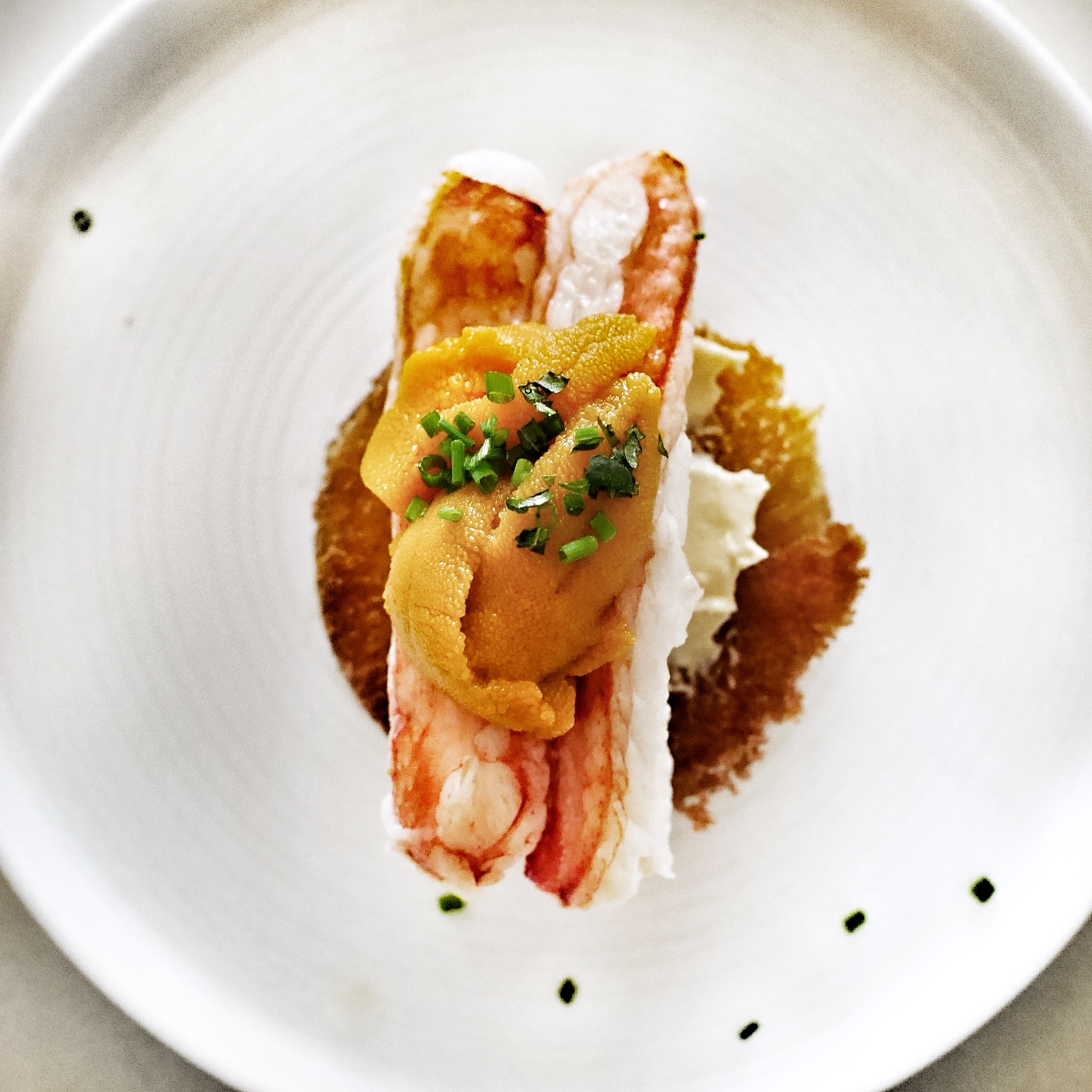 The first course was something that came together by chance. When shopping for ingredients in Meidiya, I came across a Hokkaido snow crab promotion and picked up a bag of legs. At home we had a jar or sriracha cream cheese that Su-Lyn had prepared for a Philadelphia Cream Cheese shoot she'd recently worked on. And we had some beautiful bread she had also made. This course was easy peasy: fried some bread rounds in olive oil so they were nice and crispy; spread some of the cream cheese on them; top them off with the crab legs, which I'd steamed for a few minutes; and finished the dishes off with some Ensui uni.
The second course was something I've made before and also written about — uni encased in a tomato water gelee. With the uni I added a little calamansi zest and some shiso. To make the dish more festive, a little gold leaf was placed on top of each jelly.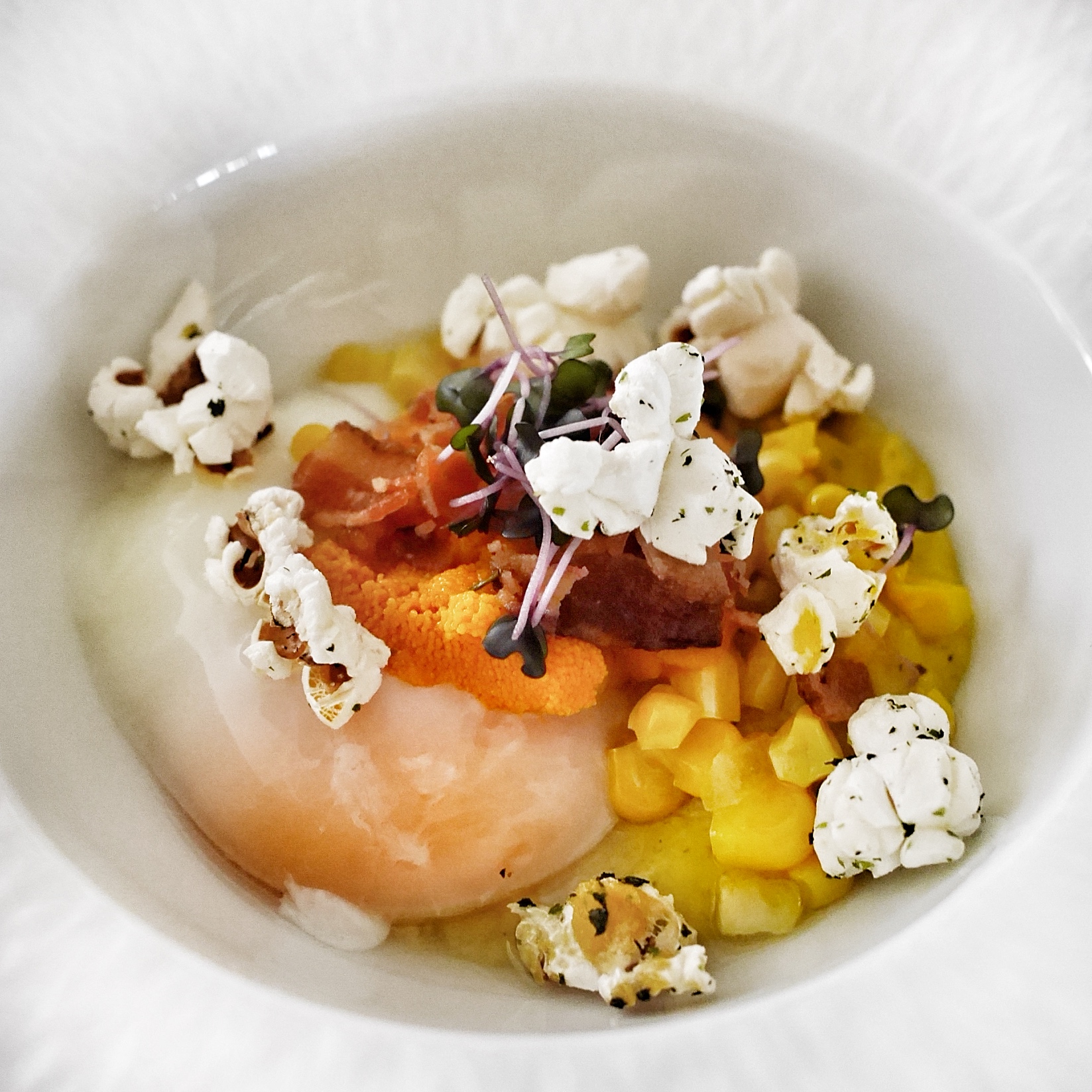 The third dish was inspired by something I saw on a friend's Instagram feed. She had enjoyed a gorgeous and very cool sounding dish at Pierre in Hong Kong that was built around three textures of corn. I knew I wanted to try making my own version. Not having actually tasted the original I think was also a good thing. It meant I could exercise more creativity in what I did — as opposed to trying to recreate the flavours of the Pierre version. I made a puree with roasted garlic, fresh corn and Japanese leeks as my base. More fresh corn was sautéed with butter, shallots and sprinkled with nori. Similarly my popcorn was sprinkled with nori, shiso and salt. Bacon bits, a sous-vide egg and a helping of ensui and Hokkaido uni finished off the dish. I've written up a recipe for this dish, at the end of the post, so that if you're keen, you can try making this.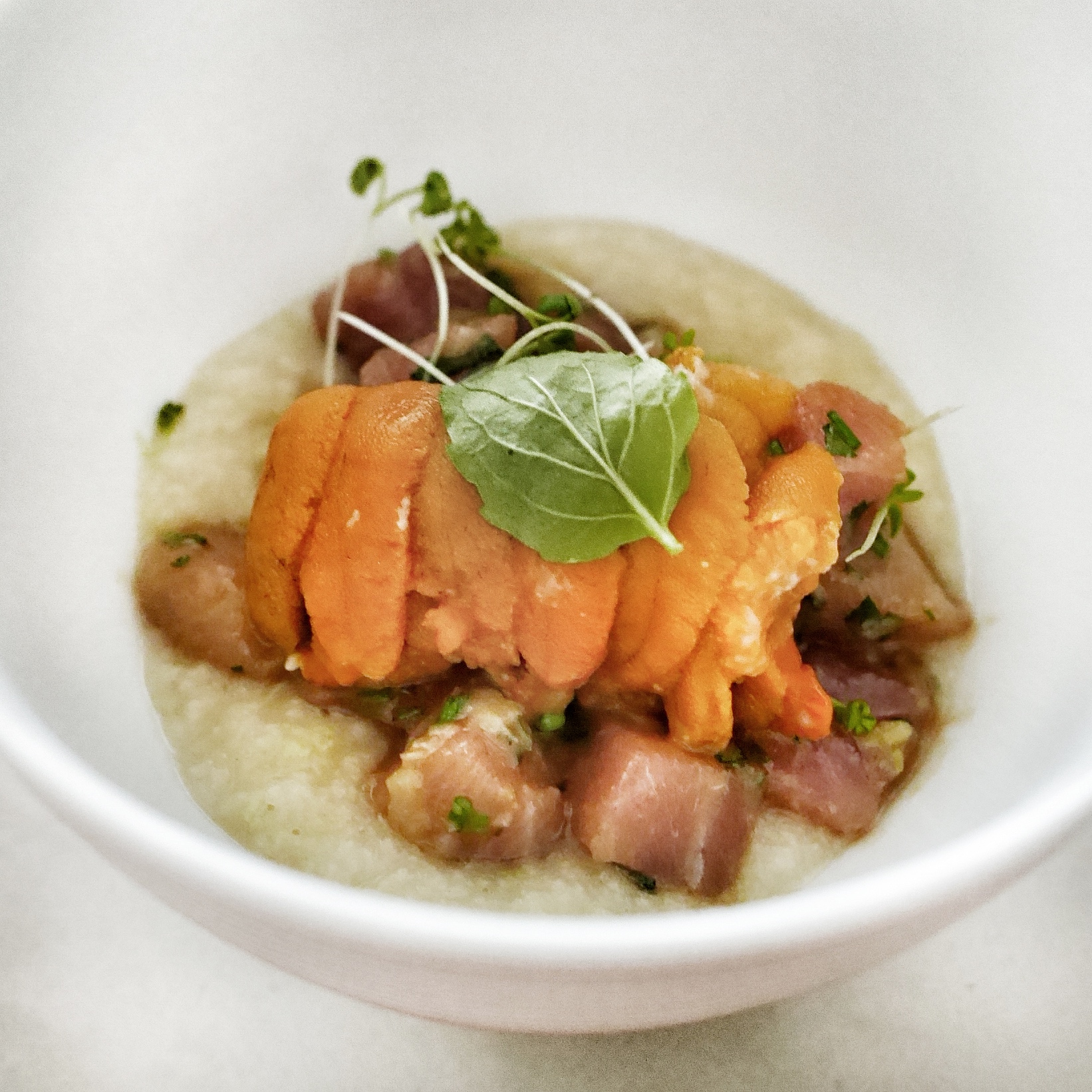 The next course was probably the most unattractive of the meal but resulted in the most compliments. The base of the dish is freshly grated nagaimo mixed with fresh wasabi, soy and sesame oil. When my son saw this, he was like, "Eeeeew! Slimy!" But it's the most delicious slime ever. Over the nagaimo I spooned fatty tuna belly that I'd mixed with leeks that had been cooked in bacon fat, chives, shiro miso, and soy. A big helping of Bafun uni was placed on top, with some Japanese pepper leaf. The dish, when mixed together, was just so wonderfully comforting and umami.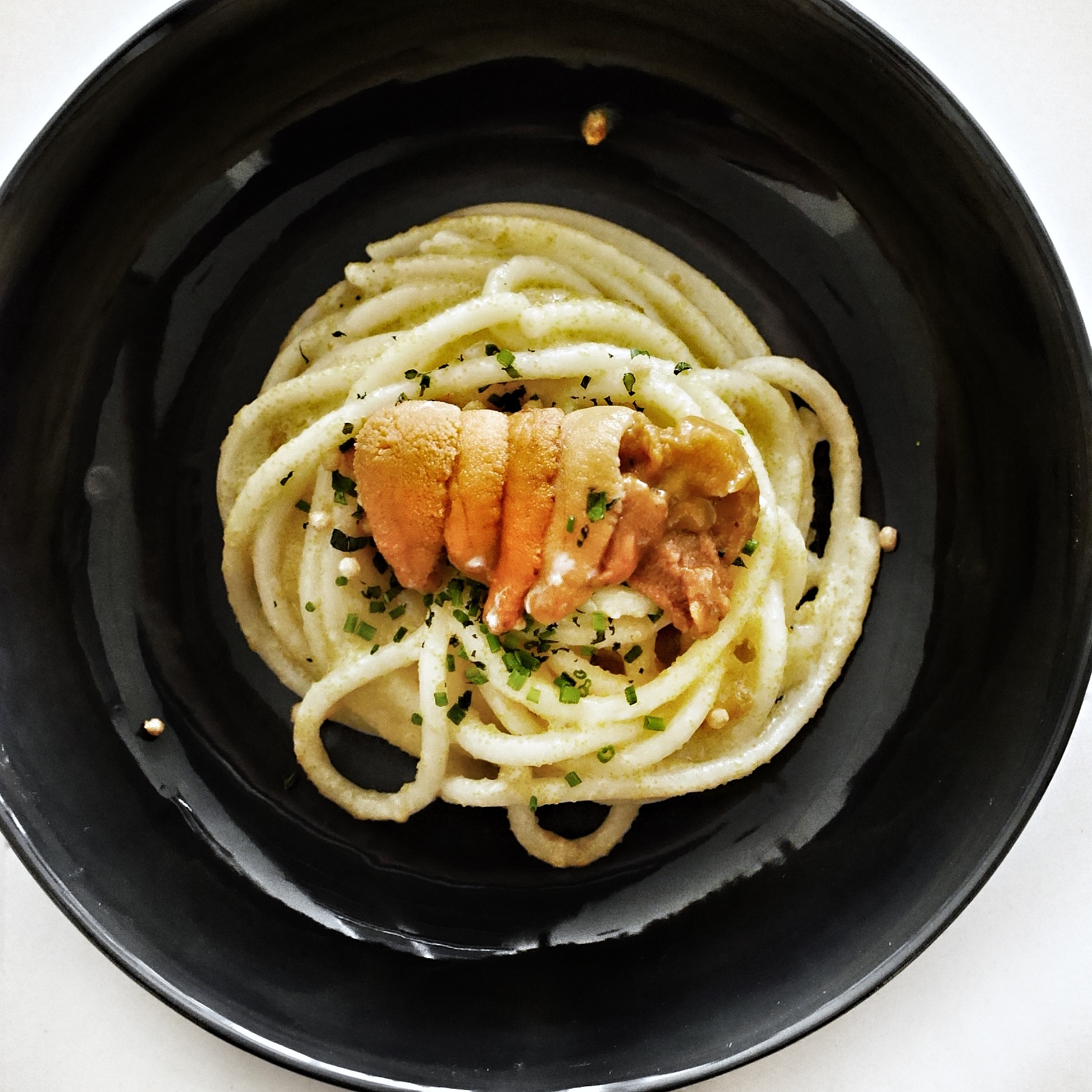 Next up was a small helping of uni pasta. For this version, I used bucatini and made a sauce with butter, sake, mirin and chicken stock. After the pasta was tossed in the sauce, I added a big portion of grated karasumi (salted mullet roe) and mixed the roe and noodles together. More Bafun uni went on top of this.
The final course was the only meat course of the meal. I used Ito A4 wagyu ribeye as the foundation of the dish. Paired with the beef was thinly sliced baby radish, zucchini pickle (Zuni Cafe style), sesame seeds, a few cress leaves, Ensui uni and salmon roe. I love the combination of wagyu and uni, and the addition of pickle and the roe helped cut through the fattiness marvelously.
All in all, a very successful meal and one that wasn't, in retrospective, too difficult to prepare. The menu went over really well with the father-in-law, which was the most important thing. Amusingly, and also surprisingly, my own father, once we started serving the dishes, also expressed a love for uni — again, something neither my wife nor I knew. Go figure.
Three Textures of Corn, adaptation of a Pierre Gagnaire dish.
Makes 6 portions
6 eggs
1 head of garlic
1 Japanese leek
3 ears of fresh corn
2 small shallots
Dried nori flakes
Popping corn
2 shiso leaves
2 rashers bacon
100g uni
Salt
Butter
Olive oil
The eggs should be cooked sous-vide at 62.5 degrees Celsius for 1 hour.
To make roasted garlic, preheat an oven to 200 degrees Celsius. Cut the tips off the whole garlic head. Place cut side up in some foil and make a parcel around the garlic. Pour olive oil generously over the garlic and close the parcel. Place on a roasting pan and pop into the oven for 1 hour. When done, open the parcel, let the garlic cool and then pop the garlic cloves out from the skin. Set aside.
Cut the corn kernels off the ears. You'll want kernels from 2 for the puree and 1 for the sautéed part of the dish.
For the puree, slice the leek finely. In a saucepan, melt two tablespoons of butter over medium heat. Add in the leek and corn. Cook, stirring gently, for 5 minutes. Then cover and turn the heat down. Cook for another 5-10 minutes. You want the kernels soft. Then add the garlic and puree with a blender, handblender, or whatever you have in your kitchen. If you need to add a tablespoon or two of water to soften the puree, please do so. If you want a really smooth puree, you can pass it through a sieve, but this is a purely optional step. Salt to your taste and set aside.
Fry the bacon rashers until crispy, set aside to cool, and when cool, chop into small pieces. Set aside.
Mince the shiso and if your nori flakes are quite large, mince them also. Mix the shiso and nori with a bit of salt. Pop your popcorn as per normal (you only need a tiny amount). Toss the warm popcorn with the herb salt and set aside once cool in an airtight container.
Dice your shallots and mince more nori. When ready to serve, saute your shallots in more butter over medium high heat. When soft, add in the rest of the corn kernels. Add in nori and a bit of salt and stir. It's best if the corn is a little al dente.
To plate, spoon some corn puree at the bottom of a bowl or center of a plate. Crack an egg and place it gently on the puree. Spoon some sautéed corn around the egg. Spoon uni on egg and corn. Sprinkle bacon bits over the food. And then sprinkle popcorn over the dish. If you like some greens, you can consider using some more nori, shiso or chives as garnish.
Aun has always loved food and travel, passions passed down to him from his parents. This foundation, plus a background in media, pushed him to start Chubby Hubby in 2005. He loves that this site allows him to write about the things he adores--food, style, travel, his wife and his three kids!