Sometimes it really pays off to have foodie friends who know you like to cook. This past Sunday, we had the most amazing feast, thanks entirely to the gift of a fantastically aromatic (and of course ridiculously expensive) white Alba truffle. The only caveat imposed by the friends who gave us this precious delicacy, of course, was that that they, in addition to ourselves and two others, be present at the ensuing truffle feast.
Inspired by the white truffle, S and I put together a whole truffle menu. Two of the four savory courses would use the white truffle, while the two others would call upon its black cousin. The dessert course would also be truffled, thanks to a wonderful white truffle-honey that S buys in a local gourmet store.
Given the grandeur of the occasion, S and I went all out, laying out a crisp, starched, white table cloth, pulling out plates and crystal we rarely use, and chilling several bottles of good Champagne–which we felt would match most of the dishes better than any other kind of wine. We also dimmed the lights rather dramatically, which while great for entertaining stinks for photography. I was forced to shoot the pictures at 1600 ISO, which exlains the graininess of the shots below. Truth be told, I wasn't really that interested in shooting this meal. Just in eating it.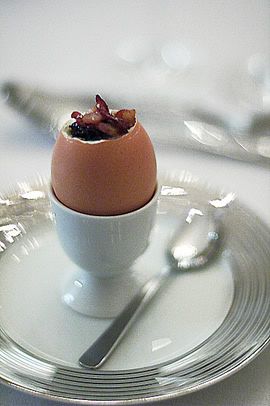 Soft-boiled egg with black truffle salsa and maple-smoked bacon
This is one of the easiest and most wonderful dishes to make. And also extremely presentable, thanks mostly to the ultra-cool egg top cutter we bought recently. This cool, palm-sized metal device helps you cut the tops off your eggs perfectly and cleanly. For this dish, we soft-boiled some eggs (3 minutes in boiling water), then cut off their tops, scooping out a little of the white to allow for the addition of new ingredients. We sprinkled a touch of fleur de sel and added in a small spoonful of Tetsuya's Black Truffle Salsa, a product that I've lauded several times in the past. On top of this, we placed a bit of crispy, shredded maple-smoked bacon. This was served with a Jacquesson Cuvée 729.
Foie gras ravioli with a chicken jus-truffle glaze and white truffle shavings
This was the first of our two white truffle dishes and is a variation of a recipe from Alain Ducasse's enormous and seminal book, Le Grande Livre du Cuisine. Ducasse's recipe calls for ravioli made with only foie gras. S decided to mix some other ingredients into it, adding roasted duck, shallots, cream, some herbs and extra flavoring. All of this was pureed in her much-loved and trusted Sumeet "Asia Kitchen Machine". She also decided to use won-ton skins instead of making a ravioli pasta dough–a shortcut we felt would reduce our prep time without sacrificing any flavor. The glaze is a simple reduced chicken stock (homemade of course), emulsified with butter and truffle oil. Over this, we shaved the white truffles, which gave the whole dish an intoxicating aroma and lifted its flavors gorgeously. We had this with a bottle of Laurent-Perrier Cuvée Rosé Brut.
Chicken en cocotte with truffled risotto, truffle-butter braised leeks and white truffle shavings
Years ago, on our honeymoon, S and I dined at Alain Ducasse's restaurant in the Plaza Athenée Hotel in Paris. We ordered the white truffle menu that night as well, which was both wonderful and incredibly insane given that dinner for two ended up costing us more than one economy rountrip air ticket to Paris. One of the courses in that menu was a sumptuously tender morsel of poulet Bresse, bathed in a light cream sauce, and covered (literally) with white truffle shavings. That dish was pretty much the inspiration for what we wanted to do with this course. We cooked a chicken "en cocotte", meaning we slow-cooked a chicken, sitting over a medley of aromatic veggies and a glass of white wine, in a casserole pot for an hour (at 125ºC).
When we were given the truffle, it was wrapped in tissue and sealed in an airtight container that was also filled with risotto rice. I used this rice for our truffled risotto but also stirred in, when it was almost finished cooking, a large pat of butter that had been blended with Tetsuya's Black Truffle Salsa. In addition, I had bought a can of TartfufLanghe's Fonduta con Tartufo (cheese fondue with white truffles) and added a spoonful of it to help both thicken and flavor the risotto. The leeks were steamed and then braised in the same butter-black truffle salsa mix that I had used for the risotto.
When ready to serve, we plated a bit of chicken, some risotto and the leeks. Over the chicken we drizzled a tiny bit of a sauce made by combining the chicken jus from the previous course and some of the truffle cheese fondue. Over all this, of course, we shaved the rest of the white truffle. We served a Krug Rosé with this dish.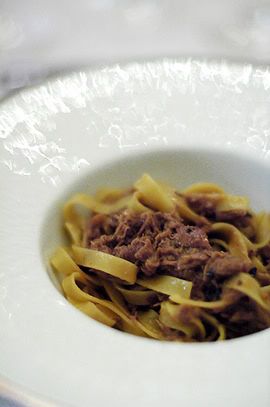 Tagliatelle with black truffle, braised lamb ragout and porcini mushrooms
This is another simple dish. We made a lamb ragout using meat taken off a slow-cooked (seven hours) leg of lamb. This was blended with a chopped black truffle (another gift–this truffle has been stored in VSOP) and chopped sautéed porcini. We used the porcini water to soften the ragout and continued to add the water and reduce, until the ragout had a wonderful, earthy flavor. This was tossed with some very al denté tagliatelle. With this, we had our only non-Champagne wine of the night, a wonderfully smooth Torbreck's The Steading 2002.
White truffle-honey ice cream with apple tart
S's white-truffle honey ice cream has, by now, become of of her signature desserts. Friends who have had it are often shocked and then delighted by the contrast of such strong flavors. The secret ingredient in this sinfully sexy ice cream is TartufLanghe's Acacia Honey with White Truffles. To balance the ice cream, S made a French Apple Tart, following a recipe from Susan Purdy's The Perfect Pie.
The meal, as a whole, was pretty amazing. It's not every day that one gets to eat an entirely truffle-based dinner, let along handle a white truffle in person. As said, It was a meal that was inspired through the generosity of two great friends. And at the end of the night, when everyone had left and we'd cleaned ourselves up, S and I, a tad tipsy, extremely tired, went to bed extremely grateful.
Aun has always loved food and travel, passions passed down to him from his parents. This foundation, plus a background in media, pushed him to start Chubby Hubby in 2005. He loves that this site allows him to write about the things he adores--food, style, travel, his wife and his three kids!