We held another dinner party yesterday evening, hosting two friends from Singapore and two friends visiting from out of town–Washington DC and Bhutan. S and I planned a simple menu of 4 small courses, each a slight tweak of some of our favorite classic dishes.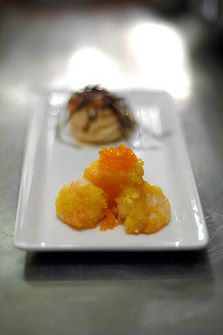 Duo of Mentaiko Pasta and Prawns with a Salted Egg Crust
Our first course was a plated combination of two of my all-time faves. I've written about Mentaiko pasta in the past, so I won't go into details here. For the prawns, I used a recipe from Jereme Leung's New Shanghai Cuisine, a book that S helped to write. I love seafood cooked and coated in a salted duck egg yolk sauce. The sauce has a super-rich and utterly delicious umaminess that I can never get enough of. My favorite version of this prawn dish here in Singapore is the one served at Hu Cui, a fantastic Shanghainese restaurant in Ngee Ann City. Every time I have it, I can't help but lean back in my chair and moan in pleasure. It's that good. Understandably then, I was thrilled when I discovered a recipe for "crab claws and prawns with a salted egg crust" in Jereme's book. I was even more excited when I realized how easy it was to make. Essentially, the egg yolks (separated from the whites) are steamed for 5-7 minutes and then allowed to cool. Once cooled, the yolks should be chopped up into tiny bits and set aside. The prawns need to be coated in potato flour and then fried over high heat in some (normal vegetable) oil. Once they're just cooked, drain the oil and set aside the prawns. Then melt some salted butter in another fry pan. Once the butter begins to foam, toss in the chopped up egg yolk. Stir until it becomes a saucy paste. Then throw the prawns in, stirring everything gently until the egg yolk sauce coats the prawns thoroughly. For our dinner party, we used a long rectangular plate, setting a twirl of Mentaiko pasta, topped with nori, on one end. On the other end, we gave each person 4-5 prawns, topped with a small spoonful of tobiko.
Thomas Keller's Caesar Salad
S and I love this dish. It's also one of the few recipes from The French Laundry Cookbook that doesn't require a team of assistants or a professional kitchen. Essentially, this "salad" is a crouton topped with a parmesan custard topped with a parmesan crisp topped with Romaine lettuce chiffonade topped with some parmesan shavings (phew!). This all sits in an anchovy dressing and complimented with a balsamic glaze. I particularly like this for a few reasons. First, it looks fantastic and always gets a fantastic, jaw-dropping reaction from friends. Secondly, I love the combination of textures–the creamy custard contrasting elegantly with the crunchy parmesan crisp and crouton. The flavors, as you would expect from a Thomas Keller recipe, all blend beautifully. The balsamic glaze, especially, lifts the dish gorgeously.
Pie Floaters of Braised Leg of Lamb with Roasted Garlic and Pea Purée
S and I really enjoyed coming up with this recipe. We love pie floaters. We first discovered them in Adelaide, South Australia, while attending Tasting Australia, in 2001. I think it's a particularly Australian invention. Essentially, it's a meat pie, turned upside down and bathed in either pea soup or topped with a healthy portion of mushy peas. Over this is often squirted ketchup or gravy, and sometimes both. While this may not sound like a culinary masterpiece, it's damn tasty. Especially after a big night out. S and I wanted to see if we could come up with an elegant version to serve friends. For the purée, we used a Nigella Lawson recipe for a roasted garlic and pea soup that I've loved for years. But because we wanted the purée slightly thick, I used a bit less stock and cream than Nigella's original recipe calls for. I also added a few drops of malted vinegar. S made a tart case following a recipe from Susan Purdy's The Perfect Pie. For the meat, we used a recipe for Seven-Hour Leg of Lamb from Molly Stevens' All About Braising. The lamb came out wonderfully. We'd previously tried Anthony Bourdain's 7 Hour Leg of Lamb, which was fantastic, but because Ms Stevens' recipe used more vegetables and more liquid, we thought it might work better for our pies. Once cooked, we deboned the leg, shredding the meat and setting it aside. Then, we puréed some of the braised vegetables with the braising liquid and some additional chicken stock. This was mixed into the shredded lamb meat and allowed to rest in the fridge overnight–allowing the flavors to develop. Right before serving, we heated up the lamb ragout and divided it into the tart cases. On top of this, we placed a small round disc of puff pastry. I'm happy to report our nouveau pie floaters went across really well. And despite some concerns about how well the flavors would go together, they worked fantastically.
Profiteroles with Salted Caramel Ice Cream and Valrhona Chocolate Sauce
I adore profiteroles. And I've been bugging S for years to make them for me. I also love the combination of caramel and fleur de sel. S found this ice cream recipe in a book we've only just acquired, Artisanal Cooking by Terrance Brennan and Andrew Friedman. For the profiterole pastry itself, she turned to her favorite baking book, Baking Illustrated, from the editors of Cook's Illustrated magazine. These were fantastic as well. The salted caramel flavor of the ice cream was incredibly intense, which was tempered by the pastry and challenged in just the right way by the chocolate sauce. While I'm usually a traditionalist–favoring vanilla ice cream in my profiteroles–I have to say that these were pretty special.
Dinner was complimented with a bottle of Jacquesson Cuvée 729 and a bottle of Cheval des Andes 2002. The Champage was wonderful but the red wine, while good, probably needed a few more years to mature.
Aun has always loved food and travel, passions passed down to him from his parents. This foundation, plus a background in media, pushed him to start Chubby Hubby in 2005. He loves that this site allows him to write about the things he adores--food, style, travel, his wife and his three kids!