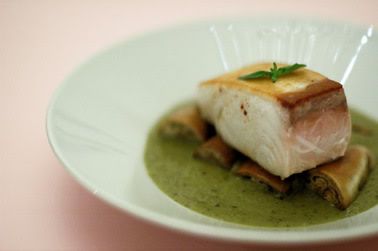 Today's post is about two sets of flavors that I (and I'm sure others) love pairing. The first is fish with green curry. Specifically, I love pan-roasting or frying filets of what Rick Stein calls "large round fish" (obviously for want of a more inventive way of describing them)–like cod or butterfish–and saucing them with a sort of green curry pesto that S and I came up with. In the past, we always served this delicious duo with cous-cous. Because I've been trying to cut down on carbs in the evening, tonight we plated the dish with some sautéed eggplant.
The dish is pretty simple to make. Just get some really good quality filets of cod or another similar fish. Cook them as you prefer–fry, bake, pan-roast, pan-braise, etc. My favorite way is to sear the fish skin side down in a hot pan. Then when the skin is nice and crisp, flip the fish over and add beurre monté into the pan until the fish are half-covered. Let them simmer for 5-10 minutes, depending on how thick the filets are.
For the green curry pesto, you can either make it from scratch or, if you're lazy like me, buy a good quality paste and start from there. Chop up an onion and 4-5 cloves of garlic. Fry them up in a tablespoon of oil in a hot sauce pan. Then add the curry paste and cook, stirring, for a few minutes. Chop up a small chili pepper and toss it in the pan. Pour in a half cup of chicken stock and add 4 tablespoons of coconut milk. Heat this but don't let it come to a boil. Pour the curry into a blender, add all of a small packet of basil (around two handfuls), and blend until smooth. Pour the sauce back into your pan and add more coconut milk or stock according to your tastes.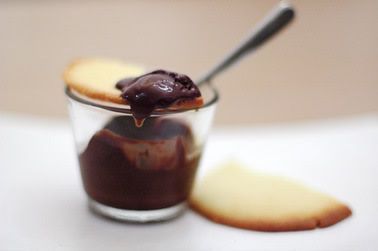 The other flavor combination that I adore is chocolate and lemon. The above was my dessert this evening, and I gotta thank Melissa of The Traveler's Lunchbox for inspiring S to make this SUPER-AMAZING chocolate gelato (It's recipe #2 in case you too want to make this for a loved one). The gelato is paired with a simple lemon cookie, made from a recipe from Carole Walter's Great Cookies. Years ago, a once-amazing French restaurant here in Singapore used to make the most delicious chocolate-lemon soufflé. I was obsessed with it, and despite the ridiculously expensive price (seriously, soufflés and coffee for two was around S$50), I had it as often as I could. I have to say that no matter how good that soufflé was, the above combo–a scoop of gelato and a cookie–simple as it is, was better by far. Come to think of it, perhaps it's the simplicity that makes it so much more appealing.
Aun has always loved food and travel, passions passed down to him from his parents. This foundation, plus a background in media, pushed him to start Chubby Hubby in 2005. He loves that this site allows him to write about the things he adores--food, style, travel, his wife and his three kids!