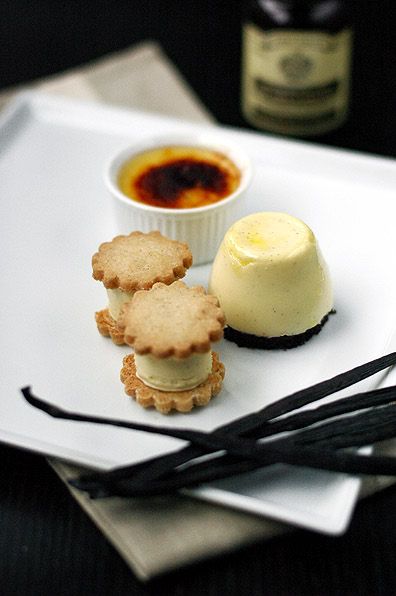 Happy New Year!
I hope all of you had a wonderful, delicious and fun-filled New Year's Eve feast. S and I had the pleasure of dining at a friend's house. She had engaged the services of chef Jimmy Chok for the night. Jimmy whipped up an amazing 6 course feast for the 16 of us gathered together: seared scallop on a wakame tart; braised pork belly topped with a fried egg on a portobello mushroom; lobster ravioli in lobster bisque; Atlantic cod with vanilla leeks and salmon roe beurre blanc; lamb shank and porcini wrapped in phyllo pastry; and warm molten chocolate cake. It was a fantastic meal, enhanced by great company.
For New Year's day, S prepared a real treat for me. As I've written in the past, I'm not a huge chocolate lover. Quite the opposite in fact, I adore vanilla. And I'm constantly pestering S to try out recipes that feature this delicate, clean, creamy and utterly refreshing flavor.
A few months ago, we received a fantastic gift from some dear friends. It was a copy of Boulevard, a beautiful cookbook by Nancy Oakes and Pamela Mazzola, who run a very acclaimed restaurant of the same name in San Francisco. The book is gorgeous, full of inspiring recipes and stunning pictures. One recipe in particular that really excited me was called Vanilla, Vanilla, Vanilla. And ever since discovering it, I've been asking S to make it.
Boulevard's Vanilla, Vanilla, Vanilla is no simple dessert. In fact, it's three desserts plated together. It consists of a creme brulée, a Bavarian timbale, and an ice cream sandwich, all flavored with vanilla.
In order to make her hubby a really happy camper on the first day of 2006, S strapped on her apron a few days ago and started making this amazing trilogy of desserts for me. Another reason why she was eager to give this a try was because we'd been given some vanilla beans from both Madagascar and Tahiti and she'd been looking for a way to use both in order to do a good taste comparison. She decided to use the Madagascan vanilla for the ice cream sandwich and the creme brulée and use the Tahitian vanilla for the Bavarian timbale.
The creme brulée was probably the simplest of the three desserts to make. It's your typical custard, enhanced through the addition of real vanilla, set in small ramekins and then flamed right before serving. To give this classic dish a novel touch of umaminess, we added a pinch of vanilla-infused fleur du sel to the sugar that was sprinkled on top of each custard and crisped. The ice cream sandwiches were made with vanilla ice cream and vanilla shortbread cookies, both of which S made perfectly.
The third dessert was the hardest to make but, in my opinion, the most interesting. It's a vanilla cream custard–held together with gelatin–sitting on top of a chocolate mayo cake base and filled with a hot fudge sauce. The Bavarian creams were molded and cooled in small cups. A small hollow was then dug into the bottom of each custard. The chocolate sauce was poured in and a chocolate mayo cake round affixed to the top of each one. This went back in the fridge to cool and then unmolded, cake side down, when ready to serve. The Timbale looks like a vanilla custard on a cake base. But when you cut into it, hot fudge flows out.
To help me devour these delectable desserts, S invited a few friends to join us. All of us loved the desserts. S and one of our guests decided that they preferred the taste of the Madagascan vanilla to the Tahitian. Honestly, I couldn't tell the difference. I was simply too busy moaning in gustatory pleasure.
What a way to start the new year!
Aun has always loved food and travel, passions passed down to him from his parents. This foundation, plus a background in media, pushed him to start Chubby Hubby in 2005. He loves that this site allows him to write about the things he adores--food, style, travel, his wife and his three kids!