I'll be getting back to my posts on Shanghai over the next week or so, but first I want to write about one of the best meals I've had recently. One of the great things about it is that I had it at home. Which to me is the best place to eat good food. Don't get me wrong. I love going out to eat. I adore discovering small, hidden gems. I get a kick out of eating in dingy street stalls and coffee shops that, in defiance of their appearances, serve fantastic food. I also love the almost theatrical experience of going to a high-class restaurant, from dressing up for the occasion to service that operates at a smooth hum to the unveiling of delicious and artistically plated food. But nothing beats eating at home, simply because eating at home is completely relaxing. You don't have to dress up. A pair of shorts and a T-shirt is fine, even with the fanciest food. You don't have to put up with any snooty sommelier when choosing what wine you want to drink. Just get up, go to the wine fridge and pull out whatever you feel like. You don't have to deal with noisy, annoying customers at the next table. The only people in the room are the ones you invite. And best of all, you choose exactly what you want to eat. There's no chance of sitting down, looking at a menu which has nothing appealing on it, or ordering something only to hear that the dish you've asked for is sold out. You (or your loved one) buy the ingredients. You (or your loved one) cook the food.
A few weeks back, thanks to famed-Nonya cookbook author and cooking instructor Shermay Lee, my wife S and I were contacted by a guy named Steve Loh. Steve is fronting a new company called The Upper Cut, which is bringing in top quality Australian Wagyu beef and selling it to both individuals and restaurants. The Upper Cut claims that most "Wagyu" on the market is actually beef from cows that have been cross-bred between Japanese Wagyu and Angus or a similar breed. Their Wagyu, they state, is genetically pure. And therefore much, much better, with better marbling and fuller flavor.
For those who don't know, Wagyu (or Kobe) beef is famed for its marbling (which in layman's terms refers to the wonderful streaks of fat running throughout the meat). It's equally well-known for its ridiculously high prices. To put it really simply, the more marbled the meat, the more you pay.
After a few emails and a couple of phone calls, Steve generously offered to let us try some of his Wagyu, hoping that we'd like it and then tell friends and chefs about his company. He sent over two steaks each (each weighing about 220g) of 450 day aged grain-fed Wagyu Striploin and 450 day aged grain-fed Wagyu Ribeye. Each had a marbling grade of 7. For reference, a top USDA Ribeye would have a grade of between 4 and 5. Wagyu, on the other hand and at the top end, can have a grade of up to 12. Here's a picture of two of the 4 steaks we were sent. The one on the left is the the Ribeye; the other the Striploin. As you can see, even at grade 7, these steaks are beautifully marbled.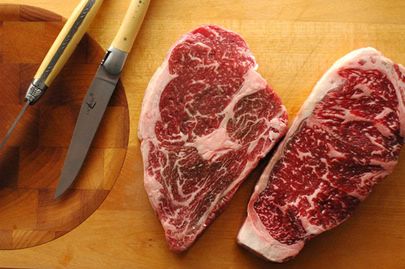 We decided to invite two friends who we knew would really appreciate these gorgeous hunks of meat to join us. We also went out the day before our meal and splurged a bit, buying a brand-new Tefal deep fryer (model 4008002 pro-fryer). Both S and I are big fans of pommes frites. And while we've tried making them at home in the past, we've never been satisfied with our efforts. Frying them in a wok is just too messy. And oven-baking frozen ones has never really produced fries with the right texture. I'd been advocating for a deep fryer in order to make and serve better chips for quite a while, but S had always resisted. Buying a deep fryer to my darling and very health-conscious wife was the surest way to ensure that we'd never eat healthily again. (Oddly enough, the same idea never crossed her mind when she bought an industrial ice cream maker a few years ago–not that I'm complaining, her ice creams are out of this world.) So, I was slightly amazed when she (finally) agreed to buy one. I guess the prospect of eating a beautiful steak with substandard fries finally got to her. Here's a (press) picture of our new baby.
To complement the steak and fries, I made a mushroom sauce and S whipped up a fresh batch of Bernaise. We also set out some mustard and some organic plum tomato relish. We seasoned the steaks with a little salt and pepper–meat this good doesn't really need anything else–and seared them over high heat. I had been told by a chef-friend that I trust that this was the best way to eat Wagyu, seared almost to the point of crispy on the outside, but as rare or as raw as possible inside. After cooking, we let the meat rest for a good 5 minutes before serving it with a final sprinkle of Fleur de Sel.
The steaks were excellent. Full of flavor. Soft but not too soft. All of us preferred the Ribeye more than the Striploin. It seemed to melt in our mouths just that much more than the Striploin. But that's kind of like saying, "I liked the Porsche and the Ferrari, but I prefer the Ferrari; it had more zip." Quite frankly, we were damn happy to have both kinds of steaks and would have been equally ecstatic with either–just like I'd be happy with either the Porsche or the Ferrari. Of course, the problem with eating the Wagyu is that now, any other steak is not going to match up.
The pommes frites, I should also add, were exceptional. I can't believe we hadn't bought a deep fryer sooner. They were perfect, crisp on the outside and soft on the inside. And easy to cook. We sprinkled them with some of the Murray River Lake Salt that I love and devoured them with the Bernaise and the tomato relish.
With the meal, we enjoyed a gorgeous wine, a Joseph Phelps' 1999 Insignia (red table wine). This wine was rated by Robb Report in 2003 as the best domestic (American) wine released that year. It's a beautiful, fruit-driven and jammy wine, soft and not too tannic.
As I said at the beginning of this post, this was a fantastic meal. Great company, beautiful ingredients, the perfect bottle of wine and all of it without leaving my home.
If you're interested in trying Steve's delicious Wagyu for yourself, please click over to the link below. While expensive, it really is worth it.
The Upper Cut
Aun has always loved food and travel, passions passed down to him from his parents. This foundation, plus a background in media, pushed him to start Chubby Hubby in 2005. He loves that this site allows him to write about the things he adores--food, style, travel, his wife and his three kids!