I love stuff. Su-Lyn often complains that since she's the girl, she should be the shopaholic in the family. She doesn't think it's fair that I like shopping just as much as she does. Of course, we shop for very different things. Like a lot of guys, I love gadgets and gear. Kitchen tools, knives, camera gear, portable electronics, bicycles, bags, martial arts equipment… you name it, I'm probably mildly obsessed.
Below are just a few of my favourite and recommended items that are most relevant to this website.
Camera Gear
I get asked often what kind of camera gear I use. To be honest, I have owned a lot of cameras in my life. My first camera ever was a Konica. I inherited a Leica in high school, which was amazing. In my adult and professional life, I shot mostly on Nikon SLRs and then on their DSLRs. I used to collect compact point of shoots (digital and film); and one of my most beloved cameras is a gorgeous Contax autofocus rangefinder. But as for what Su-Lyn and I shoot on these days? Well, we use the below cameras.
The first camera is the one I use the most, a Panasonic GM1 paired with an Olympus 25mm f1.8 lens. For those of us who can't afford cameras like the Leica Q and the Sony RX1, this is the single best small system for food shooting. The GM1's sensor is amazing and its ability to set custom white balance better than a lot of larger and more expensive cameras. The 25mm f1.8 is a dream lens with a minimum focal distance of just 10cm (the Panasonic-Leica 25mm by comparison has a 20cm distance), so you can get up close to your food.
The second pictured is a 2012 Christmas present from my amazing wife. It is of course, the Olympus OM-D. Not only do I love the look and feel of this retro-chic Micro 4/3 camera, it takes simply amazing pictures. I have it paired with a beautiful custom strap from Lance Camera Straps and a very well-designed grip from JB Camera Designs (available via Amazon). Both are fantastically well-made and really make the OM-D that much more stylish and comfortable to use.
I am unabashedly a huge, huge fan of the Micro 4/3 system. In fact, I love this system so much, I've gotten rid of all of my SLRs and DSLRs in order to build my collection around Micro 4/3 cameras.
On the next photos, the Panasonic on the left is mine; the Olympus on the right is Su-Lyn's. The Panasonic Lumix GF1 is a great camera.
I use my OM-D and GF1 with the Panasonic 20mm 1:1.7, the Leica/Panasonic 45mm 1:2.8, and the Panasonic 7-14mm 1:4.0. The Leica 45mm especially is really an amazing lens, especially as it's also a Macro. I have a Voigtlander Nokton 40mm f1.4 M mount lens which works with an adapter; it's a stunning lens that takes crazy gorgeous images. And my current favourite lens (which is also my newest) is the SLR Magic 35mm T1.4. I expect to be using this lens a lot over the coming year. Takes great pix and I can get close enough for some really nice food photography. I also have a novelty lens, a 25mm 1:1.4 CCTV lens that when fitted onto a C-Mount ring works really well with the M4/3 cameras. I love this lens because of the bokeh effects when shooting at very wide apertures. Note that with the Micro 4/3 system, focal lengths are equivalent to 50% those of 35mm camera systems. So, for example, a 25mm lens on the OM-D is equal to a 50mm on a traditional 35mm film camera.
S uses her Olympus EP-2 primarily with a 45mm 1:1.8. The camera also came with a 14-42mm 1:3.5-5.6.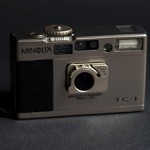 My all-time favourite camera–of the ones I own–is probably a pretty obscure choice. It's the Minolta TC-1, a super-tiny 35mm camera with a brushed titanium body, fixed 28mm focal length and manual aperture controls. It's seriously the size of a cigarette pack. In the era before digital cameras, I took this lil' beauty with me everywhere. It's discreet and it takes amazing pictures.
If you are just getting into photography and want to invest in a nice camera, I urge you to look at a cheap DSLR or a Micro 4/3 system… something that allows you to change lenses. I personally hate zoom lenses. I am big believer in prime lenses, which means lenses with a fixed focal length. The best of these usually have very wide apertures, allowing you to really play with depth of field when composing your photos. You know those great food shots where the subject is in focus and the background is blurry? You can only achieve that when shooting at a very wide aperture.
I also want to give a shout out to Andy's Camera Straps. The beautiful, handmade, custom camera strap you can see on my GF1 was made for me by Andy. Well worth ordering. Beautifully made and it looks amazing too.
Sous Vide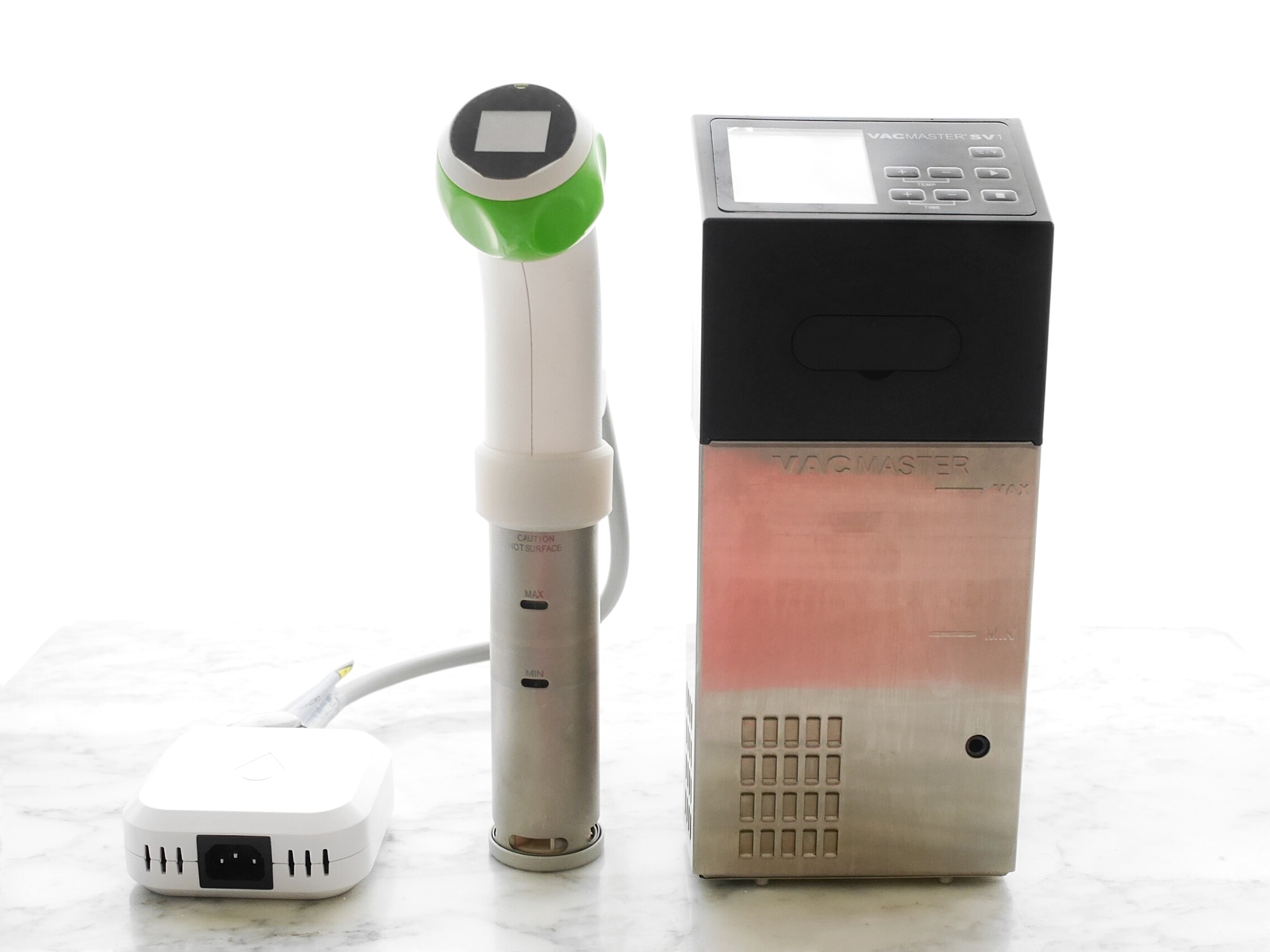 While my first sous vide cooking device was the SousVide Supreme, I've since moved on to use proper immersion circulators. I own two. The one on the left is a cute, affordable and very basic system that I funded on Kickstarter called Nomiku.  They have a new, shorter, sleeker-looking WiFi controlled one coming out soon, which looks awesome. The more commercial one on the right is a Vacmaster SV1 and is a great circulator for home and professionals at an also great price.   (Singaporeans interested in the Vacmaster should contact Asia Pacific Reach by emailing the company's owner Paul.)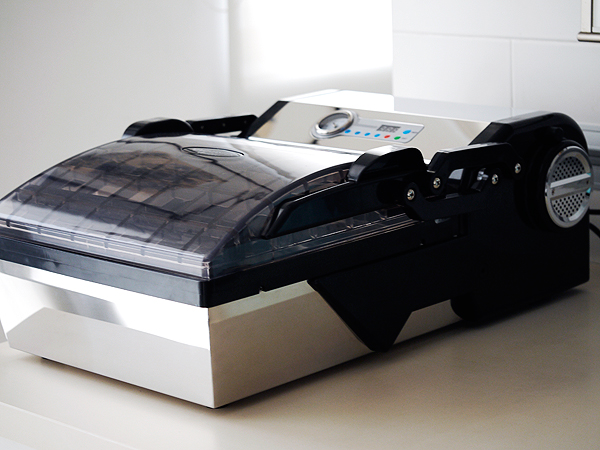 A necessary device in sous vide cooking is a good vacuum packer. S and I used to use a small, cheap domestic vacuum packer. But, again thanks to Asia Pacific Reach, we've discovered a simply revolutionary device, the Vacmaster VP112EU. This is the first chamber vacuum that (1) is small enough to sit on a domestic kitchen counter and not look like it's taken over all of your space; (2) is based on an air piston as opposed to oil (changing the oil in a commercial chamber vacuum machine is hell); and (3) is not several thousands of dollars. While not exactly cheap, it's not unaffordable. For those of you who don't know, a chamber vacuum machine allows you to vacuum pack liquids, something you cannot do with domestic vacuum packers. This has opened up a whole new world of recipes for us — most of the ones in Thomas Keller's Under Pressure, for example, require you to have a chamber vacuum. (Singaporeans interested in this should contact Asia Pacific Reach by emailing the company's owner Paul.)
Lastly, I've written several times about my SousVide Supreme. This tabletop cooking device was our first sous vide device and had truly transformed the way my wife and I cook at home. While restaurants and large scale food service companies have been using sous vide techniques for years, the equipment was usually too expensive for most home chefs. The SousVide Supreme changed that; it was the first reasonably affordable sous vide system for home chefs. I also liked that the system is enclosed, which in a home kitchen is simply safer and more aesthetically pleasing. And while I don't use the machine anymore, I recommend it highly to anyone starting out in sous-vide cooking.
Knives
Like any guy who is into cooking, I love my knives. I definitely have too many, but I don't care. And while I have knives from many different knifemakers, the below are my favourite producers.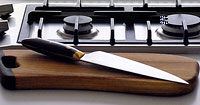 Bob Kramer. This guy makes serious knives that people are willing to wait forever for. They are also crazy expensive. That said, a Kramer knife is a really stunning thing to hold, behold and use in the kitchen. He will occasionally have some ready-made pieces available, so check his website often if you're interested. He has also collaborated with Shun, but, as you would expect, the ones Bob makes himself are of a much higher quality.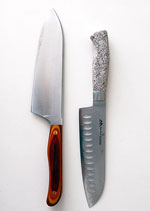 New West Knifeworks. Corey Milligan is a wizard knifemaker with a real flare for colour and design. He makes beautiful knives that will make any amateur chef feel like a superstar. I have three of his knives and use them more than any other knives that I own. Check out his Super Bread Knife, a true masterpiece that every stylish gourmand should have in her kitchen.
Cutlery Kikuichimonji. These guys have been making knives since the 13th Century. I love visiting their shop in Kyoto. The range of knives here is really quite stunning. You can take your pick between Western or Japanese style blades. You can also choose knives according to the kind and quality of steel they are made from. The very best knives here are astronomical in price, so be warned. But every blade here is worth the price.