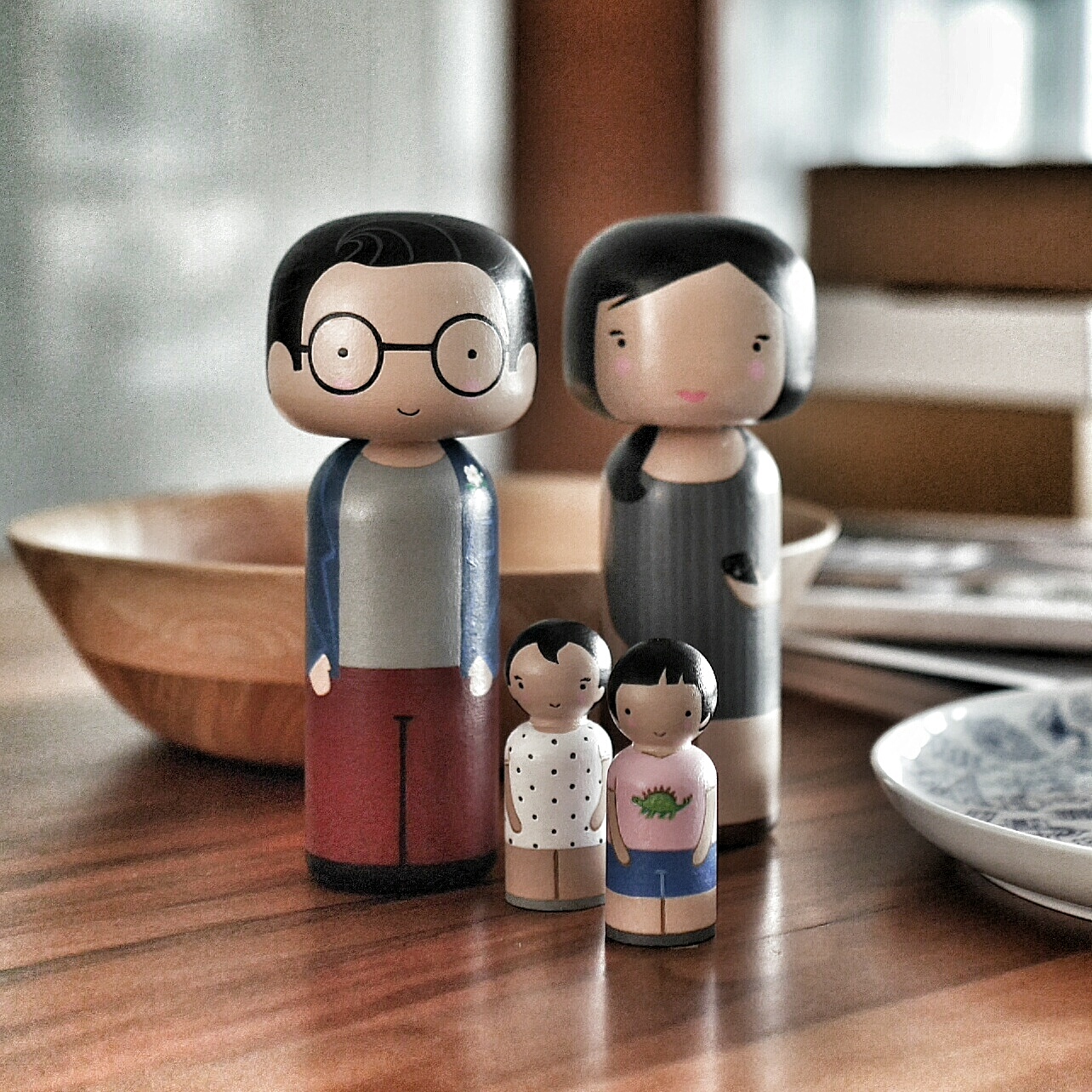 Not so long ago, Singapore's first-ever Michelin ratings were announced. And while I paid close attention to the results, they did not actually change the way I eat here in Singapore. Not because I don't respect The Michelin Guide (I do, in fact, respect any guide that makes a credible attempt to rate, celebrate and/or publicize great restaurants), but because the way I choose where to eat has changed over the years.
When I was younger, like so many other aspiring young foodies, I chased macarons. I planned eating holidays and itineraries around the reservations in 1, 2 and 3 starred restaurants I was able to secure. And, when you are first developing your palate, developing your ideas on what makes a great (versus a good) dining experience, visiting places that others have deemed to be the "best of the best" is very useful. So long as you don't forget to also visit unranked, local, humble and off-the-beaten-track establishments too. Along the way, you should start making your own rules, create your own checklists, and start trusting your own taste buds. You should start understanding your own preferences, which will be similar to some but different to others. And as you do that, you can then start evaluating restaurant guides and critics. You'll realise there are some you always agree with and others you don't. You will learn whose lists you want to follow and whose to disregard.
The other reason I don't feel the need to chase macarons anymore is because I am a father and a husband. Choosing a place to eat in means finding a place that my kids will love and/or my wife loves. Those are my priorities these days. Not being able to tick a box that I can brag about to friends via Facebook or Instagram. Keeping my family happy trumps self-obsessed gustatory self-satisfaction every day of the week.
In the spirit of sharing, and because everyone loves a list, I've prepared my own odd but hopefully useful guide to dining out in our Lion City, filtered through my own daddy-husband lens. I should say that my kids are 20 months old and 5 years old, which should explain some of my choices. Plus, a lot of my choices are due to geography. If, by the way, you think my list is garbage, I won't be offended. Like I said, you are the best person to decide whose recommendations to trust. If you think I'm full of hot air and have bad taste, I respect your decision.
This Dad's Guide to Dining Out in Singapore
Family Breakfast
Ronin
While Ronin is very much a hipster café (ubiquitous Edison bulbs, lack of door signage, dark lighting, etc), it is also a beloved family favourite. They open ridiculously early (vital for parents with kids who wake up at the crack of dawn like mine), the staff are lovely and love kids, the coffee is great, and they make the best scrambled eggs and French toast in town.
Punch
Ronin's sister restaurant is as bright and light as Ronin is dark and moody. The food, by contrast, is also lighter and healthier than its older sibling. Punch, like Ronin, opens very early on weekends and the staff are always happy to welcome kids. The garden courtyard is beautiful and the coffee is strong, the former useful for distracting little ones and the latter necessary to kickstarting the day.
Brawn & Brains
Our son loves this industrial-chic café. Lots of light, lots of space for him to play, and cute low stools and tables that fit him perfectly. The homemade baked goods are great and the coffees strong and well-crafted. This is a lovely space, albeit not a place to linger too long within.
Kith Millenia Walk
When our older one was a baby, we used to visit the Kith at Robertson Quay all the time. Wonderful space with an ample outdoor area in which he could run around and go as nuts as he wanted without any worry. Then we became regulars at the Sentosa branch. But both branches have become far too popular and it's never fun waiting in line with little ones. The new Millenia Walk branch is fabulous. Parking on weekend mornings is a cinch. The food is always great (the scrambled egg wrap is my fave). The staff are great. And the café stocks a library of cool magazines for browsing – including some really well-chosen kids magazines. (There are also several Pokestops around, which has made my son very happy.)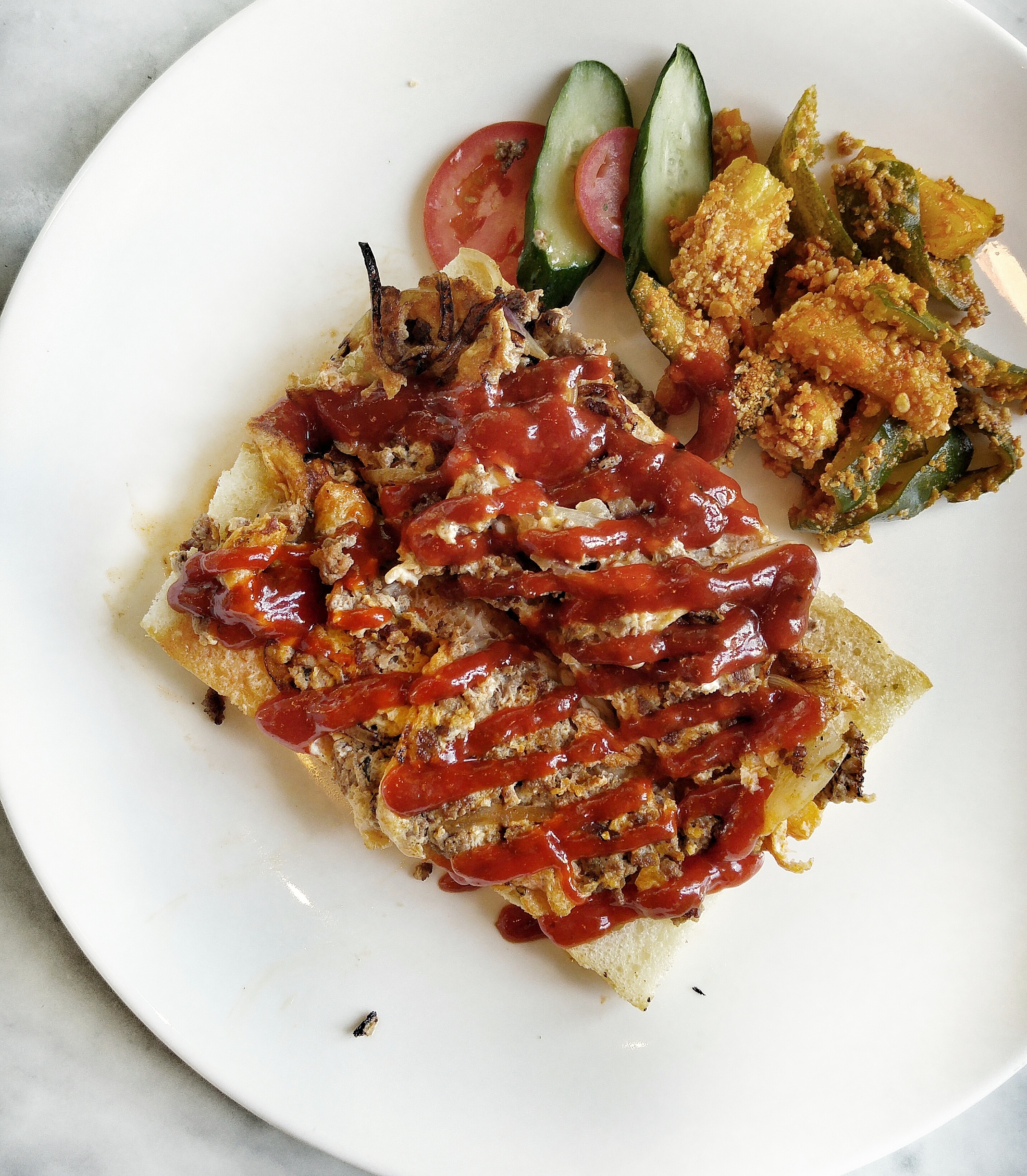 Prive ACM
We've just started going here recently. The café opens at 9am and the times we've gone, we've been the only table for quite a while (so unlike the Prive at Keppel, easy peasy for walk-ins). There's a great little play area in one corner, which has kept my kids distracted and happy. Which keeps me happy. The menu at breakfast (on weekends) is tiny, but sufficient. I love the wagyu roti john with a local "kopi". My kids are happy with toast, muffins, or croissants. (And there are Pokestops in the area.)
Family Lunch
National Kitchen
We tend to take our kids to the new National Gallery a lot. We love this museum, both the kids' areas as well as the galleries. Violet Oon's signature restaurant is a family favourite. My son loves chicken rice so he's always happy to eat here. And my wife and I love all the other local and Peranakan options. The food is always well-prepared at this branch. It's also a beautiful space that celebrates our local heritage, which enhances the dining experience.
Yan
This elegant Chinese restaurant is on the top floor of the National Gallery. When we can't get a table at National Kitchen or are craving some good dim sum, we go here. It's not super popular right now so we can usually get a table calling just a few hours before we want to visit. The food is excellent. The space is serene and beautifully designed. Our son loves the soy sauce chicken. And our daughter has slept very comfortably here many times. A great peaceful alternative to the very busy National Kitchen.
Majestic Bay
Another place we love to take the kids is Gardens by the Bay. The domes are lovely and the water park awesomely fun. After a few hours of running around, the kids are gonna be hungry and we find Majestic Bay the best place to satisfy both their appetites and ours. Beautifully prepared Cantonese food. The staff are wonderful, the place bright, and no one seems to bat an eye if your toddler gets a little crazy and starts running around the restaurant.
Casa Tartufo
For the longest time, my fussy older child said he didn't like Italian food… of course, that was a judgement made before he ever really tried any. Today, though, he's a huge fan of the Bolognese made at this wonderful family-run Italian restaurant on Erskine Road, in the Ann Siang area. My daughter, though, not even two, has much more expensive tastes. Her favourite dish is also her mama's favourite, the Tajarin, i.e. the restaurant's signature thin egg-noodles served with either black or white truffles. We love the restaurant so much we celebrated our daughter's first birthday here and often return with family and friends.
One Ninety
Okay. So, One Ninety at the Four Seasons Hotel is not cheap. In fact, the local food (which is what we usually have) is bloody expensive. But it's our son's favourite place for chicken rice. Expect exceptional service, very high-quality local fare, and a peaceful setting. I personally love the laksa and char kuay teow. The pizzas and burger are also excellent. But again, not a cheap place.
TungLok XiHe Peking Duck
For the longest time, we told our older son that Peking duck was "special chicken" in order to get him to eat it. Now, though, he knows it is duck but loves it. While Imperial Treasure's Peking duck restaurant is arguably better, it's also a b%$# to get a reservation at. TungLok's Peking duck restaurant in Orchard Central, on the other hand, is easy to book because, well, let's face it, no one goes to Orchard Central. The Peking duck here is very good though, as is the other food. And the staff have always been super-accommodating. Which is reason enough for me to give them my business.
Padang Palace
This second floor restaurant at the Singapore Recreation Club has been my secret Xiao Long Bao spot for years. This humble place serves, hands down, the best XLBs in Singapore. The dim sum is also tops. Rustic but very authentic and well-crafted. Again, this is one of those places in which no one cares if your child goes a little crazy.
Smoke House
Our whole family loves yakiniku. This well-priced Japanese BBQ restaurant is super conveniently located in Great World City. The range is vast – from chicken to lamb, pork, beef and seafood – and the staff are always welcoming and warm. There's also a great selection of sake in small bottles, perfect for this dad who sometimes needs a little booze at lunch with the kids.
Family Dinner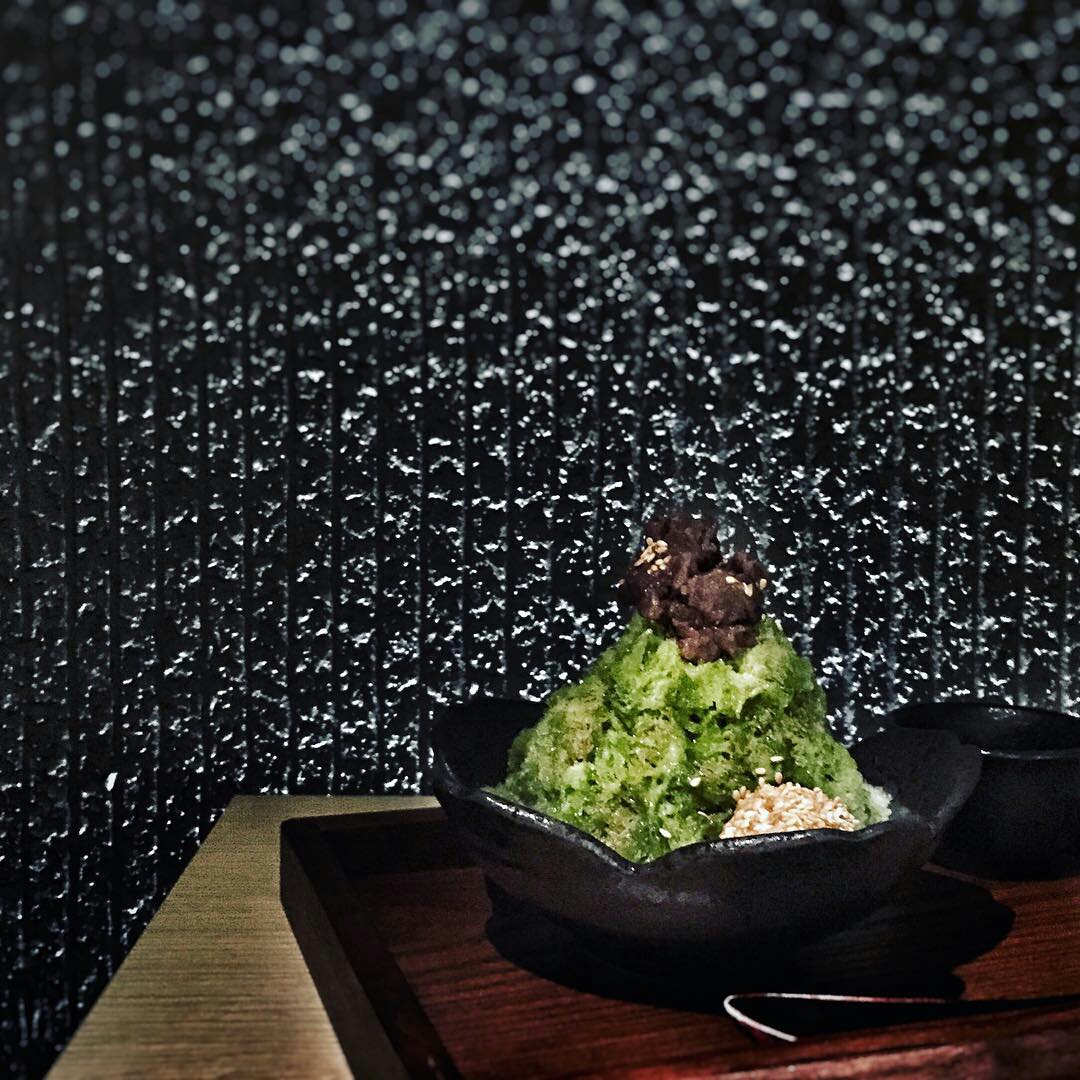 Sakurazaka
My son recently listed his favourite kinds of restaurants… in order, shabu shabu, yakiniku, pizza and then chicken rice. Our family's favourite shabu shabu place is Sakurazaka at Greenwood Avenue (well, we also love Shabu Shabu Gen but I've convinced my son that I can't afford it and that only his uncle can take him there). The sets are fantastic. First you get a small portion of raw meat you sizzle on a hot stone, served with an onsen tamago; a platter of your protein of choice and a nice helping of veggies; followed by some of the best kakigori in town. This is the one place in which I know my kids will always pig out. Oh, and leave room for the truffle risotto, an indulgence that I find hard not to order.
Yakiniku Yazawa
As said, we all love yakiniku. Yazawa is my own favourite place in town. We won't take the kids here too often because if you don't order carefully, it can get pricey. But when we do, the little ones are thrilled. There are two seating times, 6pm and 830pm. The former is perfect for us as we want to make sure the kids are well fed and in bed no later than 8pm.
Bincho
My wife and I love Bincho. Recently, we discovered that the lunch menu is offered at dinner on Sundays. Which has quickly made this charcoal-grill specialty restaurant a place to bring the little ones for Sunday dinner. Ultra-cool and almost secret, dining here is always fun. The food is fantastic and there's a wide range of choices for kids and adults alike.
Tomi Sushi Novena
Of all the restaurants in our neighbourhood, the one that my parents like taking our kids to the most is Tomi Sushi in Novena Square. This very family-friendly eatery is bright and comfortable. The menu offers enough variety to satisfy just about anyone. The sushi is good, as is the sake list (important for this dad). Our son loves the tempura and the udon here, while our baby girl often devours a whole yellowtail cheek all by her lonesome.
Soup Restaurant
When the kids ask for chicken rice, my wife and I will often take them here instead. We love the Samsui chicken, the soups, and the other dishes. Even before we had kids, we were big fans of this restaurant chain. And we still are.
Rochor Thai
My wife and I love this small restaurant in the newish Novena Regency development. The food is excellent, well-priced, and unpretentious. We've found a few dishes that the kids are very happy to eat, and an even larger number of dishes that we love, which has brought us back over and over again. Don't miss out on the crab curry, cabbage in fish sauce, or the sea bass baked in salt. All winners.
Lunch Date with the Wife (sans children)
Les Amis
This old-timer was given a much needed shot in the arm when Chefs Sebastien Lepinoy and Cheryl Koh were brought in to run the savoury and sweet kitchens respectively. Chef Lepinoy, a veteran of the Robuchon universe, instituted a Robuchon-style set lunch, i.e. fabulous offerings at, given the quality, outrageously reasonable prices. If we want to splurge a little (but not a lot) and want an elegant experience with exquisite food, my wife and I always look to Les Amis. Plus, they offer very well-priced half bottles of very drinkable wine at lunch; I find it very hard not to order one (or more).
Tamashii Robatayaki
When my wife and I eat out alone, we usually choose Japanese. One of our favourite places, near both our offices, and with good lunch sets, is this robatayaki specialist. I enjoy sitting at the counter but the restaurant also has tables and private rooms.
Luke's Oyster Bar & Chop House
I don't think I could ever be friends with someone who doesn't like Luke's. Travis Masiero's flagship at Gemmill Lane has to be one of the most perfect restaurants in town. I loved the original white-washed version and I love the new wood-panelled and more clubbish version. The best seat in the house is the little corner two-top on the left of the entrance. I go to Luke's for the best New England clam chowder in town and the burgers, but there are many great things on the menu to try. Lunch is also much more affordable than dinner.
Jaan
I love visiting this Modern French restaurant for lunch. I prefer lunch over dinner here. I just prefer the restaurant when its bathed in natural light. And on a nice day, given the floor to ceiling windows at this 70th floor fine-diner, the light is really gorgeous. And perfect for amateur photographers like me. Honestly, it's really difficult to take a bad photo here during the day. The food is, as you'd expect from a Michelin-starred eatery, marvelous. Chef Kirk Westaway is doing some really special things now that he's stepped out of Julien Royer's shadow. Of course, this is not a place for just any old lunch date, but something rather special. And something you'll probably want to save up for.
The Quick Dinner After the Kids are Asleep
Sushi Jin
My wife's single favourite food is sushi. It's her comfort food and her favourite way of rewarding herself (gastronomically speaking). Sushi Jin is convenient for us. It's just a few minutes away. We can almost always get a reservation. And it's affordable (not Tomi sushi affordable but nowhere near the price range of more upmarket sushiyas in town). It's a nice friendly neighbourhood place that is also quite efficient. We can nip in for a quick dinner and be back at home in an hour plus.
Jinzakaya
Jinzakaya is the izakaya sister-restaurant of Sushi Jin and is literally just a few steps down from it in the same complex. While it is a yakitori specialist, I visit for the kimchi ramen, which I find well-priced and very satisfying. I also love the chicken karaage, perfect with cold sake. This is a great, also never packed, spot for a quick bite.
Date Night
Wild Rocket
My wife and I are big, big fans of Willin Low. So when we have time for a more leisurely meal, and it's just the two of us, we like visiting Wild Rocket and sitting at the chef's counter (which requires you to order the tasting menu). Willin pioneered Modern Singaporean cuisine and it's always exciting to see what new ideas and flavours he's playing with.
Cure
We are both big fans of Chef Andrew Walsh's dark, little restaurant on Keong Saik Road. The menu is well-priced and I find his Modern European fare both delicious and well thought-out. I like the way he introduces Asian flavours sparingly but effectively. And I really love the fermented cabbage and bacon he serves with your butter and bread.
Birthday/Special Occasion/Big Romantic Gesture Date with the Wife
Iggy's
Once upon a time, Iggy's was the best restaurant in Singapore. It was clubbish — you always saw people you recognised. The atmosphere was always warm and fun. It was a joy to see Iggy himself and to try new wines he was raving about. And the food was the perfect balance between East and West and modern and comforting. For a little while, the restaurant lost its way. But baby, it's back. Iggy has a new chef; he's refurbished the restaurant; and he has a new spring in his step. We're looking forward to celebrating many special occasions in what was once our favourite restaurant in town.
Restaurant Andre
Andre Chiang is most certainly a culinary genius. Which makes visiting his eponymous French restaurant a very special occasion, even if you weren't planning on celebrating anything. Andre was already a master technician when he first took over the kitchen at Jaan so many years ago. Since then he has also embraced (or let loose) his creative and artistic side. The result is delicious, innovative, and exciting dishes that leave diners in awe of his talent.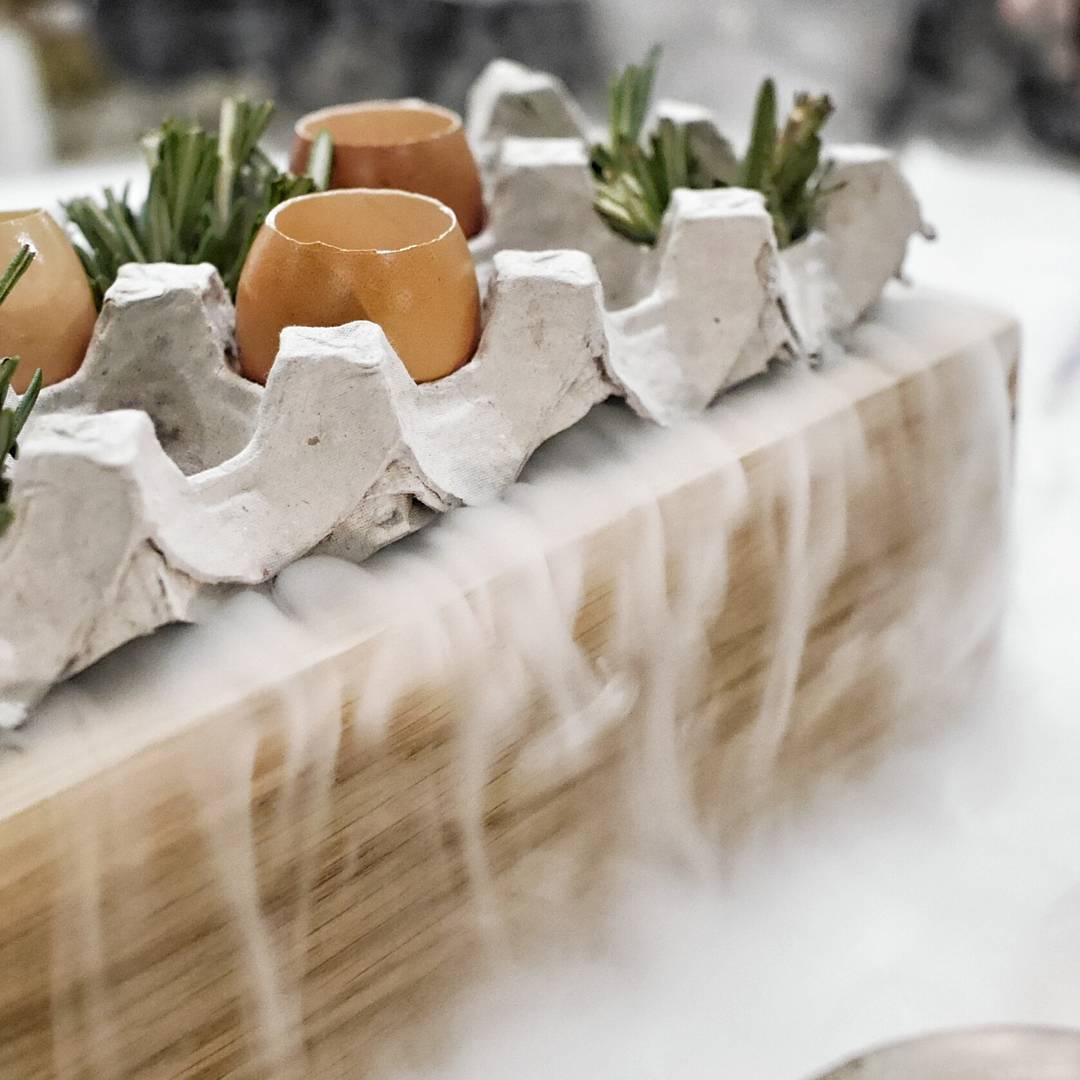 Odette
Chef Julien Royer's contemporary French fine-diner at the National Gallery may just be the single most elegant and serene restaurant in Singapore. Just sitting in the restaurant makes one feel a little more beautiful, a little more handsome… a little more refined. And we haven't even started discussing Julien's food. Which is sophisticated, delicious, and smart. Julien builds beautiful dishes around stunning produce that he sources from all over the globe.
I Screwed Up and I'm Sorry Date with the Wife
Shinji by Kanesaka
OK. So, let's face it. All husbands screw up occasionally. And when you do, you need to pull out all of the stops. For me, that would mean feeding my wife the best possible sushi in the country. Of the sushiyas she's tried (and she's been to more of the best ones than I have), my wife still likes Shinji best. The price at dinner can be heart-stopping so, on the few occasions we actually get around to visiting, we tend to go at lunch time. Fortunately, my wife is fine with that.
Couples Get Together Away From the Kids
Candlenut
If you're getting the chance to eat out with other adults (which, when you have really little kids, can be a rare luxury), I can't think of a better place than Candlenut. Chef Malcolm's Ahmakase (yes, it's a pun on the Japanese "omakase") menu is not only well-priced, the food is sensational. You start off with a range of modern Peranakan snacks, followed by big plates of super well-executed and finger-licking good dishes, served family style.
MeatSmith
MeatSmith is fun. We've had great evenings here with other couples. We love this buzzy barbecue restaurant that is part of the Unlisted Collection. The fried chicken sandwich, spare ribs and the brisket are must-haves. As are the chicken wings and sweet vinegar slaw. This is a great place to let your hair down, throw back some cold drinks, and tuck into wonderfully unhealthy fare.
White Rabbit
My wife and I are big supporters of the White Rabbit, partially because we were fortunate enough to have worked on the restaurant when it was first developed many years back. It's still a beautiful space – having been built into what used to be a British army chapel. And the food, under Chef Benjamin Tan, is excellent. The wine list is also fabulous. We always enjoy dining here with friends.
The Boys Night Out (with the wives' consent of course)
Artichoke
When the wife gives you a pass for the night, one of the best places to visit is Chef Bjorn Shen's flagship restaurant Artichoke. If you plan ahead, order the Lambgasm – a slow-roasted, bone-in lamb shoulder that is served fork tender and serves 4 hungry guys easily. Great Middle Eastern influenced food in a casual and always crowded venue. And if Chef Bjorn is around, he's always a hoot.
Cut
If you and your buds like living it up and like the high life, Wolfgang Puck's Cut is for you. Great bar scene. Superbly made drinks. Awesome albeit nose-bleedingly expensive food. And (usually) a gorgeous crowd. This is definitely the best Western steak house in Singapore.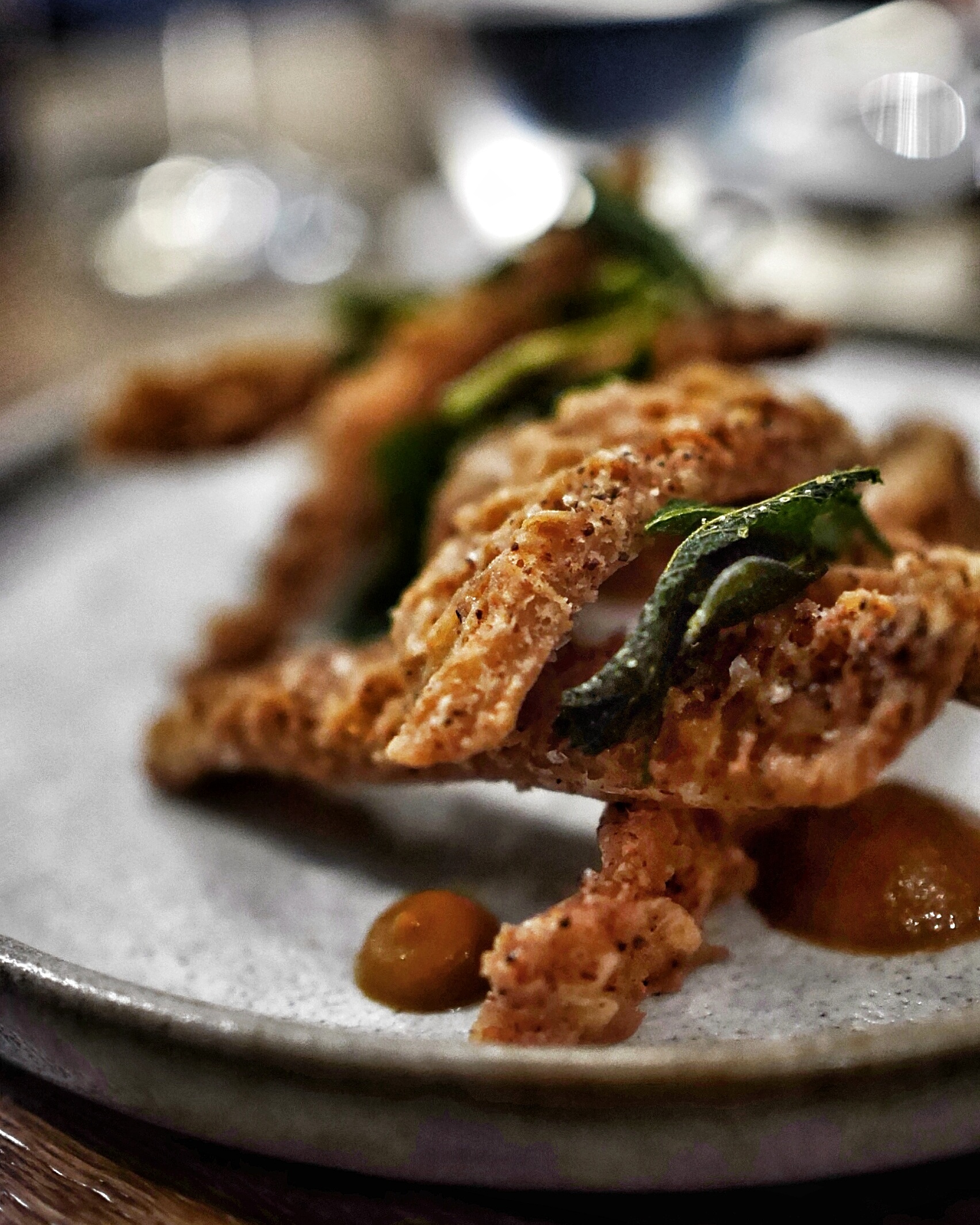 Salted and Hung
I've only visited Salted and Hung recently and I'm already a big fan. It's a raw, modest space that serves stripped back, produce-driven plates meant for sharing. Good booze list too. If you and the boys are looking for a casual restaurant that you don't need to dress up for, but can be guaranteed to get excellent and unpretentious food, washed down with good plonk and good prices, I highly recommend this Purvis Street restaurant. It's a real winner in my book.
Aun has always loved food and travel, passions passed down to him from his parents. This foundation, plus a background in media, pushed him to start Chubby Hubby in 2005. He loves that this site allows him to write about the things he adores--food, style, travel, his wife and his three kids!