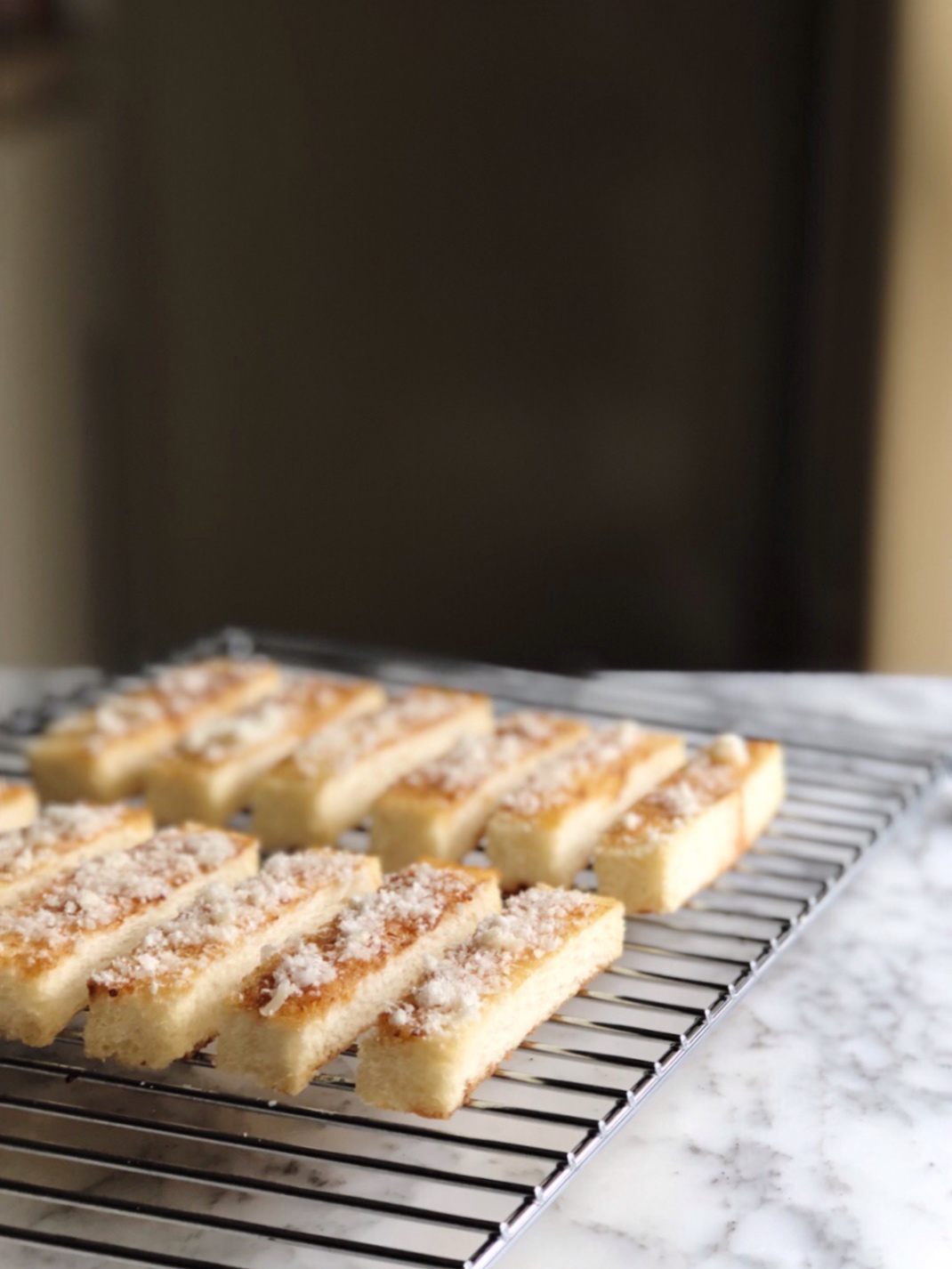 These Japanese-style rusks are crisp, mildly sweet and savoury snacks brushed with butter and a touch of sugar then topped with grated cheese (I use coconut sugar and Gruyere). They are ridiculously easy to make crowd pleasers. I actually serve them to my 7 month-old as a teething rusk.  He loves them. You could probably cut them into squares and treat them like over-sized croutons in salads.
You can make these Japanese-style rusks using thinly sliced baguette or any other bread of your preference. When I can, I use wholemeal bread. But thick slices of fluffy white shokupan yield the size of toast soldiers for a teething baby still learning to feed himself. I get shokupan from Johan Paris.
The delicate sweetness to these rusks are what make them so distinct. While the addition of sugar isn't absolutely necessary, I like making these rusks with just a hint of sweetness to provide balance to the savouriness of the cheese.
Japanese-style rusks

Yields 12 rusks

Ingredients

4 thick slices Japanese shokupan

30g butter

1 tbs coconut sugar (optional)

Grated Gruyere, Comte, Parmigiano-Reggiano or Grana Padano

Instructions

Preheat the oven to 150 degrees Celsius.

Trim off bread crust and cut each slice of bread into 3 toast soldiers.

Line up the toast soldiers on an ovenproof rack placed over a baking sheet. Bake for approximately 15 minutes.

While the bread is in the oven, melt the butter in a small saucepan and stir in sugar.

Remove the bread from oven and brush with butter/sugar mixture.

Sprinkle with grated cheese of your choice then return the bread to the oven for another 10-15 minutes until crisp and golden brown.

Cool and eat immediately. Stores for up to one week in an airtight container.
Su-Lyn is Aun's better half and for many years, the secret Editor behind this blog known to readers simply as S. Su-Lyn is an obsessive cook and critical eater whose two favourite pastimes are spending time with her three kids and spending time in the kitchen. She looks forward to combining the two in the years to come.