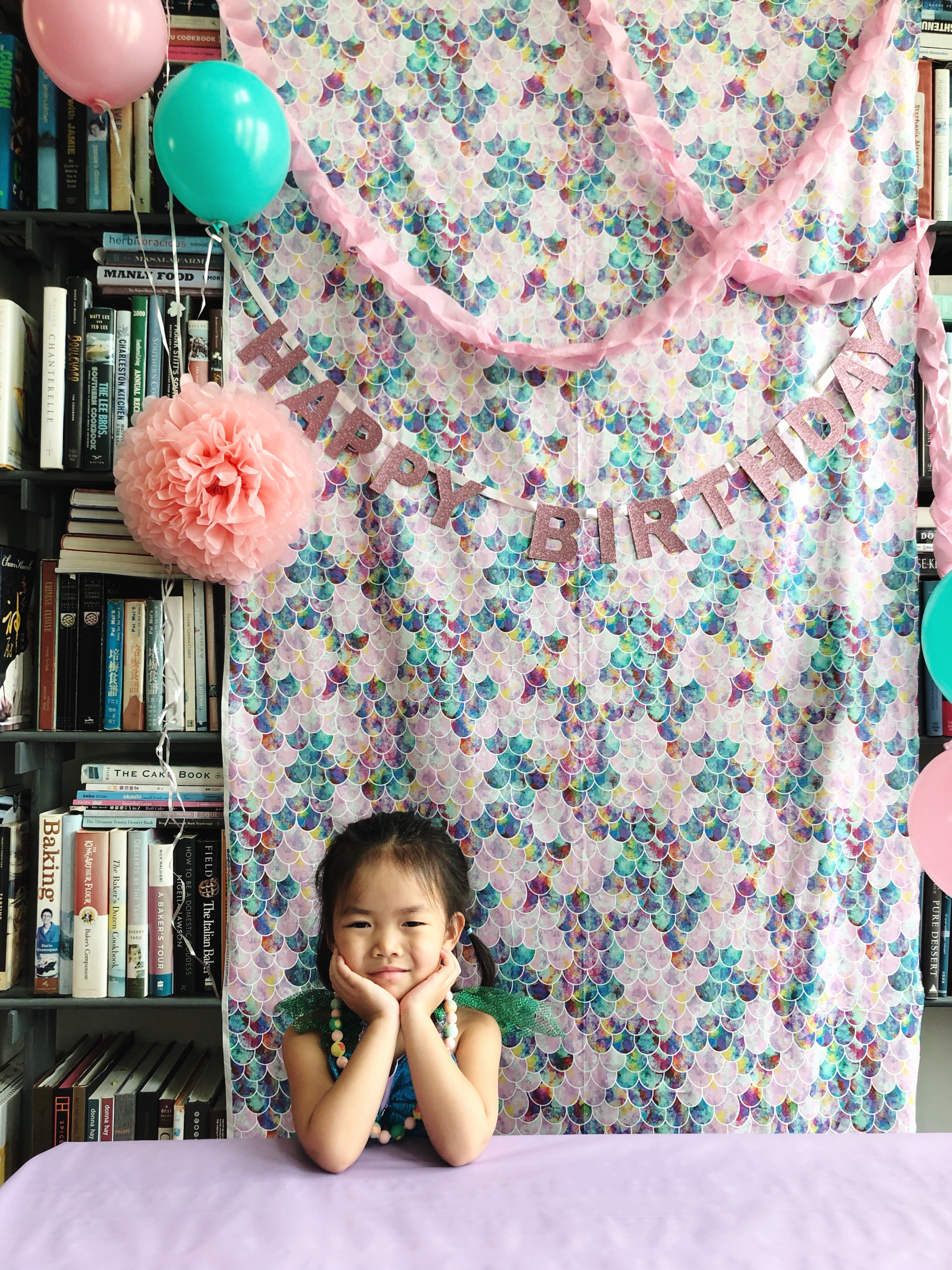 Here's a time-strapped mom of three's quick tips for throwing together a mermaid-themed party for pre-schoolers:
1) Keep the guest list small. I personally prefer to bowl over a handful of kids rather than push myself over the edge trying to rein in a roomful of them. We hosted two friends and their parents to this celebration.
2) Take the pressure off yourself and order pizza (or some other appropriate alternative) for everyone.
3) Keep decorations streamlined. I usually concentrate on creating a photo wall and frequently re-purpose decorative items from party to party (the pom pom and birthday garland above, for example, were from T2's first birthday. The streamers were from a roll from T1's fourth birthday celebration).
The mermaid print fabric was a quick solution to my decor woes. I secured it to the bookshelves with clothes pegs. Over the years, I've also worked out which spot in our home has the most flattering light. The photo wall is always in that spot.
4) If you are able to, purchasing a small tank of helium makes it less stressful  and relatively more affordable to create a festive atmosphere with floating balloons. I've wasted both time and money on buying inflated balloons in person or having them delivered. I now use this one and it usually gets us through 5 to 6 parties. That said, balloons aren't absolutely essential either.
5) Tap on online resources. I didn't use downloadable printables for this mermaid-themed party, but my shopping was mostly done at midnight on RedMart, Pantry Haiku and OhHappyFry. My favourite stores for decorations and craft supplies are Spotlight and ArtFriend.
6) If you do decide to prep mermaid party foods yourself, opt for menu items that can be made ahead of time. The birthday cake and frosting I used stores well in the freezer. Madeleine batter (shell shaped cakes are mermaid food, yeah?) benefits from being made a day ahead. And fresh fruit are always a good idea.
6) Keep party activities simple. Most kids just want to spend time with their friends. Because this was a party for four-year-old girls, I went with mermaid craft activities and board games as well as free play. They were just as happy drawing as they were crafting.
Recipes
Mermaid chocolate mayo birthday cake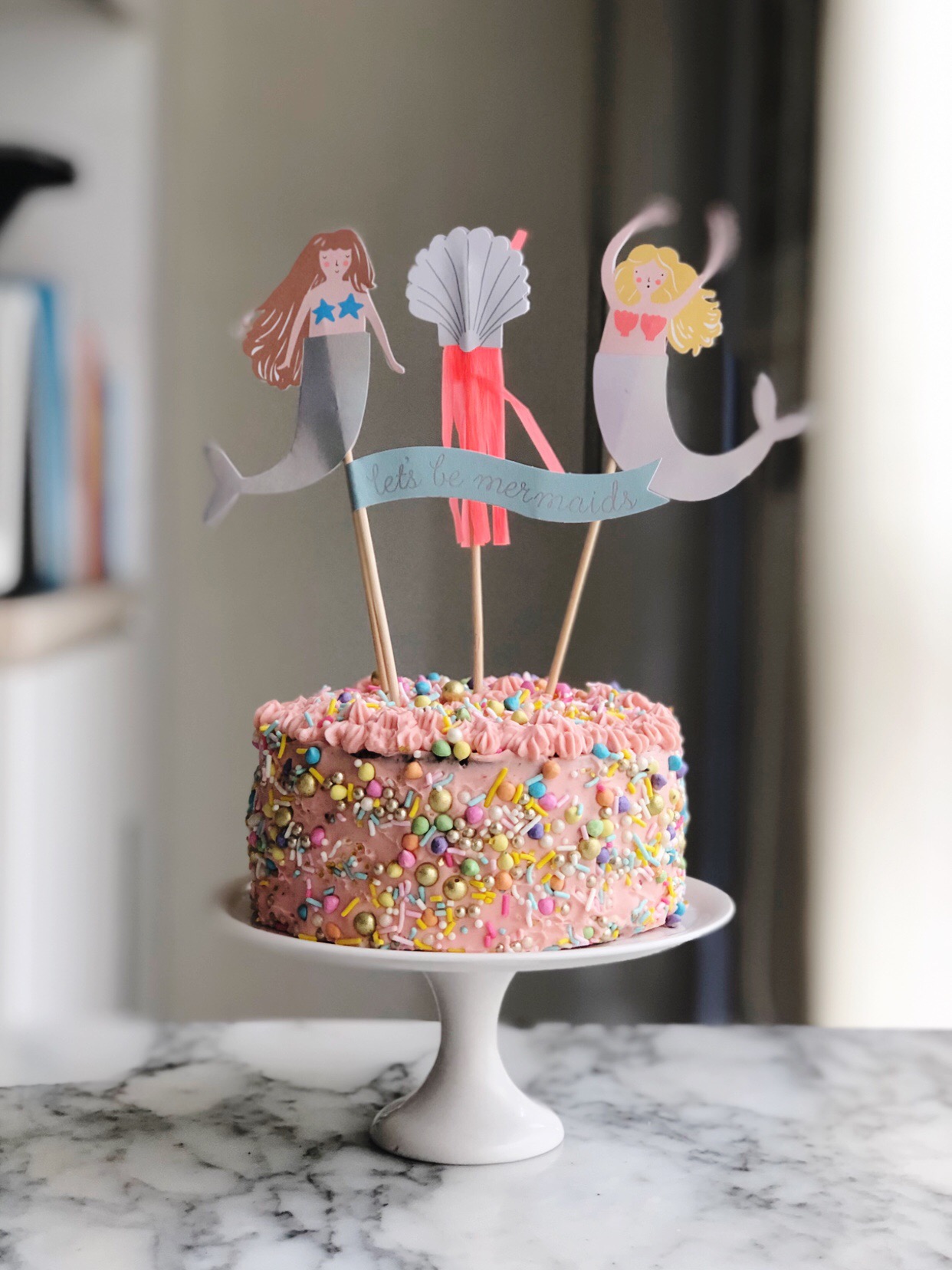 I always choose a simple and reliable cake recipe for decorated cakes (frankly, I usually purchase our party cakes. But this was a small party and it would've been extravagant  to order a themed cake). With a forgiving recipe, there's less anxiety over the outcome. And knowing that I'd most likely be making it at midnight, I hedged my bets with an easy cake design. Easy is best for a sleep-deprived mother still nursing a baby.
T2 loves chocolate so I fell back on my chocolate mayo cake recipe for her mermaid birthday cake. The cake boasts a rich, intensely chocolatey flavour (my preference is to use Valrhona cacao powder), is incredibly moist, and has a resilient yet tender crumb. It's what I consider, in my head, an American chocolate birthday cake (think made-from-scratch Sara Lee chocolate pound cake).
The recipe probably makes three small round cakes measuring 12.5cm across. I made the mistake of filling only two round tins of that size with all the batter (well, I only had two tins in that size and I wasn't thinking straight. It would've been wiser to use some of the batter in cupcakes). Slapdash bakers, beware, The cake batter would've overflowed if I hadn't lined the tins and created a high paper collar.
In future, I'd divide the batter between three tins. Nevertheless, I was able to yield four 2.5 to 3 cm high cake layers with this volume of cake batter baked in two tall tins. Images of my magnificent mistake are available on my IG Stories highlights.
I baked the chocolate mayo cake two days before the party. The night before the celebration, I trimmed them using a cake leveler (I like this one). For this mermaid birthday cake, I used two cake layers and generously slathered red currant jam (thank you @chef_julien) onto one slice before sandwiching them together. You can choose a jam or other filling you prefer.
To decorate it, I use Swiss meringue buttercream as it's less sugary, tastes good and holds up pretty well in our tropical climate. I rely on Martha Stewart's recipe. Her team has also created a number of useful videos to guide you through the process. This one from the Real Food team is great. I tinted mine with strawberry concentrate (I like this one) and food colouring. A touch of rose water gave it an interesting dimension.
I made the frosting a week ahead (and used part of it for T2's class celebration cupcakes) and froze the remainder for this mermaid birthday cake. All I had to do was defrost it and beat it in a cake mixer before using it. After frosting the sides of the cake and covering the top with piped stars (this is a great video on the basics of piping), I sprinkled it with this gorgeous Sweetapolita sprinkle blend called Luxury Sweet from Pantry Haiku.
The mermaid cake decorating was done the night before the party. I stashed the cake in the fridge, then left it out at room temperature over the course of the party. This buttercream is tastiest at room temp. Meri Meri mermaid cake toppers provided a stress-free way to complete the look.
Mermaid madeleines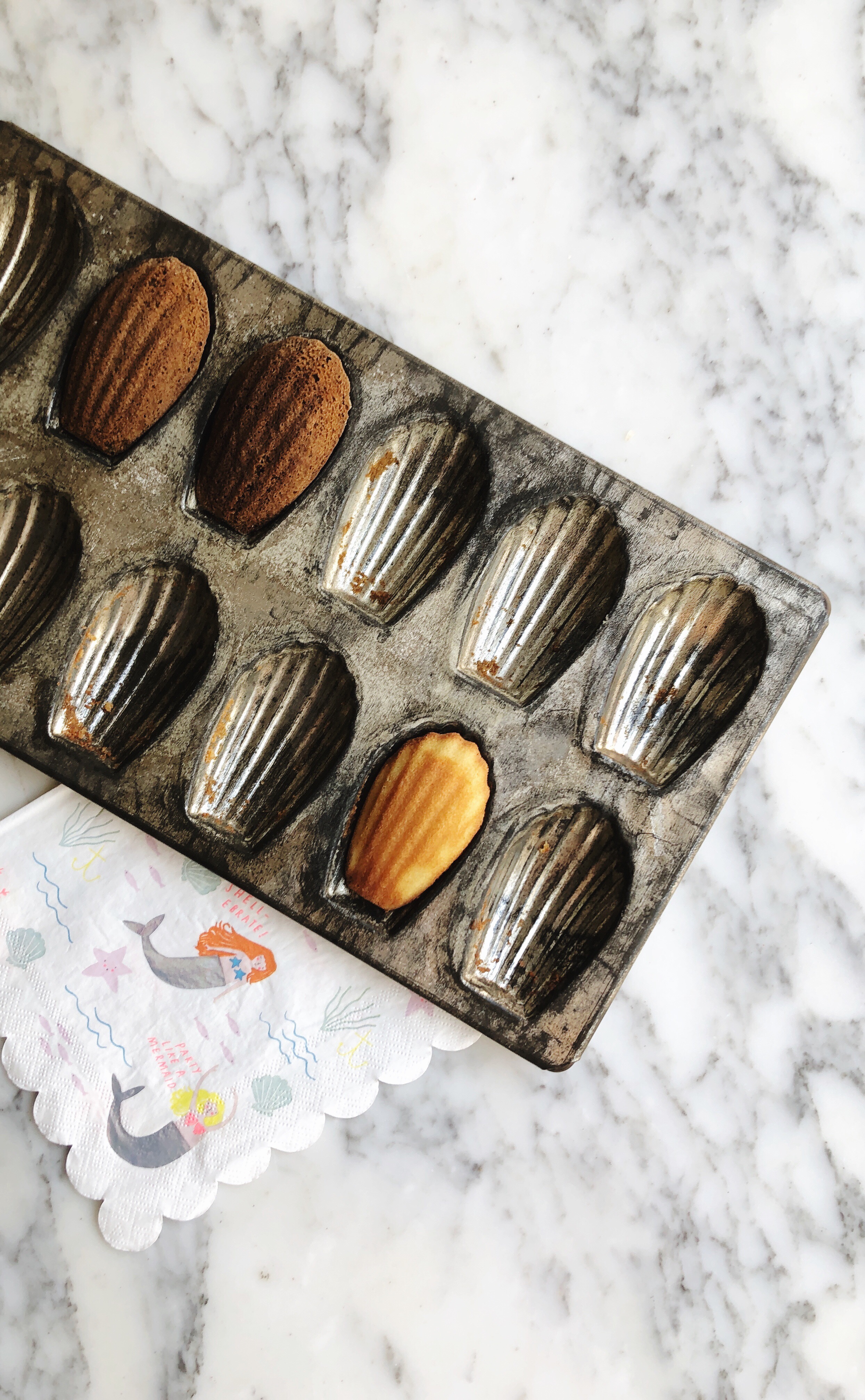 Madeleines are sort of an obvious choice for a mermaid party. They're a child-friendly serving and they're easily eaten with your fingers. I also wanted to avoid adding frosted cupcakes and sugar cookies covered in icing to the spread. Plus, the batter and baking pans can be prepped ahead yet they can be baked a la minute — a delicious experience that makes mama look like a winner as long as she doesn't burn them or get them stuck in the pan.
They're also delicious dipped into coffee or tea (which the moms and dads in attendance appreciated). T2 loves matcha, so I prepped a batch of Sadaharu Aoki's matcha madeleine batter and a honey madeleine batter the night before.
The matcha madeleines are more fluffy cake-like than classic madeleines, but the recipe is reliable and the requisite hump develops beautifully on these. They aren't very sweet, so you can opt to increase the honey and/or sugar. In future,  I'd like to partially dip them in melted white chocolate and sprinkle them with nuts or edible embellishments. The honey madeleines are a little denser, I chose to add freshly grated Meyer lemon zest into ours. These madeleines taste of buttery deliciousness and are moist bites that most children will adore.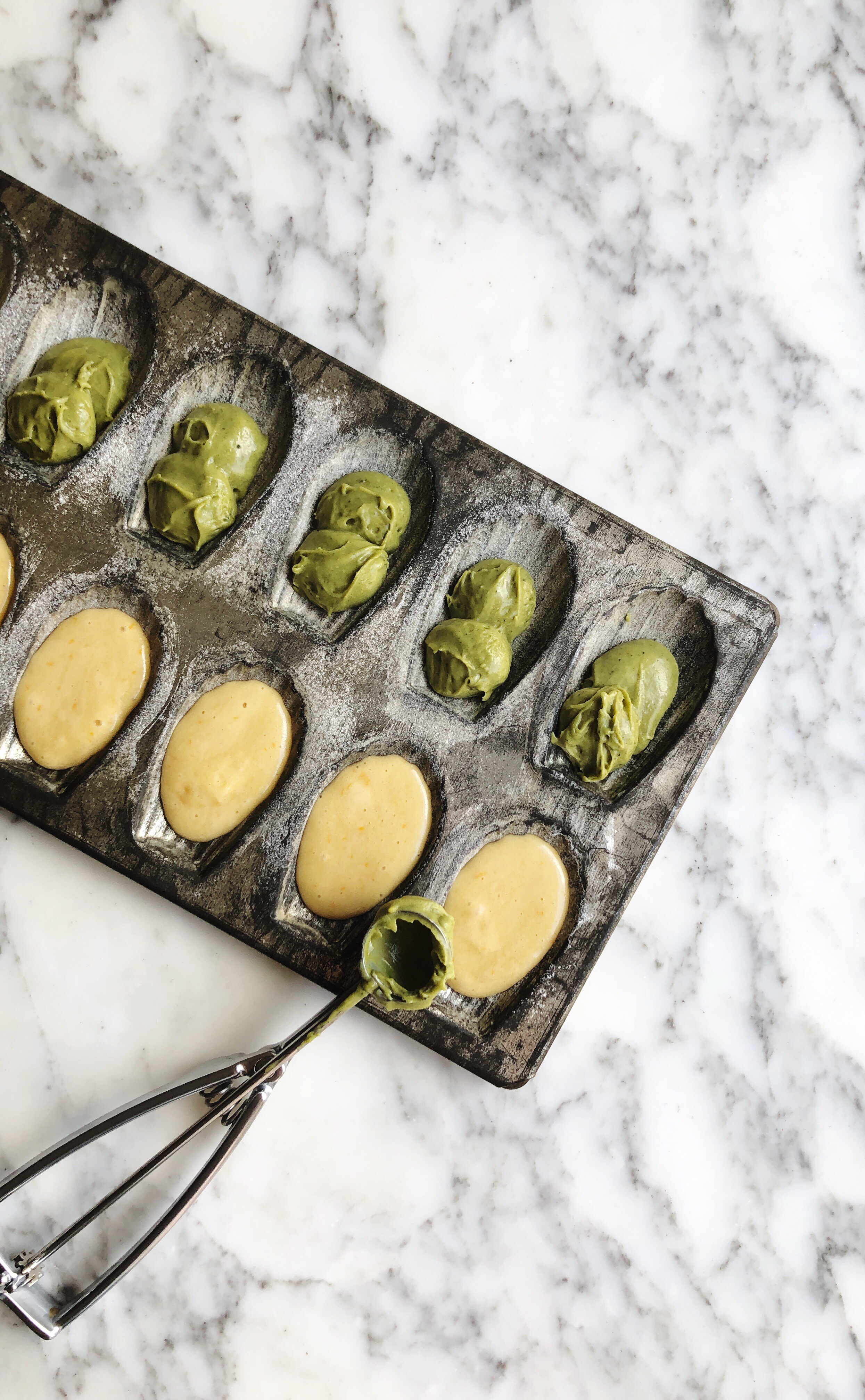 Your pans need to be meticulously brushed with melted butter and dusted with flour. I usually stash the trays in the freezer until I'm ready to portion out the batter and slip them into a pre-heated oven. I placed two level No. 100 ice cream scoop portions of batter into each cavity for the matcha madeleines (for the honey madeleines I used three level No. 100 ice cream scoop portions) and only baked what I knew we were likely to consume immediately. You can pipe it if you prefer. I'm just obsessive about equal portion sizes and prefer using a scoop.
Watch your madeleines like a hawk as they bake. You don't want them to burn. Remove from the oven when they've achieved nice peaks and the edges have begun to brown. Invert onto a rack to cool. Serve warm.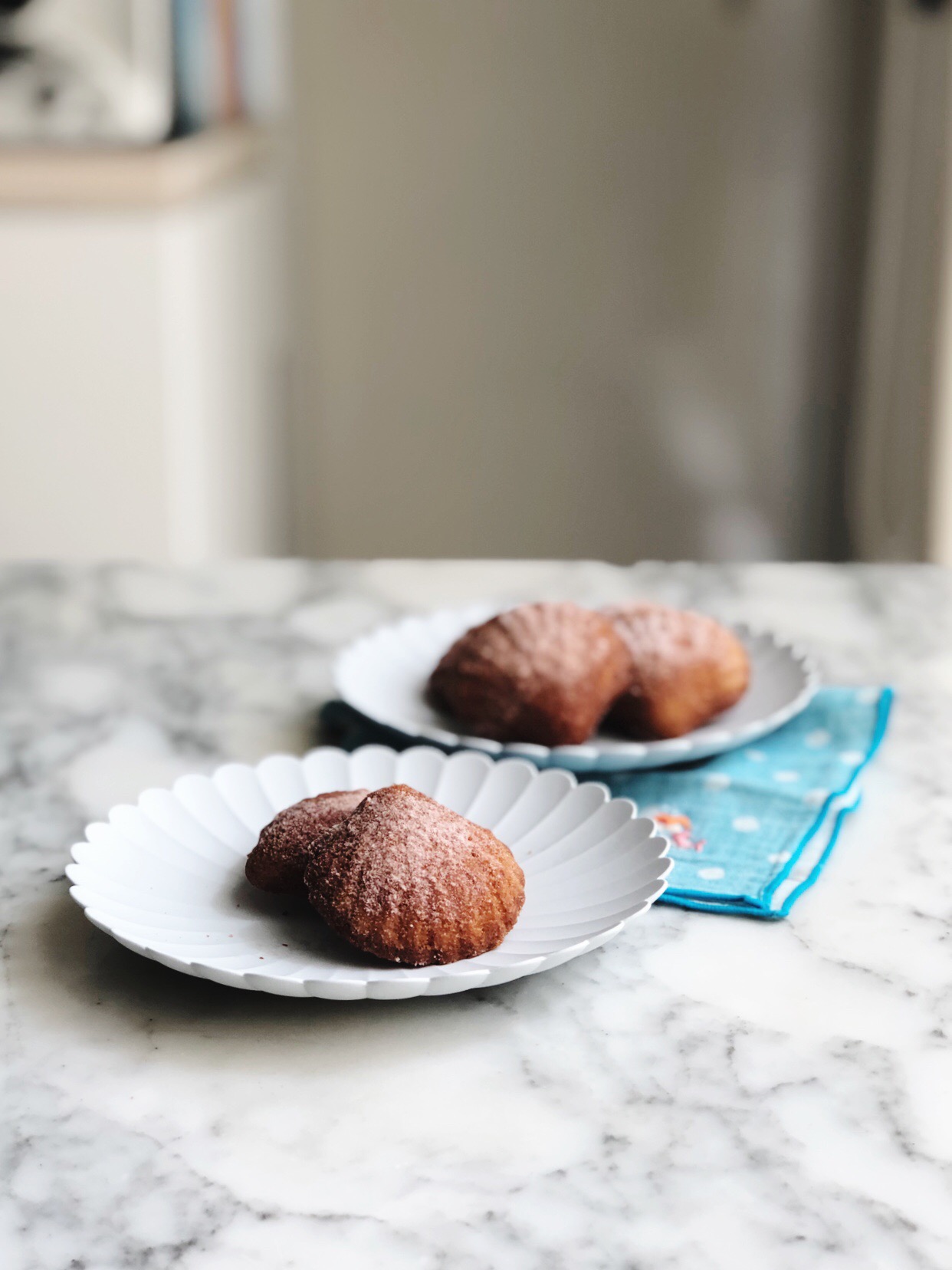 Mermaid bling crafts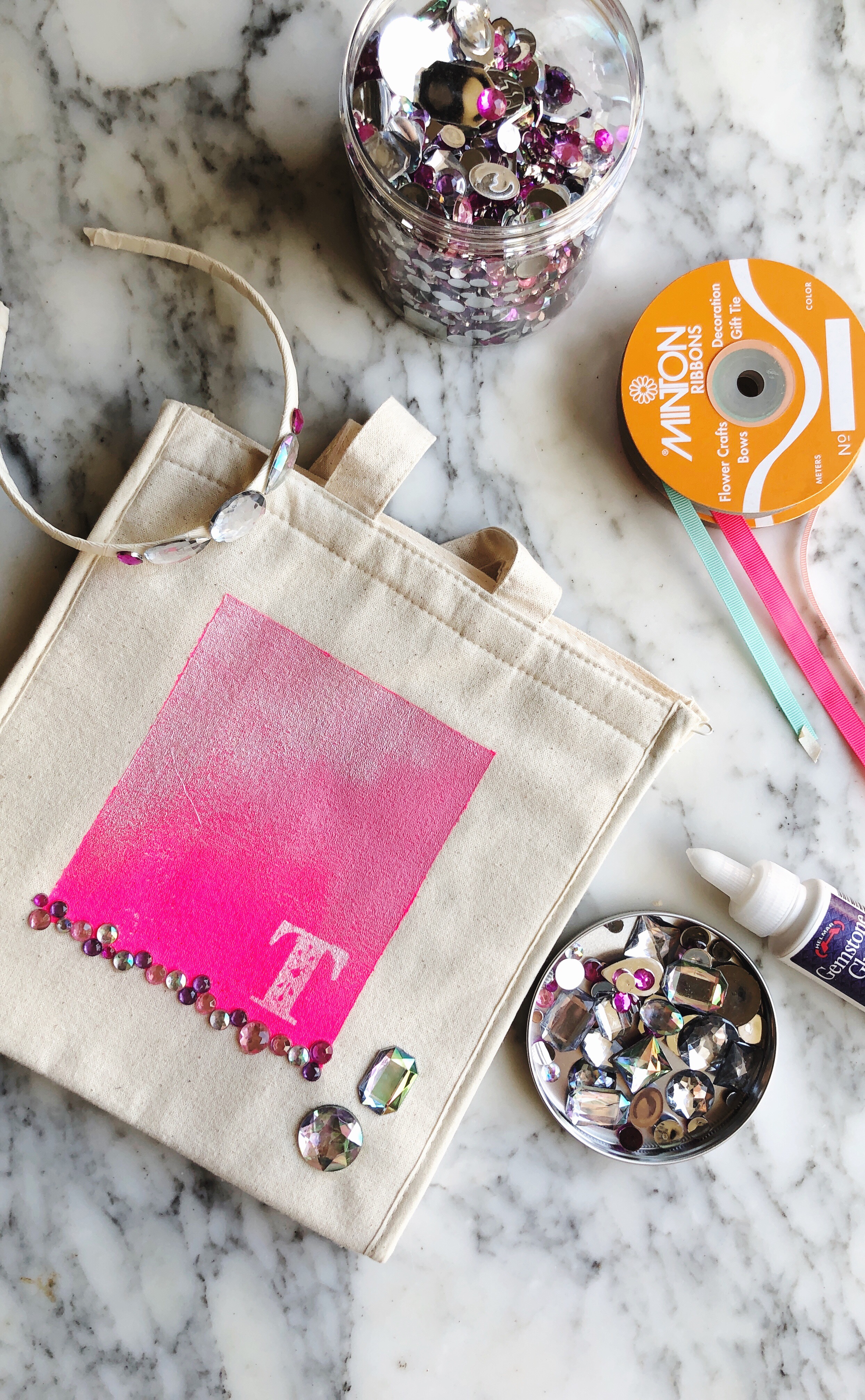 T2 loves accessories. In her opinion, the more bling there is, the better. Her besties seem to agree. So, I prepared two simple mermaid craft activities involving acrylic gems for the girls. And instead of adhering to a strict schedule of activities, I pulled these activities out as and when it felt like our guests were ready for them. Of the two, headband decorating is probably a better one to start with, especially with a group of 4-year-olds.
Mermaid headband craft activity
Materials
Instructions
Invite the children to select between five to seven acrylic gems (or more, depending on the size of them gems) and ask them to decide how they'd like to line them up on the headband. It might be helpful to show them some sample images for inspiration. T2 and her guests very naturally started referencing Princess Jasmine's headdress.
Shake the bottle of glue well before use. Following the instructions on the side of the bottle, apply the glue onto the back of the gems and carefully attach them to the headband. Set the headbands aside to dry. The gems will take some time to fully adhere to the headband, so this requires patience. I suggest moving on to another activity while they dry fully.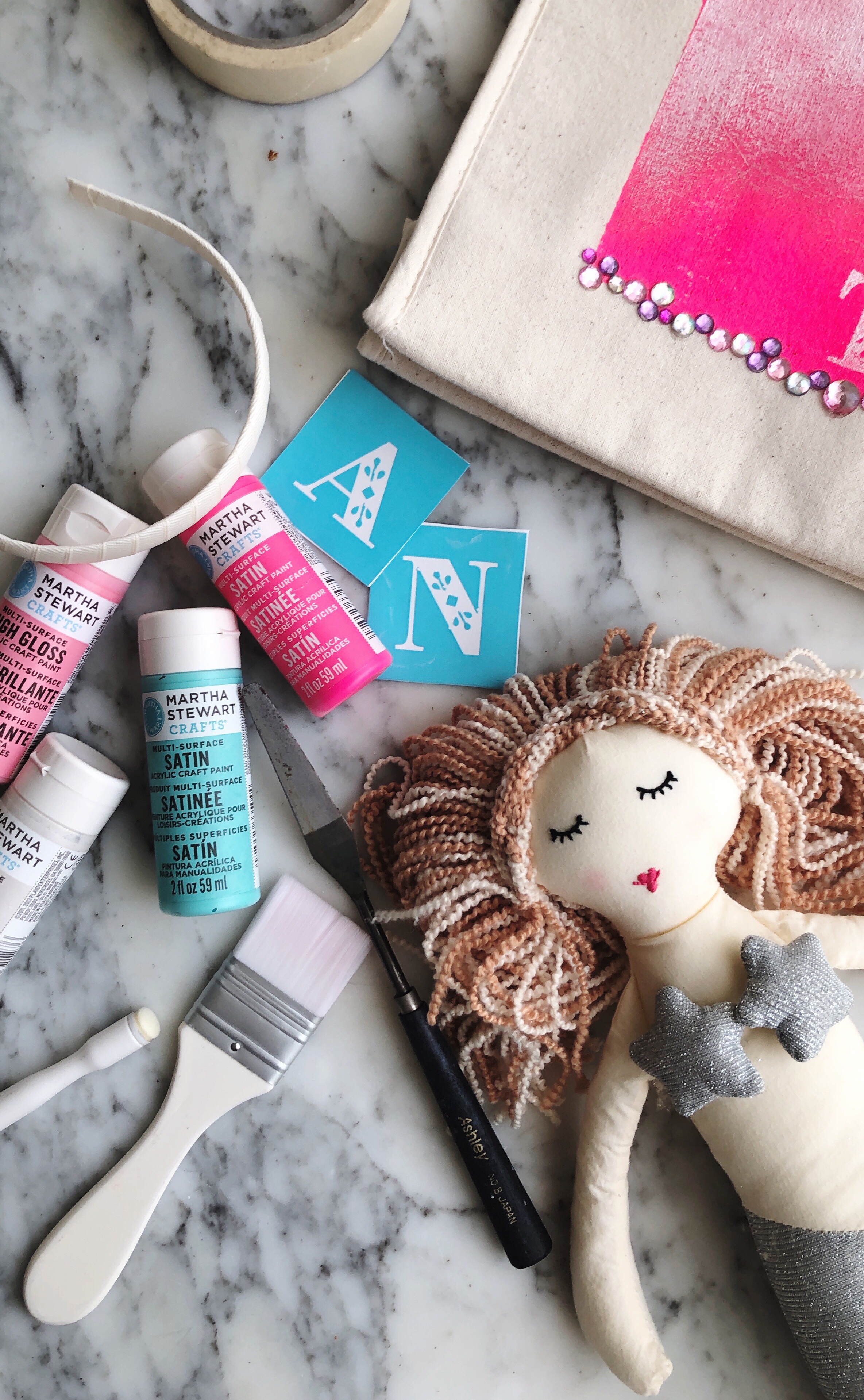 Mermaid insulated lunch bag craft activity
Materials
Plain insulated fabric bags (I found mine at Art Friend)
Masking tape
Acrylic paint (I used acrylic craft paint from Martha Stewart Crafts)
Stencils for initials (optional, mine were from Martha Stewart Crafts)
A selection of acrylic gems (I purchased these from Spotlight. They also come in smaller packets)
Gemstone glue (we used this one)
Instructions
Paint the bags at least a day ahead. Mask the area to be painted using the tape. Apply your choice of colour(s) onto the bag using the large flat brush (I layered Date Night Pink, Camella Pink and Mother of Pearl) allowing each layer to dry fully before adding the next.
Position silk screen stencil and apply paint using a foam pouncer. Use paint sparingly. I silkscreened the girls initials onto the bags using Mother of Pearl. Set aside to dry.
When ready to use, invite the children to embellish their bag with as many acrylic gems as they wish. Attach using gemstone glue. Set aside to dry.
These activities are just as fun for weekend or holiday craft projects.
Su-Lyn is Aun's better half and for many years, the secret Editor behind this blog known to readers simply as S. Su-Lyn is an obsessive cook and critical eater whose two favourite pastimes are spending time with her three kids and spending time in the kitchen. She looks forward to combining the two in the years to come.