It's always fantastic to discover a recipe that tastes great when you first make it and that's just as good when you eat the leftovers the next day. It's even better when the recipe is flexible enough that with some simple tweaking, the second or third time around, you can have a whole different dish.
I was away for a few days last week. I had to make a quick business trip up to Macau. When I came home, I was delighted — especially since my flight had arrived well past 10pm — to discover that my generous and loving wife S had whipped up a special snack for me. She and I have owned a copy of Camille Glenn's The Heritage of Southern Cooking for years. A friend who grew up in Washington DC and Kentucky gave it to us. And while we've perused the book countless times, and even flagged a number of recipes that we've wanted to try, we'd never actually cooked from it. As a surprise and as a treat for me (because, quite honestly, between the two of us, I'm the one with the penchant for Southern cooking), S had prepared Glenn's Hermitage Chicken Cornbread Sandwich. For the cornbread, however, instead of using the recipe in Glenn's book, she followed one in Mitchell Davis' Kitchen Sense. It was a honey-buttermilk cornbread recipe that I had also flagged and had been pestering her to make.
The dish is, as you can probably already tell, pretty simple. It's a warm chicken hash served in between two slices of delicious cornbread. This chicken hash, though, doesn't have any potatoes in it, which makes it a tad lighter than normal. Essentially, it's poached chicken, diced and warmed up in a rich chicken-stock based sauce with some celery and onions. The hash is seasoned with some fresh parsley, salt, white pepper and cayenne pepper. The little hint of spiciness gives it a lovely kick. Spooned piping hot between the (toasted) cornbread slices, the "sandwich" was a delicious and comforting way of being welcomed back home.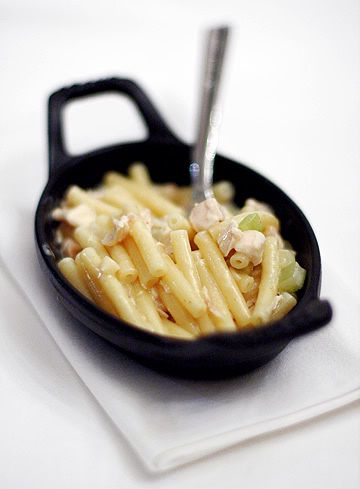 Because I was a tad tired from the flight, I didn't eat as much of the hash as S had expected. Which meant that we had cornbread for brekkie the next day and extra chicken for dinner. Instead of rehashing (sorry, I love bad puns) the same meal we had the previous night, we decided to try and make something different with the leftovers. We decided on a simple macaroni dish. We prepared the macaroni by boiling it in a combination of chicken stock and milk. We melted a knob of butter in a saucepan, tossed in the leftover chicken hash and added a bit of cream and salt. The nice thick chicken hash became a lovely, chicken sauce for our pasta. We tossed the macaroni in it and added some freshly grated parmesan. It was delicious. And it took no more than 15 minutes to make.
In addition to the chicken hash, S also had two poached chicken thighs sitting in the chiller. Instead of following Glenn's instructions to just poach two chicken breasts, S had poached a whole chicken, following the method she usually uses when she makes chicken rice. For another quick meal, we deboned the thighs, shredded some iceberg lettuce, prepared some corn, and made a quick dressing with ginger, Champagne vinegar, soy sauce, sesame oil, grapeseed oil and sugar. It was a nice, light salad that captured a lot of the flavors of chicken rice.
Chicken often gets a bad rap. It's often thought of as the boring meat. It's not as exotic as duck or quail, nor as hearty and rich as beef or lamb. But sometimes, when cooked properly, chicken can be really nice. It's also a good versatile meat. With one chicken, S and I were able to prepare three excellent meals over three days. And two of them in almost no time at all. Which, when you consider how many other things we have to do each day, is a really nice luxury.
Versatile Chicken Hash
2 tablespoons butter
3 tablespoons all-purpose flour
5 cups chicken stock (preferably homemade)
4 cups cubed freshly poached chicken (see the recipe for chicken rice chicken here)
1/4 cup chopped onion
2 cups chopped celery
salt and freshly ground white pepper to taste
cayenne pepper to taste
parsley sprigs for garnish
Melt the butter in a large saucepan. Mix in the flour. Add 1 cup of the stock and cook over medium-low heat, stirring with a whisk, until thickened and smooth. Add the chicken cubes into the sauce.
Simmer the onion and celery in 4 cups of the stock in a large heavy pan until they are tender but not too soft. Spoon the vegetables into the saucepan with the chicken. Add just enough stock to this to create a nice sauce, stirring gently. How thick you want the sauce is up to you.
Season with salt, white pepper and cayenne. Garnish with the parsley when using.
Aun has always loved food and travel, passions passed down to him from his parents. This foundation, plus a background in media, pushed him to start Chubby Hubby in 2005. He loves that this site allows him to write about the things he adores--food, style, travel, his wife and his three kids!