S adds the foam to a "tortilla"
I've never had the pleasure of dining at El Bulli, currently considered (if you agree with Restaurant magazine) the world's best restaurant. That said, I've long admired Ferran Adria, the crazy mad scientist chef-owner who spends half of each year in a laboratory experimenting on new cooking and food preparation techniques. In 2001, I was lucky enough to attend a pretty amazing cooking demonstration put on by Adria, his brother, and another one of his chefs. Over two hours, he wowed an audience of food media, chefs and other industry professionals with his very unique brand of culinary magic. After the demonstration, I was even luckier. My wife S and I got to meet Adria and spend 15 minutes asking him as many questions as we could think of.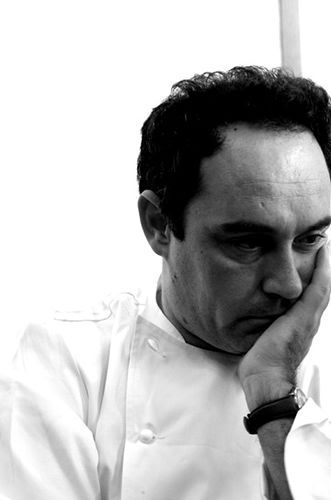 You can see how enthused Ferran was to meet me
As I mentioned a few posts back, I was recently inspired to attempt one of Adria's creations, what he calls his 21st Century Tortilla. The recipe comes from The Cook's Book, a large and impressive book edited by Jill Norman. Each chapter is written by a different and famous chef. S bought this book largely because of Adria's chapter on foams. Other great chefs that contributed to this book include Peter Gordon, Pierre Hermé, Charlie Trotter, Greg Malouf, and David Thompson.
Adria's foam techniques depend entirely on a specific piece of equipment, the siphon. Adria recommends using the 0.5 litre iSi Gourmet Whip. Others similar siphons aren't as versatile because (according to iSi and Adria) they can't accept warm (or hot) liquids. For the past few years here, the iSi Gourmet Whips were available in Robinsons, one of Singapore's larger department store chains. However, when I drove down to pick one up, I was shocked to discover that Robinsons was no longer selling them. In fact, as I called every kitchen supply store in town, I learnt that no one was stocking them any more. At one store, however, I spotted a Kayser Gastronomie siphon. And while I wasn't sure it would work equally well, after a quick call to a chef I trust, I decided to give it a try.
(Incidentally, I've since discovered that you can buy the iSi Gourmet Whips directly from their distributor here, Butler-Mason. Check out their website at www.butler-mason.com. I've already ordered a new Gourmet Whip from them.)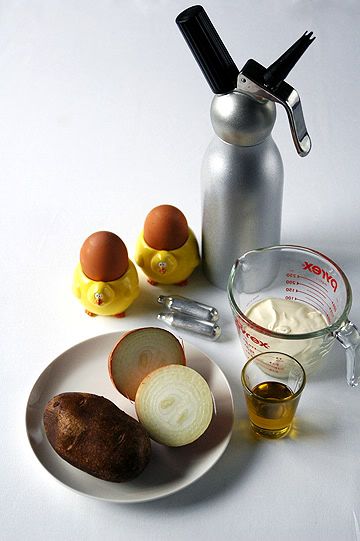 Caramelized Onions
250g onion, julienned
85g (3oz) mild olive oil
100ml (3.5 fl oz) water
Fry the onions gently in the oil, stirring continuously for about 20 minutes until golden. Drain off the excess oil and add a little of the water. Cook until the water evaporates. Repeat the process for about 20 more minutes until the onions are the texture of jam and the colour of caramel. Season with salt and set aside in the pan to reheat later.
Sabayon
2 egg yolks
30g (1oz) boiling water
Place the egg yolks in a bowl, beat with a hand whisk and add the boiling water in a thin stream. Beat vigorously over medium heat until it emulsifies. Season with salt.
Potato Foam
250g (8.5oz) potatoes, peeled and cut into chunks
125ml (4.5oz) single cream
35ml (1 fl oz) virgin olive oil, plus extra for drizzling
Place the potatoes in a pan of cold water, bring to the boil, and cook for about 20 minutes until soft. Drain, reserving 100ml of the cooking water. Place the cooked potato and the water in a blender. Purée, adding the cream little by little. Follow the same procedure with the oil until you have a smooth emulsion. Season with salt. Strain, then fill the siphon using a funnel. Load the air using two chargers, shake, and keep warm in a bain-marie at 70ºC (158ºF).

Make sure you strain the emulsion into the siphon
To serve, reheat the onion in the pan. Place a teaspoonful of onion in a martini glass, followed by one of the sabayon. Finish with the warm potato foam and drizzle with olive oil.
Making this has been surprisingly easy. And it tastes delightful. The texture is beautiful–light, creamy and rich all at the same time. I found that adding some chopped up bacon to the onions added an extra (meaty) dimension to the dish that I really like. Having made this, I'm pretty excited to test the other foam recipes in Jill Norman's book. Plus, I've just gotten a little espuma (foam) book from iSi. This is going to be fun.
Aun has always loved food and travel, passions passed down to him from his parents. This foundation, plus a background in media, pushed him to start Chubby Hubby in 2005. He loves that this site allows him to write about the things he adores--food, style, travel, his wife and his three kids!