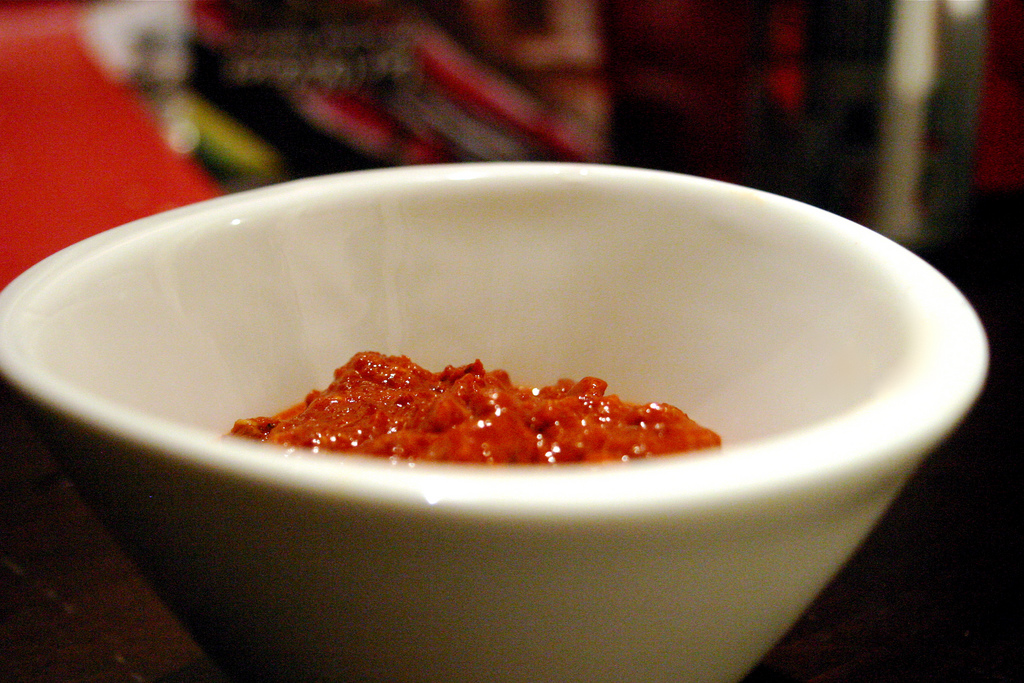 …because you can make them better at home.
Before I moved to Asia, I used to regularly buy these items in the supermarket. And actually a bit after I moved as well….until my then Singaporean boyfriend said…what? You don't make your own chilli sauce? He was shocked. Appalled. Perhaps even a bit ashamed. Apparently a woman without her own recipe for sambal is not marriage material. Ha! Well the Singaporean boyfriend is no longer in the picture, but the recipe for sambal is.
Chilli sauces are like the ketchup of Asian table. Every family has their own unique recipe – and they are never, NOT EVER store bought. For a good reason, the homemade versions are unequivocally better. So once I started to make my own Malaysian sambal, I wondered if there were other Asian chili sauces I should start making at home. My experiments led to 3 different sauces which I will never buy in the supermarket again. Why? Because the home versions are soooooo much better.
So I share with you my 3 favorite recipes for Asian chili sauces. You will never buy these at the supermarket again.
Malaysian Sambal
10 chopped shallots
8 chilies, seeds removed and sliced
5 cloves garlic, sliced
1 stalk lemongrass,  thinly slice the bottom 3 in. of the stalk
½ ounce tamarind juice, soak tamarinds in a cup of warm water and pour the tamarind juice through a strainer before use
10 dried chillies, soaked in hot water for 5 minutes)
2 tsp turmeric powder
3 Tbsp sugar
1 tsp salt
Oil, neutral flavored, like corn or grapeseed
Blend the first 6 ingredients into a paste. Add a bit of oil to make the paste – not more than 1 Tbsp. Then, heat 5 Tbsp oil in a skillet or wok. When the oil is warmed, our in the paste and sauté until it is fragrant, usually about 15 minutes. Use only moderate heat and stir the paste constantly so that it does not stick. Add the tamarind juice and the sugar. Cook the mixture while stirring occasionally. You will know it is ready when oil from the paste floats to the top. Store in a glass jar in the refrigerator.
Tip: Put over eggs for a wow breakfast alternative
Thai Sriracha Sauce
3/4 pound red jalepeno pepper, roughly chopped
3 cloves garlic, roughly chopped
2 Tablespoons brown sugar
1 1/2 teaspoon Kosher or sea salt
1/3 cup distilled white vinegar
Place jalapenos, garlic, sugar, and salt in bowl of a food processor (or you can use an immersion blender to mix). Mix until chillies are very finely chopped, almost a paste.  Transfer mixture to a clean jar, cover, and let sit at room temperature. Check jar each day for fermentation. You can tell fermentation is happening when little bubbles start forming at bottom of jar, about 3-5 days. Stir contents each day, continuing to let ferment until chilies are no longer rising in volume, an additional 2-3 days.
Then pour the chilli mixture to a blender, add in white vinegar, and puree until completely smooth, 1-3 minutes. Transfer to a mesh strainer and strain the mixture over a bowl, use a rubber spatula to push trough as much pulp as possible, only seeded and larger pieces of chilies should remain in strainer. Bring mixture to a boil, reduce heat, and simmer until sauce thickens and clings to a spoon, 5 to 10 minutes. Transfer to a glass jar and refrigerate.
Tip: mix with mayonnaise to make an amazing sandwich spread
Indian Chilli Paste

Chop 6-8 hot red chillies finely and then grind with a mortar and pestle. Add 1 tsp lemon juice. Then add salt, cumin seeds and a little sugar to taste. Grind until smooth. (you can also use a blender)
Tip: mix with tomato sauce or use plain as a base for pizza
Joanna Hutchins is a culinary travel blogger based in Shanghai, China.. In 2009, Joanna founded Accidental Epicurean, a culinary travel blog focused on Asia. Joanna is also a contributor to CNNGo, Look East magazine, SE Asia Globe and Two magazine.