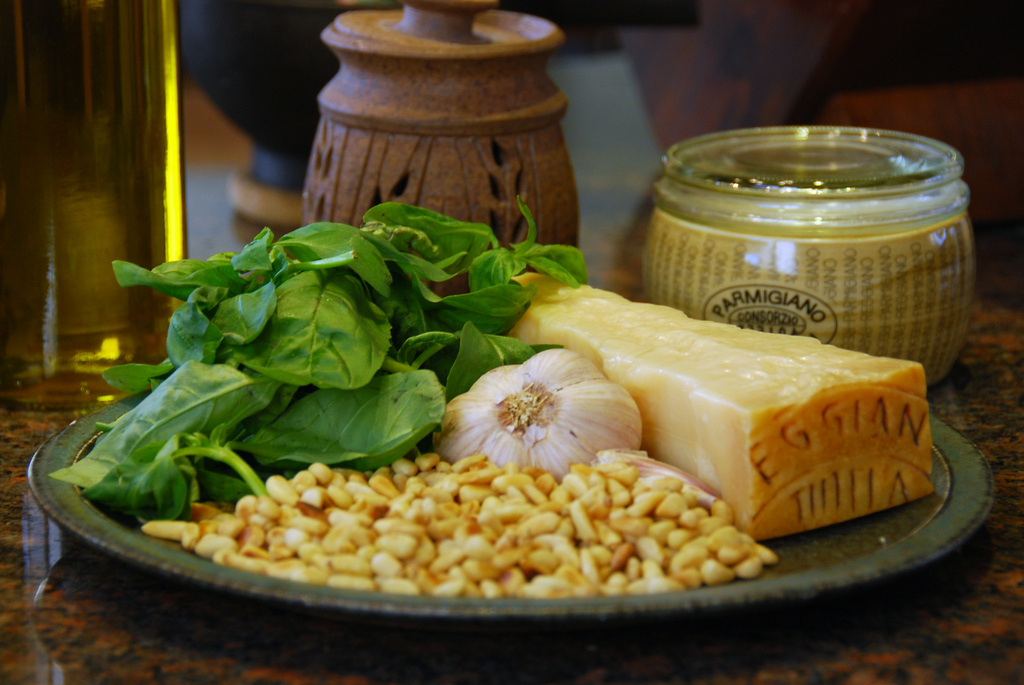 ….because you can make them quickly and easily at home, and oh so much better. I remember when I first started to cook and I used to doctor up jarred tomato sauce with herbs and such. I felt very clever about making it "better" – until my mother said, hey, basically you can use plain old tomatoes and make a REAL sauce doing very nearly the same steps. A mind blowing food moment for a teenager – cooking is… easy?!?
OK, not all cooking is easy. But I promise you these three sauces are dead easy. You won't want to buy them in the supermarket again because they take mere minutes to whip up and taste exponentially better. Never buy jarred or powdered sauce mixes again with these 3 simple and infinitely adaptable recipes for authentic Italian sauces.
Homemade Pesto
2 cups fresh basil leaves
2 cloves garlic
¼ cup pine nuts
⅔ cup extra virgin olive oil
½ cup Pecorino Romano or aged Parmesan
Salt and pepper to taste (kosher or sea salt works best, also freshly ground pepper is preferable)
Combine the basil, garlic and pine nuts in a food processor or blender and pulse until coarsely chopped. Then drizzle in the oil while blending all the ingredients. Stop when you achieve a smooth paste consistency. Season with salt and pepper.
Variations: The combinations here are truly endless. Any green herb or even lettuces will work. For example, try spinach or arugula as the green. Or even add a handful of fresh mint in with the basil. And the same is true with the nut element. Pine nuts can be easily substituted with walnuts, cashews or even pistachios. A fairly popular combination is arugula walnut pesto, but if you want to experiment you can no doubt create your own new favorite.
Marinara in Minutes
2 Tbsp olive oil
4 cloves garlic, minced
¼ cup chopped onion (rough chop or fine depending on how chunky you want the sauce)
½ tsp salt (ideally sea salt or kosher salt)
⅛ cup grated carrot
1 28-ounce tin of tomatoes (I prefer San Marzano, or plum tomatoes), if whole make sure you chop them before adding
1 tsp dried oregano
1 tsp dried thyme
Fresh ground pepper to taste
In a large pot or a deep sauté pan, add the olive oil, onions, garlic with salt and pepper. Sauté until the onions are soft and translucent, about 10 minutes. Add the carrots and sauté another 5 minutes. Add in the tinned tomatoes with all juices. Then add the herbs. Simmer uncovered for 20 minutes or until the sauce has reached the desired consistency.
Variations: You can add crushed red pepper to spice it up making a sort of Arrabiata sauce. You can add bacon in with the onions to make a modified Amatricana sauce. Add vegetables for a Primavera sauce, or even ground beef for Bolognese. Marinara is the base for all these Italian sauces. And pasta isn't the only partner for this sauce… what about sauce over grilled chicken or salmon?
Mushroom Cream Sauce
2 Tbsp butter
½  cup onions, chopped
2 cloves garlic, minced
6 ounces mushrooms, sliced (button mushrooms or Portobello work well)
1 cup heavy cream
Salt and pepper to taste (again, use a good quality salt and freshly ground pepper if possible)
In a large pot or a deep sauté pan, add the butter, onions, garlic with salt and pepper. Sauté until the onions are soft and transluscent, about 10 minutes. Add the mushrooms and sauté about 5 minutes. Add the heavy cream and simmer until the sauce has reached the desired consistency, around 7-10 minutes.
Variations: You can add grated cheese such as Parmesan to made a modified Alfredo sauce. Try a mixture of mushrooms for a more sophisticated flavour profile. Use shallots or leeks instead of onions for a slightly lighter taste. You can add bacon in with the onions to make a decadent sauce to top chicken with. Add bacon and omit the mushrooms and you have a modified Carbonara sauce. Or add blue cheese and use to top a steak.
So please, let's make a promise to each other… no more supermarket Italian sauces!  And trust me, once you taste the difference, there is no turning back.
Joanna Hutchins is a culinary travel blogger based in Shanghai, China.. In 2009, Joanna founded Accidental Epicurean, a culinary travel blog focused on Asia. Joanna is also a contributor to CNNGo, Look East magazine, SE Asia Globe and Two magazine.