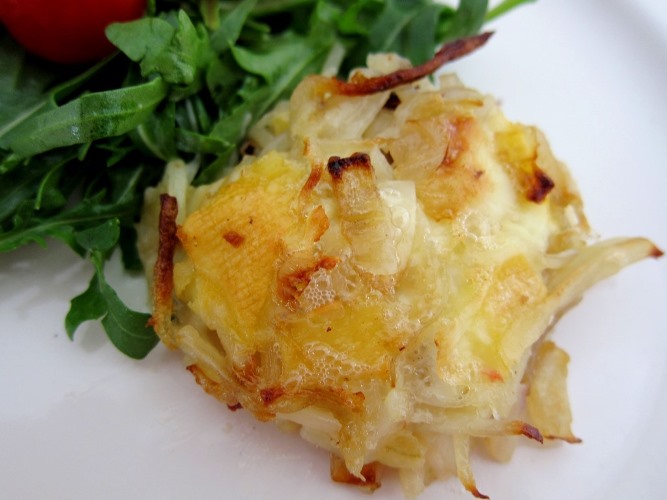 Whenever I plan a meal, I will usually look at what happens to be available in my fridge or pantry, and cook up the meal from what's already there. I rarely buy a truckload of ingredients to make that one dish. However, if I happen to chance upon an ingredient that I have been dying to try, I will make that effort. This time, I got my hands on a stinky French cheese, Reblochon* and I am certainly super excited about using it.
Reblochon is from the Alps region of Haute-Savoie in France. It is a washed-rind and smear-ripened soft cheese made from raw cow's milk. Because of the smear-ripened process (this means a solution of bacteria or fungi is smeared onto the cheese), it imparts a pungent flavour on the rind. As Reblochon is made from unpasteurised milk, it gives the cheese a nutty taste and creamy texture. When you purchase your Reblochon, It is important to check the packaging. On the packaging, there should be an A.O.P. (Appellation d'Origine Protégée) logo.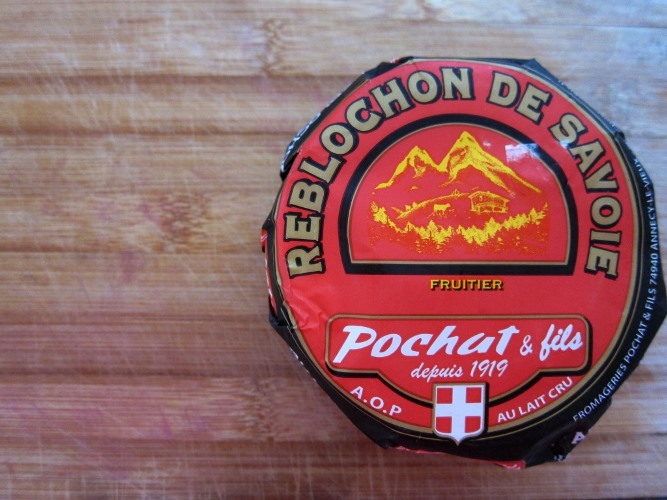 In the 1980s, to encourage the sales of Reblochon, the Union Interprofessional Reblochon (what a cool union) developed a dish called tartiflette, which is essentially a cheese and potato nest. Traditionally, lardon or bacon is also added into this dish. However I omitted it here in order to make the recipe more vegetarian friendly. The pungent flavour from Reblochon somehow oozes away, leaving a beautiful potato nest which has a crunchy crust, and a rich and creamy soft bottom. If you are lucky enough to savour the baked rind (I always look out for the corner piece which has the most rind), it is both crisp and cheesy. Though it has a fancy name, tartiflette is quite an easy dish to make and I am sure it will be a crowd favourite at the dinner table.
Nids de Tartiflette
(Adapted from Rachel Khoo's The Little Paris Kitchen)
After you unwrap the Reblochon, you might find there is a pinkish or orange colouring underneath the rind. Don't worry, the cheese has not gone bad. This is the result of the smear-ripened process. It is safe for consumption. For this particular dish, I would strongly advise you not to remove the rind, as when it is crisped up in the oven, it is crunchy and delicious. If you cannot find Reblochon, a good substitute is Brie or Camembert.
Recipe type: Lunch, Dinner
Prep time: 20 minutes
Bake time: 20 minutes
Total time: 40 minutes
Makes 6 medium-sized tartiflettes
Ingredients
15g unsalted butter (plus some extra for the muffin tin)
500g potatoes
1 medium-sized onion, finely chopped
1 clove of garlic, finely chopped
1 dried bay leaf
100ml dry white wine (you might need slightly more; I use Sauvignon Blanc)
240g Reblochon cheese, big cubes
Salt** and black pepper
Preheat the oven to 180oC. Oil a 6-hole (medium size) muffin tin with some soft butter and set aside. If you do not have a muffin tin, use ramekins or paper muffin cups.
Prep the potatoes – wash, peel and using the julienne blade (using the smallest size) of a mandoline*** to make thin matchsticks. If you do not have a mandoline, you can do this by hand, slicing the potatoes as thinly as possible into matchstick shapes. If you have a food processor, you might want to check if it comes with a julienne disc, you can use that too. Lastly, try to make the potatoes the last thing you prep in order to prevent oxidation.
Using a large non-stick frying pan, over a low-medium heat, add in the butter, chopped onion, garlic and bay leaf. Using a wooden spoon, occasionally stir the mixture. Season the mixture with pinch of salt and black pepper. At this stage, you want to sweat the onion – this means softening the onion without getting much colour on them (hence using a low-medium heat). This should take around 3-5 minutes.
Once the onion is softened, add in the dry white wine and let it reduce to 1-2 tablespoons of liquid. If the wine evaporates too quickly (this could happen if your pan is too hot or too wide), just add in a couple more tablespoons of wine.
Once the wine is reduced, remove the bay leaf and add in the potato matchsticks, and mix well. Once mixed, remove the pan from the heat.
In the same pan, add in the cubed Reblochon cheese and mix well. The cheese can be quite sticky so you need to spread it around the pan. You need to work fast here, otherwise the cheese will start to melt and become gooey, which makes it hard to put in the muffin tin.
Divide the potato mix between the 6-hole muffin tin. Try to pack in as much as possible into each hole. The tartiflette will actually shrink when baked. If you are using paper muffin cups or ramekins, place them on a baking tray.
Place the muffin tin in the oven and bake for 15-20 minutes or until the tartiflette turns golden brown and bubbling. Serve warm.
I like to serve the tartiflette with a side salad (I usually serve it with rocket leaves dressed in lemon juice and extra virgin olive oil).
*I get my Reblochon from Cold Storage, Plaza Singapura.
**During Christmas, I was gifted with Jamie Oliver's chilli salt, which I use in this dish. I like how the mild spice cuts through the richness of the cheese. Try making make your own flavoured salt with paprika, cumin and so on.
***If you are using a mandoline, please use the hand guard. I recently had a bad accident with the mandoline (not from making this dish) and the kitchen was transformed into a CSI crime scene in minutes. That said, I still love my mandoline – it is one of the most useful kitchen tools for people with rubbish knife skills (aka me).
Mandy's journey into the culinary world began out of necessity–a means of survival whilst she was at university. She believes cooking should be simple and fun. Besides spending time in the kitchen whipping up hearty meals, Mandy also dreams of having a bottomless stomach that she can fill with all kinds of delicious things.