Over the years, my gorgeous and svelte wife S has continuously pressured me to make lighter and healthier pasta dishes. You see, my default, when it comes to pasta, has always been rich and creamy. That's just the way I like'm. But as I've aged and the pounds have become harder and harder to keep off, I have to admit that I'm finally seeing the wisdom in my beloved's request. My favourite non-creamy, light, but still flavour-packed pasta recipe right now is a crab tagliatelle with an aromatic shellfish broth.  
While light, this dish is packed with umami-goodness. Which is important to me (and I'm sure you as well). While relatively easy to make, you will need to (1) spend time sourcing ingredients and (2) devote a full morning or afternoon to making the broth.
For the version I make at home, I'm currently using spanner crab meat that I brought home (frozen) from my recent trip to Noosa, Australia. But you can use any high quality picked crabmeat. I suggest checking your local gourmet store for good quality flash frozen crabmeat. I would take that over canned stuff any day of the week. The best thing, of course, would be to pick the meat yourself, but that can be really time-consuming and, if you're like me and are simply unskilled at picking crabmeat, rather aggravating.
Also, for the broth, you can use almost any kind of crustacean shell. When entertaining, I'll use two whole flower crabs for the broth. When making this just for myself and S, I'll use a dozen prawn shells (just the shells, the meat I'll freeze and use some other time) and heads. What shells you use is really up to you.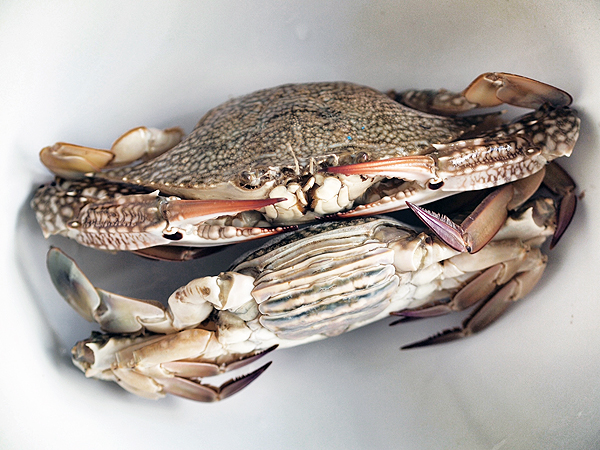 I also tend to steer the overall flavour profile of this dish to be a bit Asian. I do this in three ways. Firstly, I use Thai basil, laksa leaf and lemongrass as aromatics when making the broth. Secondly, I sauté the crabmeat with shallots, ginger, garlic and chilli. Thirdly, I mix minced Thai basil and laksa leaf with shaved parmesan to top off the dish with. If you have a more European palate, I suggest using tarragon and maybe some leek instead of the Asian herbs when making the broth. You could sauté the crabmeat with diced onion and maybe even some chopped tomatoes. And you can mix the cheese with parsley, tarragon and either chervil or basil. While the recipe below reflects how I like to make this dish, it's flexible enough that you can tweak the dish in different ways depending on what flavours you like best.
Shellfish broth
1 tablespoon olive oil
2 whole flower crabs, chopped up (or shells and heads from 12 medium to large sized prawns)
1 large onion, rough chopped
2 peeled carrots, rough chopped
1 can of whole plum tomatoes
2 stalks lemongrass, bruised
½ cup loosely packed Thai basil
½ cup loosely packed laksa leaf
Heat up the olive oil in a large stockpot over medium to high heat. Toss in the crabs or prawn shells and fry for 2-3 minutes, stirring constantly. Then toss in the onion and carrots. Cook for another 4-5 minutes, stirring often. Then pour in the canned tomatoes and the herbs. Give everything a good stir. Fill the pot with water, enough to submerge all the ingredients under water. Bring the water to a boil and then lower the heat so that the liquid is at a very gentle simmer. Cook for 1 hour.
After the hour, strain all the liquid into a large saucepan. Try and mash all the ingredients into your strainer to get as much liquid out as possible. Now, reduce this over medium to high heat until you are left with only 1 ½ cups of liquid. This usually takes me anywhere from 2-3 hours. Season with salt and pepper to taste. I find I actually don't need to season this at all. Reserve the liquid until it's time to prepare the pasta dish.
Crab pasta with an aromatic shellfish broth
Serves 6
500g of your favourite pasta
1 ½ cups of the shellfish broth (recipe above)
200 grams of picked crabmeat
3 small shallots, diced finely
1 long red chilli, deseeded and diced finely
2 cloves of garlic, diced finely
1 inch piece of ginger, peeled and diced finely
1 cup of parmesan, shaved with a microplane
3 tablespoons Thai basil, minced
2 tablespoons laksa leaf, minced
1 tablespoon olive oil
Mix the laksa leaf and Thai basil with the parmesan in a bowl and set aside.
Heat up the olive oil in a large saucepan over medium heat. Fry the onion, chilli, ginger, and garlic until the onion is just a bit soft. Then toss in the crabmeat and fry for 1 minute.
Boil a pot of salted water and toss in the pasta. While it is cooking, pour the shellfish broth into the saucepan over the crabmeat. Bring to a mild simmer.
As soon as the pasta is ready (al dente), drain it and toss it into the saucepan with the crabmeat and broth. Turn up the heat and bring the broth to a boil. Stir carefully to mix the noodles and the sauce and the crabmeat. Cook for 1 minute, to ensure that the broth gets absorbed by the pasta.
Distribute the pasta, crabmeat and sauce into bowls and toss some of the parmesan-herb mix over it. Enjoy.
Aun has always loved food and travel, passions passed down to him from his parents. This foundation, plus a background in media, pushed him to start Chubby Hubby in 2005. He loves that this site allows him to write about the things he adores--food, style, travel, his wife and his three kids!