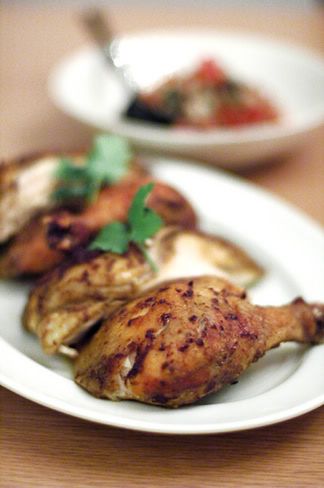 There are days when I'm inclined to perform the culinary equivalent of a Cirque du Soleil act in my kitchen by attempting to create a menu degustation involving multiple recipes from the French Laundry Cookbook. I do love the challenge of it all. But there are other times when the occasion calls for simple, honest and, dare I say, reliable comfort food. Last week, we invited two friends, newlyweds, over for a weeknight meal. C & P had just returned to Singapore after having spent a whole month traveling; first tying the knot in Canada, then (re)tying the knot in Australia. While I wanted to offer them a meal that would celebrate their marriage, I also wanted to prepare a cosy dinner that would welcome them home. This was not quite the time for champagne espuma or menus boasting smart-ass wordplay.
So, I picked one of my favourite Charmaine Solomon recipes, one that I used frequently as a young undergraduate in Perth. Charmaine worked as a reporter in Sri Lanka before she moved to Australia (incidentally, the groom, P, is also Sri Lankan, by way of Australia). She is now widely recognized as an authority on Asian cuisine and is credited with having changed the way Australians eat and cook. (I actually interviewed her a few years ago. She's such a sweet, generous lady.) The dish appears in her cookbooks listed either as Himalayan Chicken or Chicken Everest (the recipes are only marginally different). For this particular meal, I used the Chicken Everest recipe in her Complete Asian Cookbook. I love this dish for its heady combination of flavours (savoury and complex, with a delightful interplay between the fresh herbs and smoky, ground spices), its simple preparation, and the fact that it's actually something Charmaine's husband, Reuben (a noted jazz musician) created. She calls it one of his "successful variations on a traditional Indian theme". As you might have noticed, I have a soft spot for men who cook.
Start with a large, roasting chicken, washed and dried. I usually try to get one close to 2 kg.
For the marinade:
2 cloves garlic, crushed
2 tsp finely grated ginger
1½ tbs curry powder
1 tsp paprika
2 tsp salt
½ tsp ground black pepper
2 tbs lemon juice
½ tsp ground curry leaves (I substituted this for a small handful of fresh leaves)
2 tsp light soy sauce
2 tbs vegetable oil (I also added a splash of sesame oil, which I believe the other recipe calls for)
2 tbs ground rice (which I omitted)
a little warm water
2 tbs finely chopped spring onion
2 tbs chopped fresh coriander leaves
Charmine says to combine all the ingredients with sufficient warm water to make a paste of spreading consistency. My pressed-for-time method involves keeping the garlic cloves whole. I pop them into our Braun handheld blender's mini processor along with a small knob of peeled ginger, the fresh curry leaves and roughly chopped spring onion and coriander. Top this with the oils and blitz it all into a pesto-like consistency before mixing in the rest of the ingredients with a spoon (pulse it a little as well to ensure even blending; remove the spoon before you do this, of course). Using this method, no additional water is required.
Next, rub the paste inside the chicken and all over it. She suggests leaving it to marinate for 1 hour. I prefer to leave it in the fridge overnight.
The trick is to get the chicken back to room temperature before you roast it. I also like to truss the chicken, although Charmaine doesn't ask for this. We've learnt that it helps keep the breast meat tender and ensures even cooking (thanks Mr Keller). Preheat oven to 170 degrees Celsius. Roast the chicken for 1 to 1¼ hours (or until the chicken is done). Serve warm or cold.
For C & P, I served it warm with some other dishes I enjoy eating with this roast chicken: a refreshing tomato, onion and green coriander relish; mildly spiced Basmati rice and peas (it has toasted cumin seeds and onion in it, and I opted to fry the uncooked rice in ghee rather than vegetable oil); and small yellow split peas (chana dal), all from Madhur Jaffrey's Indian Cookery (another one of the books I dip into for simple meals when I don't have much time to linger in the kitchen). We ended dinner with some homemade coconut ice-cream subtly infused with pandan leaf (from our proud little plant out in the hallway), topped with thick, oozy Indonesian coconut sugar sauce.
But I must confess that the real treat has to be in eating the leftovers. The tender, juicy bits of flesh running down the back of the chicken which I don't usually serve are shredded by hand and refrigerated, as are any leftover rice and dal. When it suits your fancy, reheat and serve combined for an indulgent lunch or midnight snack. – S
Aun has always loved food and travel, passions passed down to him from his parents. This foundation, plus a background in media, pushed him to start Chubby Hubby in 2005. He loves that this site allows him to write about the things he adores--food, style, travel, his wife and his three kids!