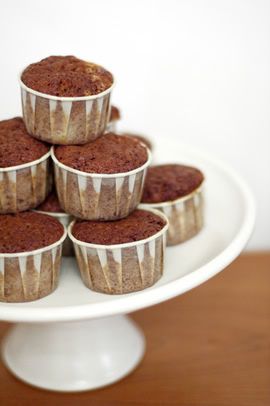 My darling sexy wife S made these for me last week. I suggested that perhaps she wanted to write the post that accompanied the photo. Little did I know she would write an epic. Here's what she wrote:
My mother-in-law's banana cake
My love for cooking and eating stems from growing up in a family that lives to eat widely and plentifully. When I was a child, my mother's pineapple tarts – still the benchmark against which I measure all others – were beloved not only for her generously spiced and artfully caramelized pineapple jam (I've always been puzzled by the pale yellow versions I've tasted, hers always had a mouthwateringly deep burnished hue), and sinfully buttery pastry, but for her generous mounds of filling. Family friends referred to her tarts as 'Dolly Partons'. My mother has always been a maximalist at heart. And it is her generous spirit in the kitchen (as far as I can remember, we've always had guests at the dinner table and none were ever allowed to leave before they were well over-fed) that has fueled my own penchant for sharing the fruits of my kitchen labors.
However, more recently, my mother-in-law has also become a great source of culinary inspiration. I've never actually tasted her cooking. She decided to hang up her apron years ago. But her two sons continue to rave about her char siew noodles, duck porridge, cheese burgers, banana cake and many other specialties. I was surprised (and delighted) to discover that although CH spent his formative years in the US, his comfort foods, the ones his mother constantly fed him, were very similar to the ones I grew up with in Singapore. Call me sentimental, but my mom-in-law has inspired me to master the dishes of our childhoods (CH's and mine) because I'd like to be able to give our children the same kind of gastronomic memories she has given her sons, ones they'll cherish always, no matter where we may choose to bring up our family.
It was with this intent that I attempted her banana cake recipe. Of course, for CH, my learning his mother's recipes is also the only way he gets to taste those foods of his boyhood. I'll have to admit that I've put off trying to make this banana cake for years because trying to live up to a treasured memory is often a recipe for disaster. Banana cake is an easy enough thing to bake, but recreating the one your mom-in-law used to make just the way your husband remembers it really is a daunting undertaking, especially if you've never actually had the chance to taste the original. It's like trying to recreate someone else's experience of falling in love for the first time. It just isn't something that a person in her right mind would attempt.
Nonetheless, last week I decided to give it a go. I had a few ripe ang bak chio (red-fleshed bananas) that my fruit guy had given to me earlier in the week. They were sweet and fragrant without being overly mushy, making them ideal for banana cake. The toughest decision I had to make was to pick out which of my mother-in-law's three sets of handwritten notes in her Singapore Cookbook I would follow. Accustomed to making small batches for a nuclear family of two (that's excluding our two greedy golden retrievers), my palms got sweaty as the assembled cake batter started looking like it could feed an army. I fretted over how much batter I ought to fill each muffin cup with. What if they overflowed? The recipe didn't even state the size of the baking tin required. O, how I missed the painstakingly detailed instructions of Baking Illustrated right then.
I could only start breathing a little easier after the little cakes were inserted into the oven and the familiar intermingling aromas of banana, vanilla, butter and sugar filled our home. Then, I felt loved and loving. I felt hopeful. Success felt well within my reach. Yet it bothered me that the recipe called for the cakes to be baked for an hour. As their tops grew darker I worried that they'd get burnt. But I'd decided that for my first attempt at this recipe I'd stick closely to the instructions. Perhaps this was what made her cake different, I thought to myself. So against my better judgment I waited with great impatience for the hour to pass.
Just out of the oven, they tasted gloriously moist and deliciously sweet. CH was deliriously delighted with them and tried to sneak as many as he could into his mouth. But conscientious as I always try to be, I offered a few to my mother-in-law in the hope that she would give me some feedback on my rendition of her recipe. Wonderfully honest (yes, I mean that), she tasted them the day after and declared them a little too dry – which they indeed were after they'd cooled. Imagine my embarrassment. I couldn't even get a simple banana cake right. What kind of mother will I be?
Undaunted, I purchased another comb of bananas. I am waiting for them to reach that point of perfect ripeness, when they are at their sweetest, before I make my next batch of banana cakes. Next time around, I know I'll get the recipe right. I've only just noticed as I'm writing this post that among my mom-in-law's maze of recipe notes, it says "24 cups, bake at 350˚ for 30 minutes". I had somehow managed to miss that little detail. Boy, do I feel like an utter doofus.
My Mother-in-law's Banana Cake
Makes 20 to 24
21⁄4cups (295g) flour
2tsp baking powder
2tsp bicarbonate of soda
1⁄2tsp salt
1cup (210g) sugar
240g unsalted butter
4 eggs, beaten
4 bananas (roughly 375g), mashed
5Tbs milk
1tsp pure vanilla essenceSift flour, baking powder, bicarbonate of soda and salt into a medium bowl. Cream butter and sugar until creamy white. Add beaten eggs a little at a time. Beat well after each addition. Add vanilla, milk and mashed bananas. Fold in flour and blend well. Pour mixture into muffin cups and bake at 180˚C for 25-30 minutes or until a skewer inserted into the centre of the cake comes out clean.
Aun has always loved food and travel, passions passed down to him from his parents. This foundation, plus a background in media, pushed him to start Chubby Hubby in 2005. He loves that this site allows him to write about the things he adores--food, style, travel, his wife and his three kids!