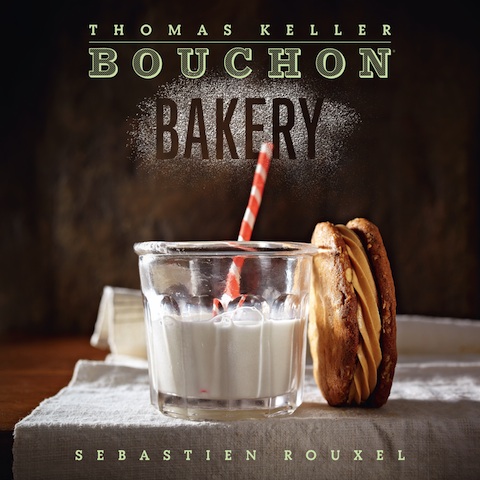 I am a cookbook junkie. I have an entire bookcase of cookbooks and food related non-fiction titles. And I have been trying to wean myself from this addiction. Unfortunately, in 2012 there were so many exciting new cookbooks introduced that I couldn't resist. After reading about so many in my "go-to" food magazines, websites and blogs, I narrowed it down to the top six cookbooks of 2012. These were the most recommended, most blogged about, most inspiring cookbooks of 2012 – and I acquired them all. I simply couldn't resist and I am glad I didn't because now I am experimenting with all sorts of cuisines I love but had previously rarely made at home.
From Japanese farm food to Vietnamese home cooking to the cuisine of Jerusalem and refreshing my recipes and techniques in French classic cooking and baking, I haven't been this excited about a cookbook, much less six, since I can remember. So, I want to share with you my top picks for the best cookbooks of 2012 and one of the recipes that is quickly becoming a new favorite dish among my friends and family.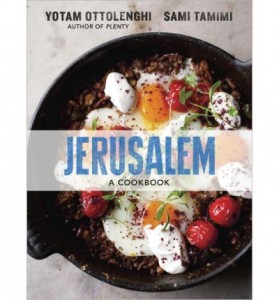 1. Jerusalem by Yotam Ottolenghi and Sami Tamimi – This book is so beautiful it is good enough to eat. And coming from two of the most famous chef's in London's food scene, it is ripe with authentic Muslim and Jewish recipes from their native Jerusalem. Tamimi's upbringing on the Arab side of Jerusalem is meshed with Ottolenghi's upbringing on the Jewish side to culminate in a book so ripe in history, colour and culture that it feels like you are sitting with them at their family table.
To give you a taste of one of the recipes in the cookbook. I am sharing with you the salad recipe below. It is a salad that is worthy of center stage on the table and never fails to impress the guests to whom I have served it. The flavours are an amazing melange of sweet and savoury while the crunch of the nuts, cruciferous vegetables and the seeds is toothsome and satisfying.
Roasted Cauliflower, Hazelnut and Pomegranate Seed Salad
1 head cauliflower, broken into small florets (1½ pounds total)
5 tablespoons olive oil
1 large celery stalk, cut on an angle into ¼-inch slices (⅔ cup total)
5 tablespoons hazelnuts, with skins
⅓ cup small flat-leaf parsley leaves, picked
⅓ cup pomegranate seeds (from about ½ of a medium pomegranate)
Generous ¼ teaspoon ground cinnamon
Generous ¼ teaspoon ground allspice
1 tablespoon sherry vinegar
1 teaspoon maple syrup
Salt and freshly ground black pepper
Preheat oven to 425 degrees. Mix the cauliflower with 3 tablespoons of the olive oil, ½ teaspoon salt and some black pepper. Spread out in a roasting pan and roast on the top oven rack for 25 to 35 minutes, until the cauliflower is crisp and parts of it have turned golden brown. Transfer to a large mixing bowl and set aside to cool.
Decrease the oven temperature to 325 degrees. Spread the hazelnuts on a baking sheet lined with parchment paper and roast for 17 minutes. Allow the nuts to cool a little, then coarsely chop them and add to the cauliflower, along with the remaining oil and the rest of the ingredients. Stir, taste and season with salt and pepper accordingly. Serve at room temperature.
2. Bouchon Bakery by Thomas Keller and Sebastien Rouxel 
Thomas Keller of the famed French Laundry restaurant in California likely needs no introduction, however you might not know Sebastien Rouxel, Keller's executive pastry chef. These two chefs transfer their learning of French bakery classics to the reader, presenting detailed and easy to understand recipes for the home cook. From baguettes and Quiche Lorraine to macaroons and fruit tarts, it's all here in glorious detail.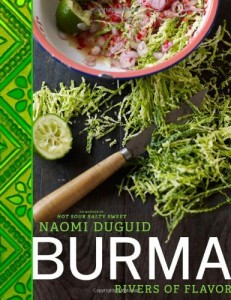 3. Burma, Rivers of Flavor by Naomi Duguid Duguid brings Burma to life through food. Located at the intersection of Thailand, India and China, Burmese cuisine is incredibly diverse – from salads reminiscent of Thai cooking featuring lime, shallots and peanuts to Mohinga, a blend of rice noodles and fish broth, to the curries and chutneys which bring to mind Indian cuisine, it's all here. Recipes are richly woven between stories of how the author discovered the dishes, in essence presenting a culinary tour of Burma.
4. The Complete Bocuse by Paul Bocuse
Heralded as the new "bible" of French cuisine, The Complete Bocuse is an encyclopedic tome presenting 500 traditional French recipes.  From sauces to soufflés and paté to cassoulet, it contains everything needed for the home chef to master French cooking. Designed for a novice, it has practical sections like a glossary of terms, average cooking times and conversion tables. Move over Julia Child, this is positioned to become the new gold standard cookbook for French cuisine.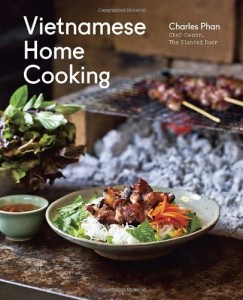 5. Vietnamese Home Cooking by Charles Phan
Charles Phan is credited for popularising Vietnamese food in America nearly 20 years ago. Starting with the fundamentals like techniques and ingredients, Phan demystifies the complexities and subtleties of Vietnamese cooking and makes it completely approachable for the home chef. Learn how to make perfectly crispy rolls and delicately scented stews through detailed instructions accompanied by inspiring food photography taken in Vietnam. This book will make you want to stay home and cook, rather than going out in search of Vietnamese food.
 6. Japanese Farm Food by Nancy Singleton Hachisu
If it's not clear from the mastery of the techniques and distillation of Japanese cooking that the author resides on a farm in Japan, then it will soon become so as stories unfold about life on the farm.  Recipes are interwoven with stories about family life and cooking seasonally on the farm. The visual presentation of the traditional Japanese farm house and these rustic dishes is stunning. There is no shortage of visual and culinary inspiration for the home chef to learn simple Japanese dishes like vegetable stews, dipping sauces and soups. It is Japanese cooking at its essence with a focus on simplicity, flavor and presentation.
It's been an incredible year for cookbooks. The six described above are quickly becoming well worn favorites for me. As beautiful as they all are, I believe the true sign of a well loved cookbook is splatters and stains and dog-eared pages, which the cookbooks above are gradually accumulating. Yes, 2012 was a very good year.
Joanna Hutchins is a culinary travel blogger based in Shanghai, China.. In 2009, Joanna founded Accidental Epicurean, a culinary travel blog focused on Asia. Joanna is also a contributor to CNNGo, Look East magazine, SE Asia Globe and Two magazine.