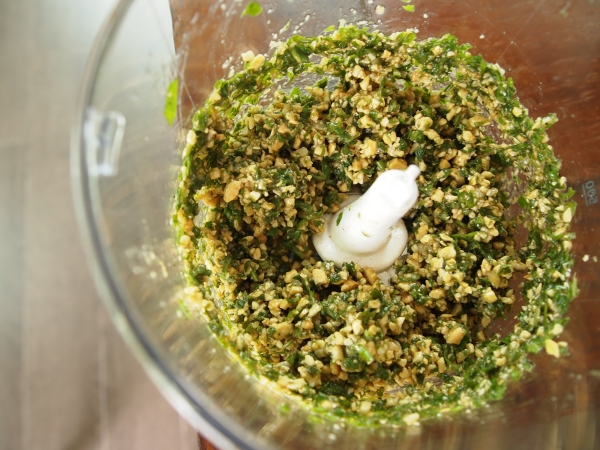 Pesto at its best is fresh, piquant, zingy, creamy, and surprisingly luxurious. It's comforting for me to know I always have a jar of it in the fridge because it's not only incredibly tasty and versatile, it also helps me put meals together instantly. To fuel my pesto obsession, I currently have fifteen basil plants growing in my garden. Yet I still use them up too quickly! Pesto effortlessly jazzes up roasted new potatoes, steamed broccoli/french beans/asparagus and it's utterly delicious paired with mozzarella or avocado in a toastie. Or, simply squeeze in a few drops of lemon juice and dollop over roasted chicken, grilled salmon or beef. But my absolute favourite pesto dish, is a generous spoonful of it tossed with pasta and halved cherry tomatoes. I am unashamed to say that I make my little boy (and myself) this meal at least once a week. It literally takes me six minutes (the time it takes for his farfellini to cook) to put lunch on the table. Because this pasta dish is great even eaten at room temperature, I find myself packing it for family picnics every chance I get.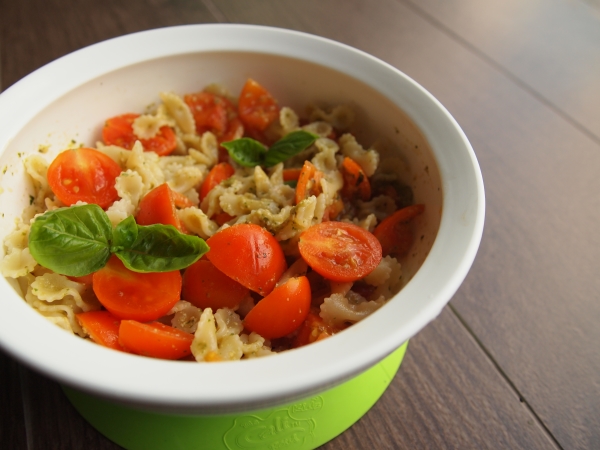 The classic pesto as we know it, consists of pine nuts. But cashews, apart from being less costly, give this pesto a chunkier and heartier texture, while still retaining much of the creaminess we get from pine nuts. The other difference between this recipe and others, is that I sauté the garlic slices gently in olive oil before blitzing everything together. This enhances the sweetness of garlic, which I think makes the sauce more appealing to kids. However, if you appreciate a spicy garlic flavour, feel free to use it raw, but cut back to one clove.
I'm aware that I might receive hate mail for using a food processor to make pesto. To my credit, I used to do it the old-school way for years, in a pestle and mortar (my husband can attest to this). First pounding the garlic and nuts, then adding the basil and bruising it with salt, and finally stirring in the parmesan and olive oil. But these days, I'm constantly kept on my toes by my daredevil one year-old baby girl, which leaves me with little time in the kitchen. So short of picking out a bottle from the supermarket shelf, this is a happy compromise.
Cashew Nut Pesto
1 packed cup sweet basil leaves, rinsed and torn into smaller pieces
½ cup raw cashew nuts
3 cloves garlic, sliced thinly (1 clove, if you are using raw)
⅓ – ½ cup extra-virgin olive oil (depending on how loose you like your pesto)
¼ cup grated parmesan
½ tsp sea salt
big pinch of ground black pepper
Sauté garlic slices in a little olive oil over a low heat. Take the pan off the heat once the garlic softens (it will turn slightly golden as it cools in the oil). Set aside.
Lightly toast cashews in dry pan. Set aside to cool.
Place basil, cashews, garlic and the oil it was cooked in, the rest of the extra-virgin olive oil, salt and pepper in a food processor, and blitz until you achieve a texture that you like.
Stir in the grated parmesan.
Check the seasoning, and add more if necessary.
Store pesto in an air-tight container, with a layer of olive oil over top, in the fridge for up to two weeks.
Dawn, a lanky food-crazed lady, started out writing for lifestyle magazines, and later spent several years in banking. When not eating, she's cooking, reading about, hankering after, and writing about food. On her first date with her boyfriend (now husband), they dined at four restaurants across Singapore. He's gained 25lbs since, and their culinary escapades continue after welcoming two rotund angels. Dawn's committed to feeding them with the best, and creating lasting food memories and traditions for her family.