Okay, it's not the world's greatest photo or the world's prettiest dish, but this is my all-time favourite stay-in-and-have-a-simple-meal-at-home food. It's a steamed egg custard with minced pork and salted duck egg yolks and is one of the few things that I'd be more than happy to eat a couple times of week for the rest of my life.
I grew up eating this, thanks to a Cantonese "amah" that cooked phenomenally well. My mother, of course, makes a killer version. And, more recently, my wife has mastered it. (I should admit that while it is in fact a relatively easy dish to prepare, I've only made it myself a few times. My wife is much better at preparing Chinese food than I am—Europhile that I am—and this dish has become a solid part of her vast repertoire.)
To make this dish (for two), you'll need:
150g minced pork
3 eggs
400ml chicken stock
2 salted duck eggs
1/2 onion or some shallots
2 cloves of garlic
You'll also need on hand for flavouring some light soy sauce, sugar, Chinese wine, and sesame oil. Spring onions are a nice addition as well.
Prepare necessary equipment for steaming. Ideally a large wok with a steamer attachment. Get the steam going over a high heat. Marinate your pork with a bit of soy sauce, Chinese wine and sesame oil. Finely dice up your onion and garlic and stir-fry it with the minced pork. Add a pinch of sugar to taste. You should decide how much you want to add. The pork should be savoury with a subtle sweetness. Spread the pork mixture into a heatproof bowl. Wash your salted duck eggs, and crack them open. You only want to keep the semi-hard yolks. Nestle these in the pork mixture, either whole or broken up in bits. Beat the eggs with a pair of chopsticks. Combine it with the stock. Add a pinch of salt to taste. When the mixture is well blended, strain it into the bowl with the pork and duck egg yolks. Steam the bowl over high heat for 5-10 minutes, then reduce to a low-medium flame/heat and steam for an additional 15-20 minutes. The custard should be wobbly and set, but not hard. Sprinkle some soy sauce and sesame oil over the finished custard as well as some chopped spring onions. Eat it with rice.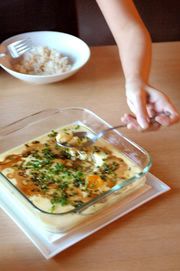 When done right, the silky smooth custard mixed with the savouriness of the pork and the salted egg yolks forms an unbelievably delicious combination. It is, as I mentioned, a simple dish. The whole process, though, does take a bit of practice, especially calculating just the right timing for how set you want your custard. (Of course, figuring out steaming temperatures on your own kitchen range can be tricky for some.) Ideally, the best way to make this is to do what I've done. Convince a loved one to learn how to make it for you.
Aun has always loved food and travel, passions passed down to him from his parents. This foundation, plus a background in media, pushed him to start Chubby Hubby in 2005. He loves that this site allows him to write about the things he adores--food, style, travel, his wife and his three kids!