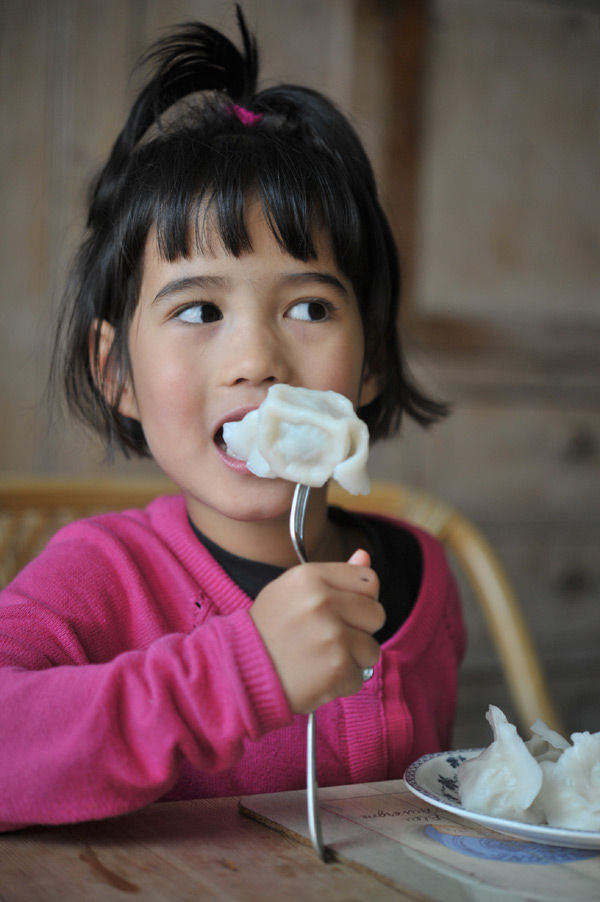 You know what they always say; daughters and their fathers have a special bond. Your dad is the first man you love, he's your hero and will forever be the standard against which all future men must measure up against.
My boyfriends always had a tough act to follow. Unlike most traditional Chinese fathers, my dad could clean a house from top to bottom, sew hems, buttons, iron (beautifully!), build furniture, repair seemingly anything and cook. Damn, can that man cook! Naturally, when I was a little girl, to me, he was the best chef in the world. It was only as I grew older and travelled the world, eating in all sorts of places, from hole-in-the-wall joints to Michelin-starred establishments, did I realise that his palate was possibly a bit limited. He really preferred Asian cuisines, by which I mean Chinese, Korean and Japanese. He didn't care much for Thai or Indian cuisines, citing their use of spices as being too much for him. He came to like French and Italian, but North Asian food is where his heart is.
But gosh, what he did with that palate! When we were little, he used to take us out to different restaurants on Mondays, the only day our restaurant was closed. We ate in all kinds of places and sometimes we'd get obsessed with one particular dish. Well—danged if he didn't manage to recreate that at home! More often than not, he did recreate them really well. I remember a lemon chicken in particular that became a regular addition to his repertoire.
He was always trying to teach us more about taste and flavours. After I had a bite of something, he'd ask, "So what do you think is in it?" It was this way that I learned to discern between the subtle flavours of many ingredients. Even now, whenever I eat anything I like or am intrigued by, I am always dissecting flavour profiles in my head.
These days though, Dad tends to stick to the Chinese classics. Of these, one of my favourites has got to be jiaozi, those little fat pockets of juicy fragrant goodness. So much love and effort goes into these dumplings, from their handmade skins to the carefully seasoned and mixed filling.
Then, the assembly! This can be tedious but our family often made a little party of it, and this was even more fun if my aunts were around. One person rolled out the skins, another filled them. We would gossip and joke and laugh. The more the merrier and the more dumplings we made in the end. Whilst jiaozi are not the more refined xiaolongbao, they are, like my family, hearty, soul-warming and fairly forgiving (in that they don't require 18 perfect folds and you can vary the filling to your taste).
The last time he came to visit, Dad filled my freezer with bags of these little gems. Now each time I pull some out, I think of him and for a little while, he's right there with me.
Jiaozi are often eaten for the Lunar New Year because their shape harks back to ancient Chinese money—gold and silver ingots to be exact. Another reason is that the words Jiaozi literally means to sleep together and have sons, a much-desired outcome amongst the Chinese. We also eat these because they are delicious savoury mouthfuls and almost a complete meal in every bite.
So here I share my recipe for this specialty of the Shandong region, from where my dad hails. In his bid to constantly make my life easier, he suggested substituting courgette, which doesn't require salting and squeezing dry, which the more commonly used cabbage does. Isn't he the best?!
Dad's Shandong-style Jiaozi
Makes about 75 dumplings
For dough:
250g plain flour
125ml cold water
For the filling:
500g ground pork (not too lean. Remember, fat is flavour!)
125ml water
2 tablespoons soy sauce
2 tablespoons Shaoxing wine (or dry sherry)
1 egg
1 tablespoon toasted sesame oil
1 tablespoon minced peeled fresh ginger
50g dried shrimps ("hae bee"), soaked till soft, drained and finely chopped
500g grated and chopped courgette (zucchini)
250g finely chopped Chinese chives ("koo chye")
Salt and pepper to taste
For the dipping sauce:
125ml soy sauce
2 tbsp. Chinese black vinegar or rice vinegar
1 tsp. sesame oil
1 teaspoon of chili paste or oil (optional)
Special equipment:
a 15cm rolling pin or dowel
A large, covered pot in which to cook the dumplings
Make dough:
Put the flour in a large bowl, then add water, stirring with a wooden spoon until a shaggy dough forms. Turn out dough (including any loose flour) onto a work surface and knead until smooth, about 5 minutes.  If the dough is too sticky, mix in some extra flour. If it seems a bit dry, sprinkle with a bit of water. Form into a ball and cover well in plastic wrap. Let stand at room temperature at least 30 minutes.
Make filling while dough stands:
Put the ground pork in a bowl, and start mixing a bit of water in, stirring in one direction only. Chopsticks are ideal stirring implements if mixing by hand. Continue adding water, the soy sauce and the wine and stirring all the while until the filling looks a bit sticky. You may not need all the water so don't dump it in all at once!
At this point, add in the egg, sesame oil, ginger, dried shrimp, zucchini, chives and salt if needed. Fry off a little patty to check the taste; it should be highly seasoned and almost too salty, as it will be put into skins later on.
ASSEMBLY
After the dough has rested, continue kneading 5 more minutes on a lightly floured surface. The dough should be elastic, smooth and not sticky (it should feel as soft and silky as a baby's bottom!). Divide the dough into two and cover the piece you aren't using with some plastic wrap. Roll the other piece of dough into an even rope, about 20cm long. Cut the rope into 1.5cm lengths to form about 30 pieces. Roll each bit into a ball and flatten with your palm. Start rolling out each small disc of dough with a rolling pin that has been lightly dusted with flour into 7.5cm rounds, rolling from the centre to the edges, making the centre slightly thicker and the edges thinner. Remember to keep all unused dough covered when not using.
Line a tray with parchment paper or dust well with flour. Work on one dumpling at a time, keeping the remaining wrappers covered. Place about two teaspoons of filling in the middle of a wrapper. Starting at one end, seal the dumpling together by squeezing to form a crescent shape. Place filled dumpling on the prepared baking sheet and cover with plastic wrap. Repeat with remaining ingredients until all the wrappers are filled.
Bring large pot of water to boil. Add enough jiaozi to cover the base of the pot about one and a half times, stirring to make sure none stick to the base of the pot. Cover.
When it comes to a boil, add 250ml cold water. Cover and repeat two more times. When the water comes to a boil for the third time, the dumplings are ready. Scoop out with a spider onto a plate and serve immediately with sauce on the side.
NOTE: The theory behind adding cups of water is that if you stop it before the third boil, the meat will not be cooked through. Also, if you don't add cold water each time, the jiaozi will fill up with air and explode. So Dad says—so that's how we cook 'em!
Make dipping sauce:
Combine vinegar, soy sauce sesame and chilli, if using.
TO KEEP
You can freeze uncooked dumplings for later use. Freeze dumplings separately on trays until firm, then put them in freezer bags. When cooking from frozen, cook exactly the same way as above.
All photography featured in this post from Rodgers Photography

Vivian Pei is a food writer, editor, stylist and cooking instructor who authored "Awakening the Appetite", a cookbook by Parkway Cancer Centre with recipes especially for cancer patients and their caregivers. She speaks 5 languages, has run her own restaurant, a catering business, apprenticed in Michelin star restaurants, done the bartending thing, and now sharpens her pencils as well as her knives.