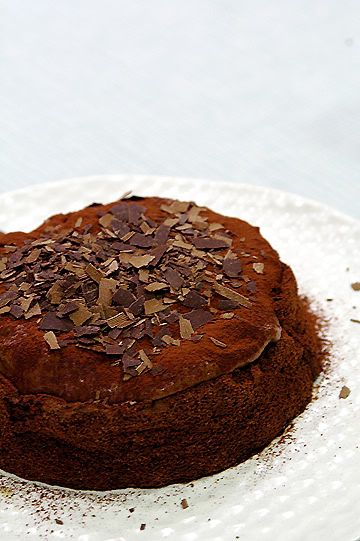 The very yummy cake that chef Pignolet whipped up during his cooking demonstration
One of the restaurants that I've always wanted to eat at but have not gotten around to visiting yet is Bistro Moncur, located in Sydney, Australia. My good friend J, who runs the sumptuous blog Kuidaore, went there a while back and has raved about it ever since. Chef-owner Damien Pignolet is known for his exquisite, refined yet also classic renditions of French food. Many consider him to be one of the fathers of French cuisine in Australia.
I had the pleasure this past week of not only meeting chef Pignolet but of eating a meal half-prepared by him, attending a cooking demonstration conducted by him, and sharing a lovely meal with him at Sin Huat Eating House. I say "half-prepared" because chef Pignolet cooked half of the dishes served at this multi-course extravaganza, while host chef, Chris Millar of Poppi, cooked the other half. All of the food was wonderful—chef Millar really out did himself with a delicious boneless, rolled and stuffed suckling pig course. But for me, the high point of the night was an amazing dessert that chef Pignolet calls "Eve's Chocolate Cake." Regular readers know that I'm not a big chocolate person. And because I tend to like milk chocolate a bit more than dark, my wife S, who is a real chocolate fanatic (snob), considers me a bit of a heathen. But I loved this cake. It was rich without being overpowering. And it had a wonderful light and semi-moist texture—derived from a combination of baked and unbaked batter (yup, unbaked… I'll get to that in a moment). Sadly, because I was so incredibly stuffed, and because the Eve's Chocolate Cake was presented as just one thing in a large dessert sampler (and greedy me wanted to taste everything), despite my taste buds spurring me on, I couldn't finish the portion served to me.
Luckily, just a few days later, I was presented with another heavenly slice. And not only did I get to eat every last crumb, but I also got to watch chef Pignolet make this dessert. Of course, in the hands of a professional chef who has probably made this hundreds of times, the process looked really simple. With my rather clumsy baking skills, I'll probably mess this up somehow.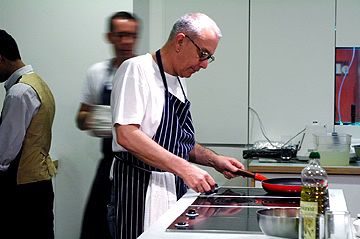 Chef Pignolet conducted his class in the swanky Miele showroom in Singapore
The recipe for this cake and many more delicious dishes can be found in chef Pignolet's gorgeously designed cookbook, French, which was just recently published by Penguin. The beauty of this cake lies in its texture. It has a wonderfully moist top which acts a bit like a sauce but isn't (am I making any sense?). It's actually unbaked cake mix which is spread over the baked cake. And since this cake is flourless, this unbaked mixture is essentially a chocolate mousse or pudding.
Chef Pignolet explained to us that the recipe is named after his friend Eve, whom gave him this recipe in exchange for one of his. I urge you all to try making this and tell me how it turns out. I'll be doing the same and hopefully (fingers crossed), my product will be as tasty as chef Pignolet's was.
Eve's Chocolate Cake
360g bittersweet chocolate, chopped into small bits
50g soft unsalted butter
12 x 65g eggs, separated
50g caster sugar
a little extra bittersweet chocolate and cocoa to decorate
Grease a 26-28cm springform cake tin and line the base and sides with baking paper. Preheat the oven to 150 Degrees C. Melt the chocolate in a bowl over a bain-marie of hot (but not boiling) water and then work in the soft butter. Beat the egg yolks with 30g of the sugar until pale. Then combine them with the chocolate and butter mix. Beat the egg whites until stiff but not dry. Then beat in 20g of the sugar until stiff. Beat ¼ of the egg white mixture into the chocolate mix. Fold this gently but thoroughly back into the remaining egg white mixture. Transfer ¼ of the cake mixture into a bowl and refrigerate. Pour the balance of the mixture into the prepared tin and bake for 30-40 minutes. It should remain slightly moist in the centre. To test, press the centre with your finger after 30 minutes – it should hold the indentation. When the cake is ready, invert it onto a serving platter. Remove the ring and base. Leave it to cool completely. The cake should collapse and leave a crater in the centre. Fill the crater with the reserved cake mix and scatter with the extra bits of chocolate. Dust lightly with cocoa and serve with whipped cream.

Recipe comes from French, published by Penguin, copyright owned by Damien Pignolet.
Aun has always loved food and travel, passions passed down to him from his parents. This foundation, plus a background in media, pushed him to start Chubby Hubby in 2005. He loves that this site allows him to write about the things he adores--food, style, travel, his wife and his three kids!