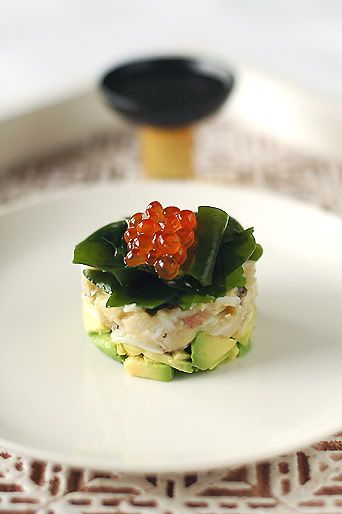 Whenever my darling wife S brings home live Sri Lankan crabs from the market, I get excited. I love the flavors and textures of freshly cooked crab. S also has a phenomenal, continuously expanding repertoire of crab dishes. Her crab cakes, for example, are truly inspiring.
I'm a very lazy crab eater. I hate peeling crabs. This makes me the worst kind of crab lover. I love the taste but I hate the work. Partly because I'm just not very skillful when it comes to extracting the meat from the shell but also because I'm just too darned impatient. Fortunately, S is as patient as she is pretty and she'll kindly spend an hour or two working her way through a couple of crabs whenever the need arises. Which means that when I need some freshly picked crabmeat for a dish I'm working on, she'll come to my rescue.
A couple of years ago, while on a business trip to Melbourne, I had the opportunity to dine at a fantastic little hole-in-the-wall called Yu'u. One of my favourite dishes from that meal was a salmon tartar composed of large cubes of raw salmon, tossed with seaweed, avocado and tobiko. When I returned home, I knew I had to try and replicate it. Because the staff at Yu'u had refused to give me the ingredients for the tartar's dressing, I had to try to figure it out on my own. After a few attempts, I came pretty close. Once I had nailed down what I felt was a fair reproduction, I then started to experiment, changing ingredients and tweaking the dressing until the resulting dish was something that I felt represented my own personal tastes and styles.
I love California rolls. So, pairing the seaweed, avocado, and roe with crabmeat instead of salmon seemed like a good idea. It also makes the dish, to me, feel more special and more refined — which is something that the introduction of crab into a dish always seems to do. And since my lovely wife is always willing to prep some deliciously fresh crabmeat for me, this has become one of my favourite dishes to serve friends. Once you prep the crabmeat — or like me convince someone you love to do it for you — the rest of the dish is actually very easy to make. And it never fails to please and impress.
Tian of crabmeat, avocado, wakame and ikura
Serves 8
Meat from 2 steamed Sri Lankan Crabs
2 avocados, peeled, deseeded and diced
2 teaspoons of dried wakame
8 teaspoons of ikura
Juice from 1 lemon
Dressing
1 teaspoon mustard
1 teaspoon wasabi
2 tablespoons shiro miso
1 teaspoon Japanese mayonnaise
1.5 teaspoons mirin
Salt to taste
Soak the dried wakame in some hot water. When expanded, transfer to a bowl of ice water. Then drain and place the wakame on a plate lined with paper towels.
Drizzle some of the lemon juice over the diced avocado. Mix the ingredients of the dressing together. Put all the crabmeat in a bowl and add dressing to taste. Mix well. Place a small round metal ring on the centre of a plate. Put some avocado into the ring. Then put a healthy portion of the crabmeat over the avocado. Place wakame on top and place one teaspoon of the ikura over it. Carefully remove the metal ring and serve.
Aun has always loved food and travel, passions passed down to him from his parents. This foundation, plus a background in media, pushed him to start Chubby Hubby in 2005. He loves that this site allows him to write about the things he adores--food, style, travel, his wife and his three kids!