This past weekend, S and I hosted a few friends for dinner. We were a tad nervous because these three gentlemen own one of the city's coolest and most popular restaurants. In other words, the meal had to both innovative and very, very good. And because these three prize good, well-cooked simple food over fussy, fancy fare, the dishes we chose to cook couldn't be too pretentious. Dessert was an easy choice. We'd been promising them a sampler of S's superb ice creams for months. For the other courses, we raided our cookbook collection and came up with two interesting starters. As a first course, we tried out a simple dish from Michel Roux's devilishly cute book, Eggs. Any egg lover needs to buy this book. It's pages and pages of egg recipes and egg-based (e.g. pastas, pastries, etc) dishes. We chose to make Roux's baked eggs with chicken livers and shallots in red wine (pictured below).
It's a relatively easy dish. The only time-consuming thing is creating a reduction of red wine (flavored with bay leaf and thyme), chicken stock and shallots. The chicken livers are cut into small pieces and sautéed quickly and seasoned lightly with salt and pepper. The liver is mixed with the shallots and red wine reduction and then distributed into buttered ramekins. An egg is cracked into each ramekin and baked for 10 minutes. Roux recommends serving this with toasted brioche. The dish was not bad. Not fantastic, but pretty good. It was earthy, rich and tasty and a nice way to begin the meal.
Our next course was something simple but spectacular (and something I will dedicate a whole post to later this week). Despite S having bought Jill Norman's The Cook's Book mostly because of Ferran Adria's chapter on foam, we had yet to try any of Adria's rather amazing recipes. For this course, we successfully pulled off Adria's 21st Century Tortilla — a dish composed of caramelised onions, sabayon and potato foam.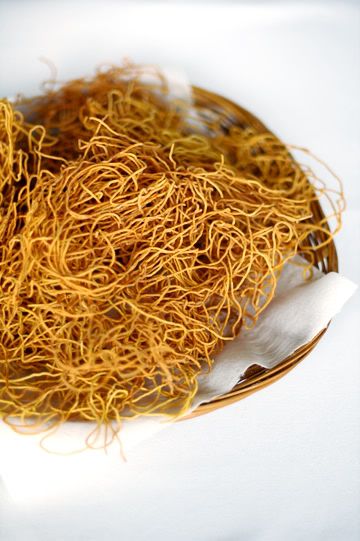 For our third and main course, S and I recreated a dish that we've only just learnt how to make, khao soi. Instead of making this Northern Thai curry noodle dish with chicken, as is usually the case, we served ours with slices of wonderfully tender braised beef cheek. The beef cheeks were braised over low heat for 2 hours and then very, very slowly in incredibly low heat for 8 more hours. For the braising liquid, I used the one recommended for Osso Buco in Joyce Goldstein's Italian Slow and Savory. The khao soi's curry recipe came from the Four Seasons cooking school in Chiang Mai. It was a delicious course and the boys all loved it. P, who is a big fan of khao soi, paid us the ultimate compliment by saying it tasted just like the best ones he had eaten in Chiang Mai. The soft, tender and oh so tasty beef cheek was a wonderful choice of meat and I think what I plan on serving with khao soi from now on.
For dessert, as I mentioned, S had made an ice cream sampler. She served 3 homemade flavours. The first was an abacadabra ice cream, so named because the spice blend she infused the ice cream with is named abacadabra. From what I can tell it has roses, spearmint, cinnamon and cracked black pepper in it. The second ice cream was a gula-melaka coconut ice cream and the third was a chocolate malt. After dessert, S brought out a special little treat she had spent a few days making, chocolate Easter eggs (pictured at the top of this post). She had watched a very amusing video demonstrating how to make this on, of all things, Martha Stewart's website and was rather inspired. First she drained the insides of 8 farm fresh eggs and then dyed them robin blue. She then filled each egg with milk chocolate and after that was cooled, white chocolate, creating two layers of chocolate within each egg. For an added touch of color, she paired the eggs with some lovely chocolate ribbon. It was a fun, playful and sinful final touch to a lovely meal.
Aun has always loved food and travel, passions passed down to him from his parents. This foundation, plus a background in media, pushed him to start Chubby Hubby in 2005. He loves that this site allows him to write about the things he adores--food, style, travel, his wife and his three kids!