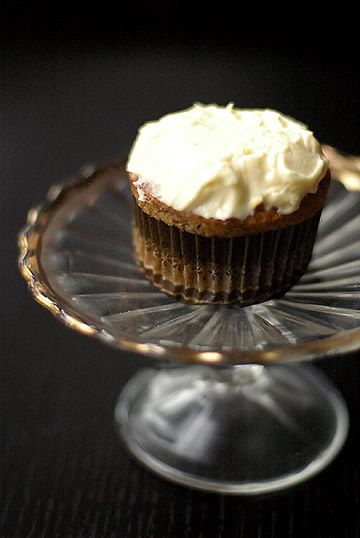 Like so many others around the world, I'm fascinated by Martha Stewart. As an ex-magazine professional, I totally admire her. She has amazing editorial vision. Over the years, I've marveled over countless copies of Martha Stewart Living, admiring both this groundbreaking product's design and content. When we were planning our wedding, S and I turned to Martha Stewart Weddings more often than any other magazine. Everything in those pages were so beautiful, from the flowers to the cakes to the shiny, happy people dressed like movie stars. We also oohed and aahed over the first issue of Everyday Food, a brilliant product for a new generation of foodies and amateur cooks.
In addition to being an editorial inspiration, Martha is also a figure that seems larger than life. She may be an editorial genius but, according to the media, she's also an evil meglomaniac. This dichotomy has always been both captivating and frightening. I especially enjoyed reading Christopher Byron's Martha Inc, one of the smarter and more well-balanced books about her life.
Oddly enough, while I've admired Martha, and followed her via the media, for years, I'd never actually tried any of her recipes. For some strange reason, I was never motivated to. I think, deep down, I was suspicious, not trusting that her recipes would actually work. I think that I may have assumed that she was more style than substance. I was also never motivated to buy her older books. For one thing, they didn't have that gorgeous look that made her magazines so appealing. For another, if I was going to shell out serious cash for a cookbook, I wanted one written by a serious, properly trained chef.
Recently, however, a friend of mine and S's who, thanks to a fantastic renovation that has resulted in a stunning new kitchen, has been cooking up a storm, invited us over to her place for some homemade pizza. It was fantastic. It was, she also told us, a cinch to make. And when we asked what recipe she followed, it turned out to be from Martha Stewart. In fact, she informed us, everything she's made from Martha's books and magazines, has come out perfectly.
Inspired, S and I picked up our first Martha Stewart book a few weeks ago. Martha Stewart's Baking Handbook, published this past year, is simply beautiful. This book is sleek, smart and filled with the kinds of photos that make the very best food magazines like Martha Stewart Living, Donna Hay or Gourmet Traveller so stunning. Its layout is clean and modern, the text limited to 3 colors–black for main text and raw sienna and bright orange for accents. As we leafed through its pages, we also discovered a plethora of mouth-watering recipes that we couldn't wait to try, things like torta della nona, Mexican wedding cookies, Easter pie, and potato and onion tarte tatins.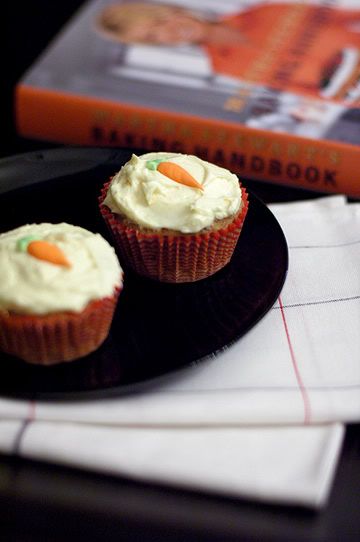 The first recipe I tested though was Martha's carrot-ginger cupcakes with orange cream-cheese frosting. I adore cupcakes. I love carrot cake, especially with a cream-cheese frosting. And I like desserts flavored with oranges. Which made choosing this recipe a no-brainer. I will admit that while putting all the ingredients together, I did have some small doubts. Despite the batter tasting great, I guess I was still unsure that Martha's recipes would work as perfectly for me as they had for my friend. I shouldn't have worried. The cupcakes came out moist, light and delicious. The frosting was both sensational and sensuous. Together, they were fantastic. I've made carrot cake and carrot cupcakes from recipes by Donnay Hay and Nigella Lawson respectively. This was by far better than either or those efforts. Martha's carrot cake was both fluffier and more moist than Hay's or Lawson's. And the frosting was richer, with the orange and ginger giving it a lovely air of elegance.
Given how well these have turned out, I can't wait to try out the other recipes in this book. I also can't believe that I'm now even considering the possibility that a Martha Stewart cookbook might eventually become one of my favorite and most trusted cookbooks. Then again, stranger things have happened.
Carrot-Ginger Cupcakes
makes 2 dozen
84g pecan halves
426g flour
2 teaspoons baking powder
1 teaspoon baking soda
1 teaspoon salt
3/4 teaspoon ground cinnamon
450g carrots, peeled.
3 eggs, room temperature
1/3 cup buttermilk
1 teaspoon pure vanilla extract
400g sugar
1.5 cups vegetable oil
1 tablespoon grated, peeled fresh ginger
Preheat oven to 350ºF (180ºC). Line your muffin pans with muffin paper liners. Toast pecans in the oven and when cool, chop finely.
In a medium bowl, whisk together flour, baking powder, baking soda, salt and cinnamon; set aside. Grate carrots. Mix 2.5 cups of the grated carrots with the eggs, buttermilk, vanilla, sugar, oil and ginger in a large bowl; whisk until combined. Using a rubber spatula, fold the flour mixture into the carrot mixture until combined. Then fold in the pecans.
Divide batter into the muffin cups and bake for 20-25 minutes, rotating the pans halfway through. Transfer muffins to a wire rack and allow to cool. Spread frosting (below) on the cupcakes and either eat or store in an airtight container in the fridge (will last up to 3 days).
Orange Cream-Cheese Frosting
170g unsalted butter, room temperature
3 packages (8oz each) cream cheese, room temperature
230g confectioner's sugar, sifted
3/4 teaspoon finely grated orange zest
1 tablespoon plus 1 teaspoon grated, peeled fresh ginger
pinch of salt
In the bowl of an electric mixture fitted with a paddle attachment, beat butter on medium-high speed until light and fluffy, about 2 minutes. Add cream cheese, and beat until combined and fluffy, another 2 minutes, scraping down the sides of the bowl as needed. Add remaining ingredients and beat for 5 minutes. Frosting can be kept at room temperature, covered with plastic wrap, for up to 2 hours.
Aun has always loved food and travel, passions passed down to him from his parents. This foundation, plus a background in media, pushed him to start Chubby Hubby in 2005. He loves that this site allows him to write about the things he adores--food, style, travel, his wife and his three kids!