I have been contributing to Chubby Hubby for almost a year. During this time, I have been secretly and subtly trying to introduce the wonderful world of vegetables to you. And I really thought no one would notice. Recently I met up with Charmaine, our incredible editor at Chubby Hubby and she mentioned that almost all the recipes that I contributed are vegetarian or vegan. Busted.
Loading the body with vegetables is not just good for you but is also great for the environment. And the most important reason why I love cooking with vegetables – they are so easy to prepare and I am so lazy. When it comes to meat, unless you buy them fresh every day, you will need to de-frost and marinate them, and whip out a separate chopping board for prep.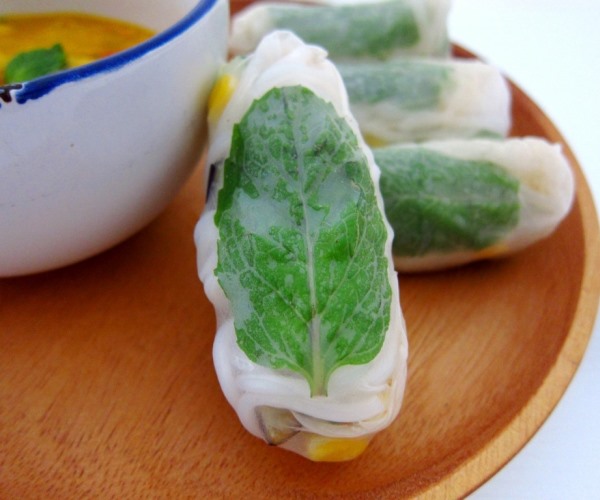 I also want to prove that food that is vegetable-centric need not be boring. I've always found it sad that when it comes to vegetarian cuisine, it conjures thoughts of salad, tofu burger and mock meat (yikes). I eat mostly meatless on weekdays, and find it fun and challenging learning the different ways to experiment and cook with vegetables.
These summer rolls are my current favourite. They are easy to prepare and so delicious. Instead of the usual thick peanut sauce for dipping, I use mangoes (and they are in season). You can place the ingredients at the dining table, and everyone can just help themselves and fill up each roll with their favourite stuffing. Bonus: the cleaning up is down to a minimum as well.
Vegan summer rolls with mango dipping sauce
If you are having a barbecue, or grilling some fish/seafood, the meat can also be used as the filling for the rolls. The mango dipping sauce is not vegan as I added fish sauce. You can easily substitute the fish sauce with soy sauce.
Makes about 16 small rolls or 8 big rolls
Mango dipping sauce
Ingredients
1-2 mangoes, around 500g (with seed) (I used Alphonso mango. You can use honey mangoes but you might need two if that's the case)
1 chilli, de-seeded, finely chopped (if the kids do not like chilli, you can omit this; if you love spice, you can use bird-eye chillies)
Juice from half or one lime
Zest of 1 lime
1 teaspoon of fish sauce
1 teaspoon of chopped mint leaves (optional)
In a medium-sized bowl, add in the chopped chilli (if using), zest from 1 lime and juice from half/one lime. Set aside.
Slice the mango and if you hit the seed, just move your knife around the seed. Once the mango is sliced, using a spoon, scoop the flesh and place it in the bowl of chilli, lime juice and zest. Mash the mango flesh gently so you end up with a chunky sauce. It is important to have the lime juice in the bowl as it will help to prevent oxidation of the mango. Oh, and as a chef's treat, you have the right to suck on the mango seed.
Add in ½ teaspoon of fish sauce, mix well and taste. If you have a very sweet mango, chances are you might need to add in more lime juice and fish sauce. If you want to keep the sauce vegan, use soy sauce. The dipping sauce should be sweet (mango), sour (lime), salty (fish sauce) and spicy (chilli). Adjust the sauce until you get the right balance.
Once the sauce is done, cover the bowl with cling wrap and keep it in the fridge. You can make the sauce 3-4 hours in advance. Before serving, mix in the chopped mint leaves.
This sauce is also great with grilled fish or chicken. I once drizzled it over tandoori chicken and it was delicious.
Vegan summer rolls
Ingredients
1 packet of rice paper sheets (I use 16cm-sized rice paper sheet, you can also use the 22cm-sized rice paper sheet)
200g thick vermicelli
50g corn kernels (I used frozen corns)
1 piece of tau kwa (firm bean curd), about 220g, (I quite like the Unicurd deep fried tau kwa)
1 Japanese cucumber, sliced into matchstick-shaped, around 7cm in length and 1cm thick (you will need 16 matchstick-shaped cucumber slices)
50g cashew nuts (or peanuts), toasted and finely chopped
1 teaspoon of vegetable oil (or any neutral-flavoured oil)
1 teaspoon of sesame seed oil
½ cup of basil, coriander, or/and mint, coarsely chopped (save 16 leaves of the herb)
Fill a small saucepan with water and place it on a stove over a medium heat. Once the water is boiled, add in the thick vermicelli and cook according to the packaging. This should take around 2 minutes. Once the vermicelli is cooked, drain and place in a bowl, and quickly drizzle the sesame seed oil and mix with a fork or a pair of chopsticks, and set aside. You need to do this while the vermicelli is warm. The oil helps to prevent the vermicelli from sticking.
Using the same small saucepan, fill it with water and place it on the stove over a medium heat. Once the water is boiled, add in the corn kernels and let it cook for 2 minutes. Once cooked, drain and place it in a bowl and set aside.
Cut the tau kwa into 8 equal slices, and split each slice into two (so you will end up with 16 matchstick-shaped tau kwa). Using a paper towel, pat the tau kwa dry to prevent spitting when pan-frying them. Using a non-stick frying pan, place it on a stove over a medium heat, add in the vegetable oil. Once the oil is heated, add in the tau kwa. Pan-fry each side of the tau kwa for around 2 minutes. You should get a light brown coloured crisp coating on each side. Once the tau kwa is cooked, place them on a plate lined with a paper towel to absorb any excess oil and set aside.
To assemble, make sure you have all the bowls of ingredients (and don't forget to toast the cashew nuts) at the table, together with a chopping board or a plate and a small bowl of water.
Place one rice paper sheet on the chopping board or plate. Dip your (clean) fingers into the bowl of water, pat the rice paper sheet wet until it becomes pliable. Each sheet should be moist without being too wet (otherwise it will be too sticky to handle). I also do not like the idea of soaking the rice paper sheet in water. No matter how quick you are, it tends to end up being too wet and sticky (and unusable).
Place a basil/coriander/mint leaf at the top centre of the rice paper sheet, follow by a small pinch of the vermicelli (around 1 tablespoon for 16cm-sized rice paper sheet). Sprinkle a small pinch of corn kernels, chopped herbs and cashew nuts on top of the vermicelli, then place the cucumber and tau kwa. Fold the rice paper sheet over once and fold in the sides of the rice paper sheet and roll up. Once the summer roll is formed, place them on a platter. Repeat for the rest. Serve the summer rolls together with the mango dipping sauce.
If you are making the summer rolls a few hours ahead of time, place a barely wet tea towel on the plate of summer rolls and keep in the fridge. This is to prevent the rice paper sheet from drying out.

Mandy's journey into the culinary world began out of necessity–a means of survival whilst she was at university. She believes cooking should be simple and fun. Besides spending time in the kitchen whipping up hearty meals, Mandy also dreams of having a bottomless stomach that she can fill with all kinds of delicious things.