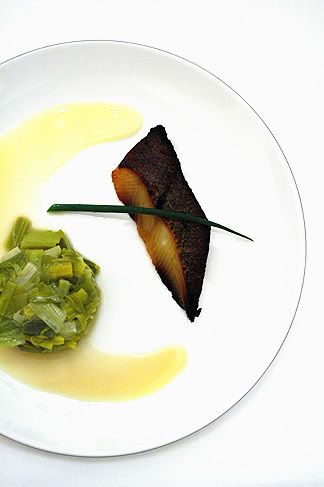 I really enjoy miso cod. I love the taste and the texture. I'd even go so far as to say that it's one of my favorite dishes. Despite my preference for it though, it's one of the very few things that I adamantly refuse to order in restaurants. I know that sounds odd. But I don't see the point of paying good money–heck, usually a lot of money–for a dish that's ridiculously easy to replicate perfectly at home. It's one thing to go to a fancy restaurant and be totally wowed by amazing things that you'd never, no matter how many cookbooks you read or cooking classes you take, be able to make. It's another to go somewhere and order something you could put together in minutes, blindfolded.
A lot of good restaurants around the world serve miso cod. Many claim it as as a signature dish. You can get it most famously in any number of Nobu restaurants around the world. Nobu charges US$17 for a portion. In Singapore, restaurants charge almost the same. The ingredient cost of a portion, however, (at least here in Singapore) is somewhere between US$6-US$7. That's a 150% mark-up.
Which is understandable. When you pay for a dish in a restaurant, you're not just paying for the food. You're paying for the labor costs that went into turning the raw ingredients into something delicious; you're paying for the service staff that so politely took your order and then brought you your food; and you're helping to pay for the restaurant's rent and utilities. Even though I understand all of this, because miso cod is so easy to make, I have a real problem accepting it.
Preparing miso cod is as easy as making Jell-O. You only need to be able to do three things. First, you need to be able to measure ingredients. Secondly, you need to be able to turn on your oven. And lastly, you need to be able use a watch. It's that simple. And it's pretty foolproof.
Over the weekend, I noticed that my favorite Japanese supermarket has begun stocking a whole range of yuzu-flavored products. Inspired, we bought some yuzu pepper sauce and some yuzu miso paste. I used the yuzu miso, mixed with some shiro (white) miso, to marinate two lovely pieces of black cod. With the cod, we served some butter braised leeks. It was a lovely meal, worthy of any restaurant menu, but at a fraction of the cost.
Black Cod with Miso
(tweaked from nobu the cookbook)
serves 4
4 black cod filets, each about 230g
sake
150ml mirin
450g white miso paste
225g granulated sugar
Bring a little sake and the mirin to a boil in a medium saucepan over high heat. Boil for 20 seconds then turn off the heat. Let the mirin-sake mix cool to room temperature. When cool, mix in the miso paste and the sugar.
Pat the filets dry with paper towel. In a shallow bowl, cover the filets with the miso paste mixture. Cover the bowl with plastic wrap and leave it in the fridge for 2 to 3 days.
The day you want to eat, remove the cod from the fridge 2- 3 hours ahead of cooking. Preheat your oven to 200ºC (400ºF). Wipe the miso off the cod (do not wash or rinse it) and place on a baking tray. First place the fish on the grill, or in a broiler pan, and grill or broil until the surface and skin begins to brown. Then bake for 10-12 minutes. That's it!
Aun has always loved food and travel, passions passed down to him from his parents. This foundation, plus a background in media, pushed him to start Chubby Hubby in 2005. He loves that this site allows him to write about the things he adores--food, style, travel, his wife and his three kids!