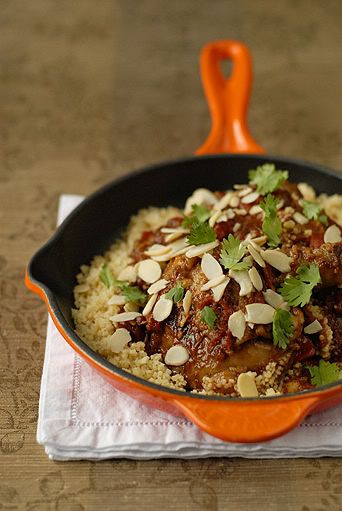 When S and I got married 5 years ago (well, actually it will only be five years in 2 weeks), we had originally planned to honeymoon in both Spain and Morocco. We especially wanted to go to the latter. We dreamed of visiting Fez, Casablanca, Tangier and Marrakech. We bought several guide books, surfed multiple websites and quizzed friends on where we should stay, shop and eat. Sadly, because of some craziness at work, the honeymoon was postponed. A full year later, when we finally found some time to take a trip together, for a number of reasons, we went to Paris instead.
We still want to visit Morocco some day (soon). Until then, we've been feeding our fantasies through feeding our appetites. S and I have been slowly amassing a collection of North African and Middle Eastern cookbooks. One of the cuter and more charming cookbooks that we've enjoyed using is Diana Henry's Crazy Water Pickled Lemons.
One recipe that I really like in Ms Henry's book is her "Moroccon chicken with tomatoes and saffron-honey jam." It's a mouth-wateringly tasty dish that is also very easy and quick to make. It has wonderful flavours. I'm partial to dishes that are both sweet and savory at the same time. I really like saffron-laced dishes. And I love the soft succulence of braised meats. So this dish works for me on at least three different levels. I also like that this recipe is purposely lighter and not as sweet as the traditional Moroccan version.
Ms Henry uses a whole chicken jointed in 8 pieces. I prefer using 8 chicken thighs. That way guests don't have to fight over who gets the better portion. Plus, chicken thighs braise better than other parts, like the breast for example.
Moroccan Chicken with Tomatoes and Saffron-Honey Jam
Adapted from Diana Henry's Crazy Water Pickled Lemons
Serves 4
8 small chicken thighs
salt and pepper
olive oil
1 large onion, roughly chopped
6 heads of garlic, peeled and chopped
2.5 teaspoons ground cinnamon
1.5 teaspoons ground ginger
800g tomatoes, roughly chopped
280ml chicken stock
1/2 teaspoon saffron threads
5 tablespoons honey
1 teaspoon orange flower water
25g flaked almonds, toasted
small bunch of coriander, chopped
Season the chicken with salt and pepper and brown them in 2 tablespoons of olive oil. Set the chicken aside and cook the onion in the same pan until soft. Add the garlic, ginger and cinnamon, stirring constantly. After a minute, add in the tomatoes, stir and turn the heat down. Cook, still stirring, for 5 minutes.
Boil the stock and dissolve the saffron in it. Pour this into the vegetable mix. Bring to a boil and then place the chicken into it. Try to submerge most of the chicken pieces below the liquid. Then cover and lower the flame to its lowest setting. Cook for 25-30 minutes.
Remove the chicken pieces, set them aside and keep warm. Turn the heat up again so that the braising liquid starts to boil. Reduce it till it is quite thick and "creamy". Add the honey and keep reducing it until it becomes jammy. Taste the sauce and adjust the seasoning. Add the orange flower water. Put the chicken pieces back into the sauce, heating them through and slowly coating the chicken with it. When serving, toss the almonds and coriander over the chicken. Serve with cous-cous.
Technorati tags: morocco, chicken, recipe, Diana Henry
Aun has always loved food and travel, passions passed down to him from his parents. This foundation, plus a background in media, pushed him to start Chubby Hubby in 2005. He loves that this site allows him to write about the things he adores--food, style, travel, his wife and his three kids!