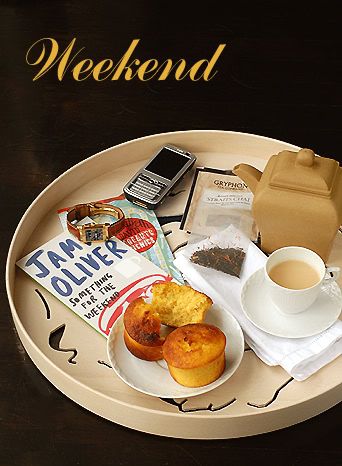 It inevitably happens. By the time Wednesday rolls around, I tend to stop thinking about the mountain of work piling up on my desk and in my inbox and start daydreaming about the upcoming weekend. Maybe that's why some people call Wednesday hump-day. It marks the middle of the work week. Get over the hump and the weekend is just that much closer.
Nothing beats a lazy weekend morning spent with a good book, great company, some delicious homemade food and a nice cup of tea or coffee. A few months back, I wrote about Damien Pignolet's serious orange cake. Since then, S and I have been testing a few other orange cake recipes. In particular, we've been trying out some excellent flourless ones.
One of the best and easiest recipes we've found is Claudia Roden's "middle eastern orange cake". It's an incredibly delicious and moist cake. While Ms Roden's original recipe recommends baking the cake in a springform pan, we prefer separating the batter into muffin molds. It's much easier to grab a muffin than it is to cut and plate slices. Be sure to try and get oranges with thin skins. Thicker skins, when blended into the cake mix, tend to make the resulting cake a tad bitter.
The best time to make these is actually right away. That way, by the time the weekend does finally roll around, you'll have a nice batch already prepared and waiting for you.
Claudia Roden's Middle Eastern Orange Cake
2 large oranges, washed
6 eggs, beaten
250g ground almonds
250g sugar
1 teaspoon baking powder
Boil oranges in a little water in a covered saucepan for 2 hours. Allow to cool, then cut open, remove pips and chop roughly. Preheat oven to 190 degrees Celsius and butter and flour a springform tin. Blend oranges and remaining ingredients thoroughly in a food processor. Pour the batter into prepared tin. Bake for 1 hour. If the cake is still very wet, cook a little longer. Cool in tin before gently turning out.
Technorati tags: Claudia Roden, orange cake, recipes
Aun has always loved food and travel, passions passed down to him from his parents. This foundation, plus a background in media, pushed him to start Chubby Hubby in 2005. He loves that this site allows him to write about the things he adores--food, style, travel, his wife and his three kids!