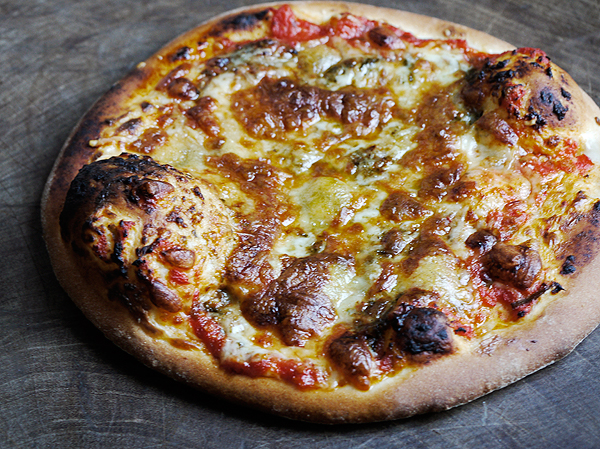 This is an awesome recipe for a super-quick pizza. I'd go as far as to describe it as the perfect spur-of-the-moment pizza recipe. I used it to make my toddler, T, pizza in 90 minutes flat. T, as well as CH and my fabulous mom-in-law (a discriminating diner, to say the least), gave it the thumbs up. So, this pizza recipe is a real keeper.
Ordinarily, I am not a fly-by-the-seat-of-my-pants sort of person. I would never dream of serving pizza on short notice. My regular go-to pizza recipe calls for a slow overnight rise in the refrigerator which doesn't exactly encourage spontaneity, but it's never been an issue for me. The delayed fermentation delivers a pizza crust that is beautifully thin and crisp, naturally sweet, and generally well worth the wait. I love that it tastes so light, making it possible for me to eat a whole lot more pizza. In fact, I had made my usual pizza dough a week ago and served it to T and his cousins, TH and N. It was T's first time hosting his own guests at home. The three little boys had a blast; they lapped up the pizzas. And I was actually going to update that pizza recipe, which is derived from a Peter Reinhart one, and share it with you this week.
But I've decided to save it for another time, because the pizza recipe below based on Jamie Oliver's is so incredibly handy for parents juggling the unpredictable needs of a child that I felt it imperative to share it right away. Even if you're not cooking for a child, this is a really great recipe for making scrumptious pizza in a jiffy. T's random request for "p'za" at 4.30pm a day ago while rubbing his tummy with his hand in a circular motion (his baby sign for 'yummy') inspired me to try out this quick pizza recipe. Apart from being so fast and easy to prepare, it is also really tasty. T actually prefers this pizza base because it is a mite thicker than my usual base and the crisp, golden crust has a soft, fluffy centre. That said: it's nowhere as thick as a deep-pan pizza. It's just barely thick enough to retain its shape when a slice of it is picked up by little toddler fingers.

Fortunately, we had extra tomato sauce from our pizza party (coincidentally made using another favourite Jamie Oliver recipe), some pesto containing basil grown on our own terrace, and heaps of grated parmesan, gruyere and mozzarella (which I now store in zipper bags in the freezer so we always have grated cheese on hand) in the refrigerator. So, for T's unscheduled pizza dinner, we only had to make some béchamel sauce–because three little tykes had unanimously agreed that the all-cheese pizza was their favourite at T's pizza party, and in my books, béchamel mixed with some tomato sauce really brings an all-cheese pizza together.
To balance out the nutritional content of T's pizza (based upon a mommy's instinctive logic and little else), we minced some baby spinach leaves. We also chopped up a little pork neck then marinated and sautéed it. T's pizza consisted of a base smear of béchamel topped with a smear of tomato sauce, minced spinach, sautéed pork, and grated parmesan, gruyere and mozzarella (layered in that order). For the grown-ups, we added pesto, more basil from our terrace and tiny tomato berries that we happened to have into the mix. My personal favourite had a whole egg yolk baked onto just my slice of pizza. It was pure heaven.
Quick Pizza Dough
Adapted from Jamie Oliver's recipe.
Makes four 25cm pizzas
7g (approximately 2¼ tsp) active dry yeast
1½ tsp organic castor sugar
300ml lukewarm water (about 40° Celsius)
400g unbleached bread flour
100g semolina flour (alternatively, the original recipe says you can just use more bread flour)
1½ tsp fine sea salt
Add the yeast and sugar to the warm water. Stir to mix and set it aside for a few minutes to proof. In the meantime, combine the flours and salt in in a large bowl. Stir to mix before creating a mound. Form a well in the centre. Alternatively, you can omit the bowl and work directly on a clean counter top. When the yeast mixture starts to foam, pour it into the well and gradually incorporate the flour into the liquid by sweeping the fork in a circular motion following the inner edge of the well. Continue to mix until all the flour has been incorporated. It will form a shaggy mess.
Press or pat the dough into a ball (if it won't come together, add more water 1 tablespoon at a time) and keep kneading it inside the bowl (if using), constantly trying to incorporate as much of the flour as possible into the ball of dough as you knead it. If the dough remains too sticky, incorporate additional flour into it a little at a time. Keep kneading until you get a springy, soft ball of dough (about 10 minutes). I stopped when the indents left by two fingers pressed into the dough immediately sprung back even though the dough still had a pock-marked surface. (I do remember thinking, as I kneaded the dough by hand, that the KitchenAid would probably make swift work of this step. I will try using it the next time around.)
Shape the dough into a ball and place it back in the bowl. Dust the top of the dough with flour and loosely cover the bowl with cling wrap. Set it aside in a warm, draft-free spot for at least 15 minutes. I gave it about 20 minutes.
While you wait for the dough to rise, place a baking stone in the oven and pre-heat the oven to 250° Celsius. If possible, preheat your oven for 1 hour in order to attain the optimum temperature for baking pizzas. This is also an opportune moment for you to start gathering or preparing your toppings.
When the dough has risen (you will find that it has increased in volume and will feel slightly airy), divide and shape it into 4 equal balls. Jamie recommends rolling out the pizzas 15 to 30 minutes before you cook them. I let the balls of dough rest for about 10 minutes before I started rolling them out.
Dust your clean surface and a ball of dough with a little flour. Using a rolling pin, gently roll the dough into a disc roughly measuring 25cm across and 0.5cm thick. Place the pizza base on a sheet of baking paper and repeat with the remaining balls of dough. You can pile the bases in a stack, separating each with a sheet of baking paper (I'll explain why below). Cover the top pizza base with a piece of cling wrap and leave them to stand at room temperature for about 30 minutes (this is another great interval for preparing toppings). If you need to hold the pizza bases for longer, cover them in cling wrap and refrigerate them.
When you're ready to cook your pizzas, start applying your toppings but keep your pizza base resting on its sheet of baking paper. Even with this relatively sturdy base, definitely be guided by the principle that less is more. Otherwise, you'll end up with soggy, flappy slices of pizza. Slide the pizza, baking paper and all, onto the baking stone in your pre-heated oven. I find that having the pizza rest on a sheet of baking paper makes sliding it in and out of the oven infinitely easier and quicker. Cook for between 7 to 10 minutes or until the pizza is golden and crispy. Repeat with remaining pizza bases.
Try not to forget that a pizza served fresh from the oven is piping hot and can burn your tongue! Set it aside to cool slightly before slicing and serving it to little ones.
Su-Lyn is Aun's better half and for many years, the secret Editor behind this blog known to readers simply as S. Su-Lyn is an obsessive cook and critical eater whose two favourite pastimes are spending time with her three kids and spending time in the kitchen. She looks forward to combining the two in the years to come.