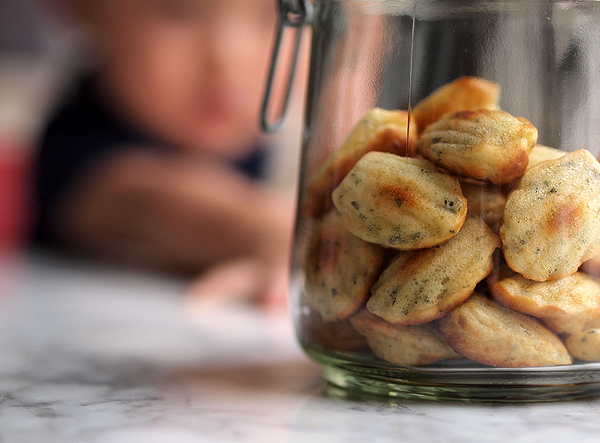 This is one of those recipes that I reckon works for both papa and toddler. I'm constantly trying to find snacks for T (and CH) that aren't packed with sugar. These savoury madeleines from Patricia Wells—inspired by Anne-Sophie Pic of the century-old Maison Pic in Valence, no less—fit the bill. They are an easy-to-make treat that T can't get enough of.
It's actually a recipe that CH tried out first. He's the consummate madeleine master of our family. His were served hot out of the oven alongside a soupcon of killer shellfish bisque (inspired by the creamy lobster broth in Thomas Keller's swish take on mac and cheese, the bisque is heart-stopping in more ways than one). We received so many compliments at the dinner table that I looked the recipe up. Not only was it simple to prepare, it also contained wholesome ingredients I was happy to serve to T (you may choose to omit the salt).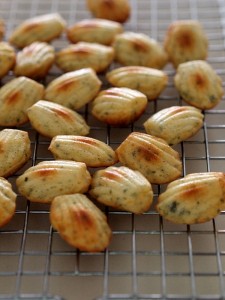 So, for T's playschool end of term party, I requested that CH make these. I am glad that they went down well with his classmates as well as their mothers. I've since tested the recipe and made minor adjustments.
The original calls for the batter to be blended in a food processor, but I found it a hassle to wash a food processor just for this tiny bit of batter. I basically used one mixing bowl in which I weighed/measured out all the dry ingredients, a glass jug for measuring the yoghurt before adding the egg, and a whisk. However, if you prefer to use a food processor, just blend the flour, baking powder, salt, egg and yoghurt first. Then add the cheese and herbs and blend again.
Savoury Rosemary-Parmesan Madeleines

Adapted from Patricia Wells'

The Provence Cookbook

.

Makes about 40 miniature madeleines

50g (1/3cup) all purpose flour
1 tsp baking powder
¼ tsp fine sea salt (optional)
35g (1/2 cup) freshly grated Parmigiano-Reggiano or Gruyere
1 tbsp finely minced fresh rosemary leaves or fresh chives
1/3 cup non-fat plain yoghurt
1 large egg

Preheat the oven to 220° Celsius using the convection/fan setting.

Combine the flour, baking powder, sea salt, cheese and rosemary in a mixing bowl. Whisk to combine. Combine the yoghurt and egg in a small measuring jug. Beat lightly with a fork to combine.

Pour the wet ingredients into the dry mixture and whisk to thoroughly combine. Transfer to a piping bag and refrigerate for a short while if the batter looks runny.

Pipe into mini madeleine moulds (I used a silicone one). Bake in the centre of the oven until firm and golden, about 10 minutes. A toothpick stuck into a madeleine should come out clean.

Remove from the oven, place on a rack and leave to cool in the moulds for 10 minutes before turning them out onto the rack to cool further. Serve warm or at room temperature. Can be stored in an airtight container at room temperature for 3 days.

Su-Lyn is Aun's better half and for many years, the secret Editor behind this blog known to readers simply as S. Su-Lyn is an obsessive cook and critical eater whose two favourite pastimes are spending time with her three kids and spending time in the kitchen. She looks forward to combining the two in the years to come.