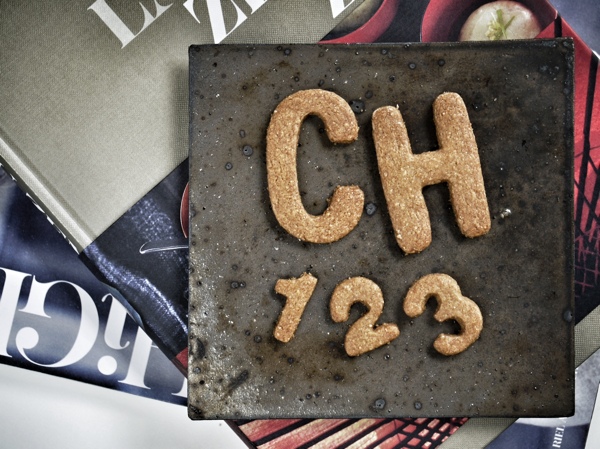 I am slightly obsessed with cramming as much whole grain as I can into my toddler, T's diet and have been hunting for a tasty whole wheat cookie recipe for ages. The few I'd tested out sadly tasted like caked sawdust. So, I was thrilled when both T and CH gave this one the thumbs up. I love that the dough works beautifully when it is cut out (T really appreciates interesting shapes). It's also deliciously tasty and just sweet enough to satisfy CH's sweet tooth. To top it all off, it's a 100 per cent whole wheat sugar cookie!
Many whole wheat cookie recipes, like the one that I based my recipe on, use a combination of refined white and whole wheat flours. That just isn't enough whole wheat for me. So, I decided to try a combination of whole wheat pastry flour made of soft white wheat (from Bob's Red Mill) and regular whole wheat flour made of hard red wheat. This combination creates a cookie that is full of wholegrain goodness, flavour and holds its shape, but still remains tender enough to crumble delightfully in the mouth. T gobbles these up so enthusiastically that I have to ration them. For an everyday treat, I'd serve these whole wheat sugar cookies unadorned. But they'd be a gorgeous canvas for decorated cookies, too!
Whole Wheat Sugar Cookies
The ingredients list for this recipe was adapted from a recipe I found over at Health.
Makes about 80 cookies measuring 2.5cm across
210g whole wheat pastry flour
40g whole wheat flour
½ tsp baking soda
¼ tsp salt
½ tsp ground cinnamon (optional)
115g unsalted butter, softened
80g castor sugar
55g light brown sugar
30g egg white (approximately 1 egg white)
1¼ tsp pure vanilla extract
Combine the whole wheat flours, baking soda, salt and ground cinnamon (if using) in a bowl. Whisk to combine and set aside.
Combine the butter and sugar in the bowl of an electric mixer. Beat until light and fluffy. Scrape down the sides of the bowl. Add the egg white and vanilla extract, and beat until just combined.
Beat in half the flour mixture until evenly incorporated. Stir in the remaining flour until evenly incorporated. This can be a little difficult. Use a spatula, scraping down the sides of the bowl then pressing any unmixed flour into the forming dough. When evenly incorporated, bring the dough together into a ball. It should feel soft but not stick to your fingers. (If it is sticky, dust the mixture with a little more whole wheat pastry flour and mix it into the dough.) Gently flatten the ball of dough into a thick disc, wrap it in cling wrap and refrigerate it for at least 4 hours. I usually leave it overnight, sometimes more, simply because I squeeze my baking in as and whenever work and family allow me to.
Remove the dough from the refrigerator and let it soften briefly. Place it on a Silpat, cover generously with a sheet of cling wrap and roll it out to approximately 0.5cm or ¼ inch thickness. As you roll out the dough, occasionally lift it off the Silpat and flip it over. This helps to keep it from sticking. Dust sparingly with more whole wheat pastry flour if absolutely necessary. Cut the dough in half. Wrap the two pieces of rolled out dough with cling wrap, place them on a baking sheet and freeze them for at least 30 minutes. Again, I tend to leave them overnight.
Remove a piece of rolled out dough from the freezer. Unwrap it and place it on a Silpat. Let it soften just very slightly before using a floured cookie cutter measuring 2.5cm or 1 inch across to cut out cookies. Gently transfer the cookies onto a baking sheet lined with baking paper lightly dusted with flour. Place them in the freezer and work on the other piece of dough. Freeze all the cut out cookies for at least 30 minutes.
Preheat the oven to 160° Celsius using the convection/fan setting. Place the cookies roughly 2.5cm or 1 inch apart on baking sheets lined with baking paper. Bake for 10 minutes (15 minutes for 5cm or 2 inch cookies) or until set but barely browned. Transfer to a rack to cool completely.
Cookies can be kept in an airtight container for up to a week.
Su-Lyn is Aun's better half and for many years, the secret Editor behind this blog known to readers simply as S. Su-Lyn is an obsessive cook and critical eater whose two favourite pastimes are spending time with her three kids and spending time in the kitchen. She looks forward to combining the two in the years to come.